Cooper: Sale deserving of AL Cy Young Award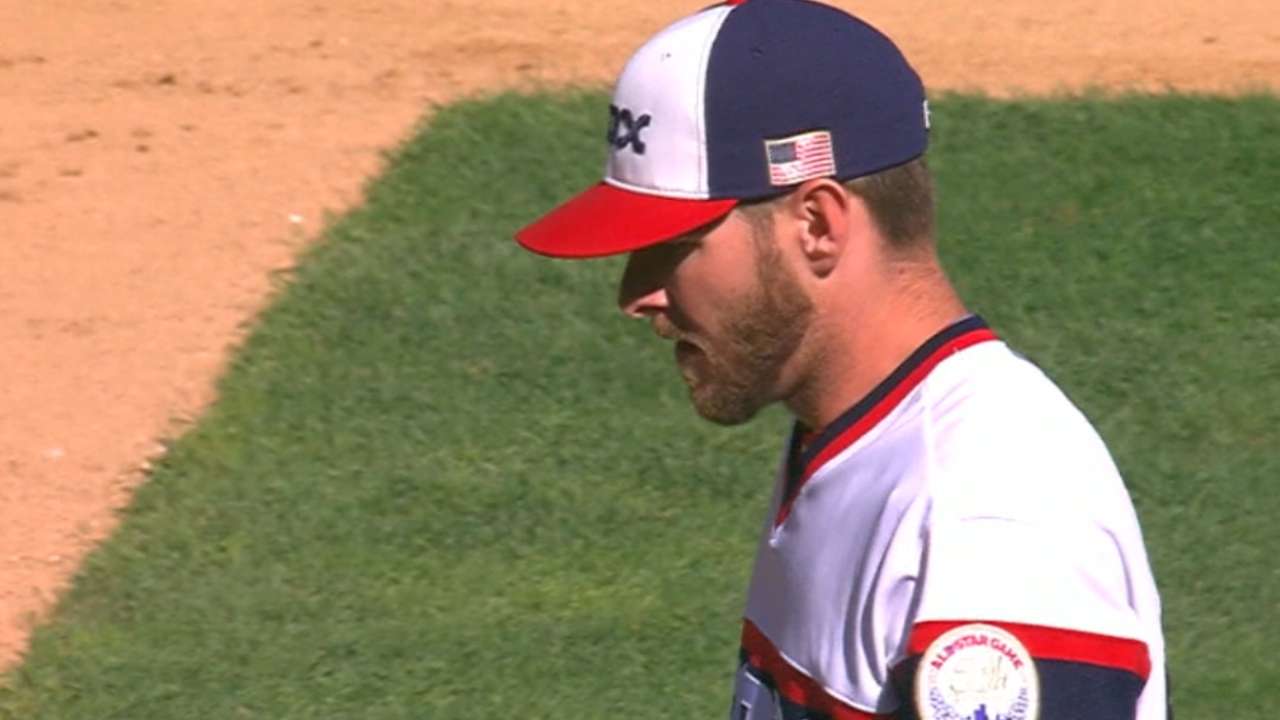 CHICAGO -- Don Cooper does not have a vote for the 2016 American League Cy Young Award.
But the White Sox pitching coach strongly and not unexpectedly threw his support behind staff ace Chris Sale when bringing up the matter Tuesday afternoon.
"He's the Cy Young guy with three or four more games to go," said Cooper of Sale, who could get four starts if he takes the mound for the season finale against the Twins on Oct. 2. "I'm prejudiced, and I haven't looked at all the stuff or compared all the numbers.
"For me, he's the Cy Young guy. He's going longer in games. The [stuff] that we talked about and wanted to get done has gotten done. The one thing you can't account for is wins."
Cooper immediately earned support from many across the world of baseball when dismissing wins as a criteria for the ultimate pitching award. It's a point most voters seemed to have accepted as well.
This theory certainly wasn't a direct hit at Cy Young contenders such as Boston's Rick Porcello, who has 20 victories, or Toronto's J.A. Happ, who has won 18 games. Cooper simply pointed out how Sale's record would be much better if the team hit a little more for him in recent starts or if a few games where he left with the lead were nailed down by the bullpen.
"If you are a club with 25 more wins than us or a team that scores a lot of runs, that's not the advantage a guy should have in this vote," Cooper said. "Wins are arbitrary.
"You can pitch your [butt] off. But on that given day, if you don't catch the ball or we don't score more runs than the opponent, you lose or get a no-decision."
Although Baltimore closer Zach Britton has a strong case, Cooper believes that because AL relievers have the Mariano Rivera Award, the Cy Young should go to a starter. Much speculation has centered upon Sale and/or Jose Quintana, another strong White Sox starter and Cy Young contender, being shopped during this upcoming offseason as part of a team rebuild.
That rotation change has not entered Cooper's mind, believing Sale will be back with the White Sox in 2017.
"Absolutely I do," Cooper said. "I will say this: I think the five starters we have here right now are going to be back. That's my opinion. I have nothing to base that on.
"So what will be the job next year? We've got to keep Sale and Q as All-Star guys. We have to try to turn [Carlos Rodon] into an All-Star guy. We have to keep [Miguel Gonzalez] at a six- to seven-solid-inning guy. We've got to get the James Shields that we saw in his quality efforts to come out more on a consistent basis.
"I'm assuming they are coming back until somebody changes that, or that changes," Cooper said. "That's where I'm at. That's where I've always been."
Scott Merkin has covered the White Sox for MLB.com since 2003. Read his blog, Merk's Works, follow him on Twitter @scottmerkin, on Facebook and listen to his podcast. This story was not subject to the approval of Major League Baseball or its clubs.