Swanson returns to lineup, Folty day to day
Both players exited Monday's game with injuries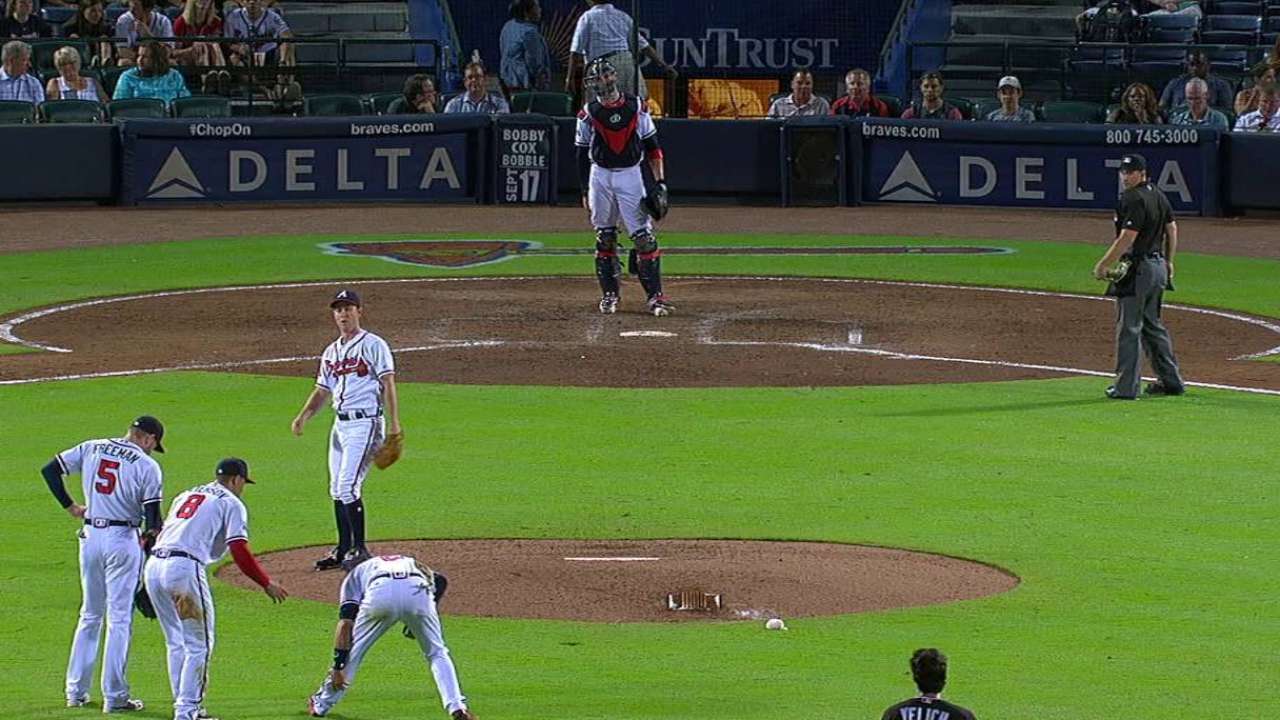 ATLANTA -- Mike Foltynewicz and Dansby Swanson returned to Turner Field on Tuesday dealing with the lingering effects of the painful exits they made during Monday night's win over the Marlins.
While Foltynewicz was still using crutches to negate some of the mobility issues created by a significant bruise on his left calf, Swanson was prepping to play with the protection he did not possess when he uncomfortably exited the game with what was eloquently termed a right groin contusion.
"I'll be properly equipped from now on," Swanson said before returning to his role as Atlanta's starting shortstop in Tuesday's 7-5 loss to the Marlins.
Swanson was obviously not wearing a protective cup when he was victimized by misfortune as he stood on the first-base side of the mound as Ryan Weber completed his warmup pitches during Monday's fourth inning. As he was casually talking to Freddie Freeman and Jace Peterson, the rookie shortstop was squarely struck in the midsection by catcher Tyler Flowers' errant throw to Weber.
"I was in pain the rest of the night," Swanson said.
After remaining in the game through the top of the fourth inning, Swanson felt ill and was removed from the game. He was cleared to return to action after being evaluated by a doctor on Tuesday morning.
Weber entered immediately after Foltynewicz's left calf was struck by a Marcell Ozuna line drive that registered a 110-mph exit velocity, according to Statcast™. The hot shot did not strike any bones, and the swelling was not as significant as expected on Tuesday. But the right-hander was still moving quite gingerly and occasionally using crutches as he made his way around the clubhouse.
"It takes me five minutes to get from here to the training room," Foltynewicz said. "I can't walk on it, and I don't know what it's going to be like landing on [my leg while pitching], so we'll take it day-by-day."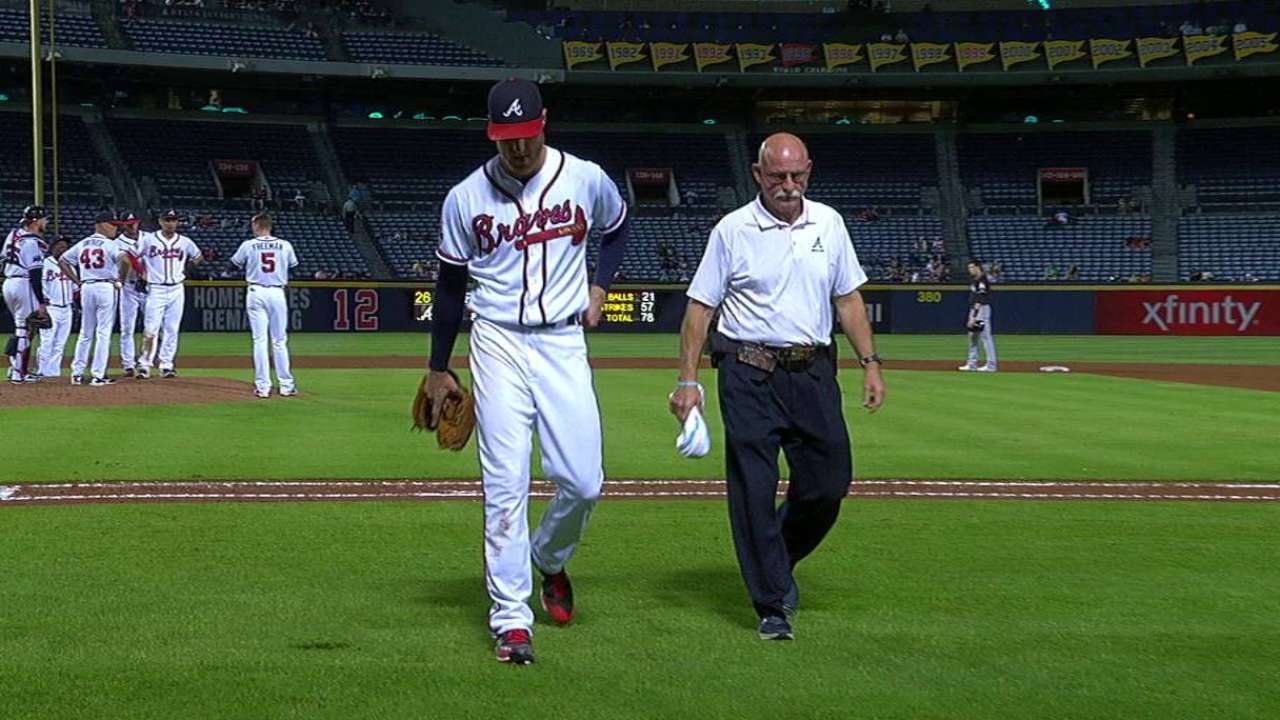 While Foltynewicz will almost certainly miss his next scheduled turn in the rotation this upcoming weekend, there is at least a chance he could return to the rotation next week and create the possibility of making at least two more starts before this season concludes.
"I just hope if he misses a start, it would be just one," Braves manager Brian Snitker said. "The best-case scenario would be he wouldn't miss a start, but I don't know if that's possible."
Odds and ends
Freddie Freeman's wife Chelsea could give birth to the couple's first child this week. There is a chance labor will be induced on Thursday, when the Braves are not scheduled to play.
Braves backup catcher Anthony Recker will spend the next few days in Arizona with his wife Kelly, who went into labor during Monday night's game.
Mark Bowman has been covering the Braves for MLB.com since 2001. This story was not subject to the approval of Major League Baseball or its clubs.