Moncada garners another accolade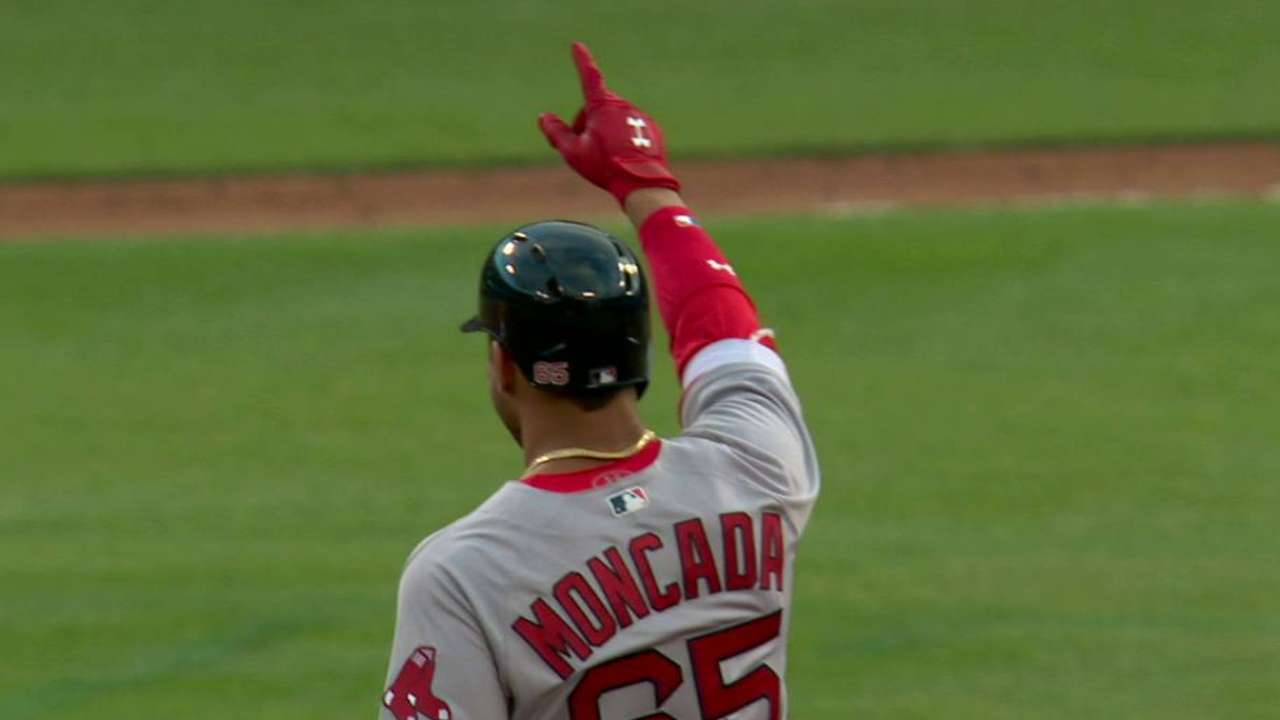 BOSTON -- Being ranked No. 1 on MLBPipeline's Top 100 Prospects list and earning Baseball America's Minor League Player of the Year proves what Yoan Moncada is capable of, but his early struggles in the Major Leagues are a part of the transitioning process.
In the eight games Moncada has played with the Red Sox, he's batting .211 (4-for-19) while striking out 12 times, nine of those coming in a row. Moncada now stands just one plate appearance shy of the Major League record for most consecutive strikeouts by a non-pitcher, set in 2013 by Rick Ankiel.
"It felt good to be out there at Fenway," Moncada said through a translator. "But I'm still in a bit of a slump and I'm working hard to get past that."
Moncada knows he can play better. The 21-year-old slashed .294/.407/.511 in 491 plate appearances between Class A Advanced Salem and Double-A Portland. He came to Boston with 15 home runs and 45 stolen bases under his belt, along with being named the SiriusXM All-Star Futures Game MVP.
Red Sox manager John Farrell said he's not turning away from Moncada while he's going through a learning curve. Farrell said the time Moncada is spending surrounded by veterans is invaluable to the rookie, regardless of his early statistics.
"We know what he's going through right now," said Farrell. "Through the challenges -- the game is the greatest teacher we have. If he's getting challenged right now, which he is, he's got a benefit for it at some point down the line. For two years we talked about young players and how they might have scuffled. We might be realizing the benefits of those struggles over the course of two years. Yoan is no different."
Moncada is just beginning to get used to his surrounding at Fenway Park and American League Cy Young Award candidate Rick Porcello knows firsthand what it's like to get accustomed to Boston.
Porcello joined the Red Sox last season after playing six seasons for the Tigers, and he struggled throughout 2015. The righty capped the year with a 4.92 ERA with a midseason stint on the disabled list.
"It's tough up here," Porcello said. "I think it's always important to be positive and supportive. Trying to pick him up and keeping him in good spirits goes a long way. It helps you think about your work more clearly and not get consumed in your struggles."
Moncada said the support and encouragement he's received from his teammates has been nothing but beneficial. It also helps that his roommate in both Salem and Portland, Andrew Benintendi, is by his side throughout the transition.
"I'm learning a lot from those guys," said Moncada. "Things from the outside looking in, you don't think you're going to learn a lot in the big leagues, but when you're here, you realize that there still is a lot to learn. These guys are helping me with that, giving me tips every day and helping out."
Deesha Thosar is a reporter for MLB.com based in Boston. This story was not subject to the approval of Major League Baseball or its clubs.