Sanchez stars with homer against former team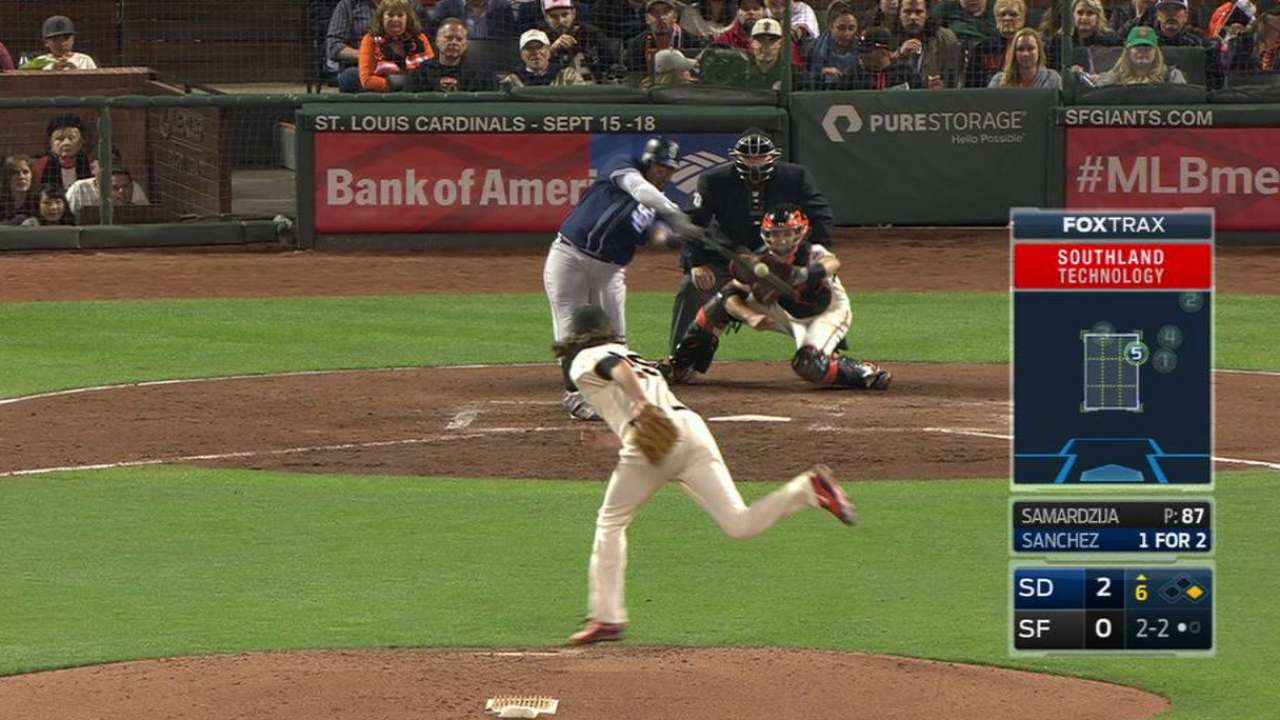 SAN FRANCISCO -- It's certainly understandable that Hector Sanchez looked right at home Monday night. The Padres backstop did spend five years playing his home games at AT&T Park, after all.
In the Padres' 4-0 victory over the Giants on Monday, Sanchez went 3-for-4 with a two-run homer, putting a dent in his former team's playoff push.
With the Padres nursing a two-run lead in the sixth inning, Sanchez turned around a hanging slider from Giants righty Jeff Samardzija and barely cleared the right-field wall. The 329-foot homer was the shortest big fly from a Padres hitter this season.
"That was crazy," Sanchez said. "I never expected that ball to go out, especially when the ball is not flying today. I guess I put a good swing on it, and lucky for me, the ball went out."
Sanchez has certainly made his share of memories at AT&T Park. But, in general, they haven't included the long ball.
Entering play Monday, Sanchez had hit just two dingers in San Francisco -- equaling the number of World Series titles he won there.
"Great fans, beautiful field," Sanchez said. "You just try to do the best you can do, no matter the field, no matter the team. Just help the team win games."
In sparse playing time, Sanchez has been solid for the Padres this season, hitting .295/.354/.523 in 25 games.
But in the eyes of manager Andy Green, Sanchez's impact has extended further than his numbers.
"He's been pretty comfortable the whole time he's been here," said Green. "He's been upbeat, he's been positive. The first time he was with us, he didn't get much opportunity to play. He maintained a real positive outlook, brought energy to the bench every day."
Before Monday's game, Green revealed that Christian Bethancourt is likely out for the season because of a left oblique injury. That, coupled with Derek Norris' struggles at the plate, means Sanchez will continue to see the field -- at least in the immediate future.
"I just try to wait for the opportunity," Sanchez said. "I have to be ready. That has been my job for almost all my career. Have to be ready in any situation, especially when I'm the backup. Just when the opportunity comes, enjoy it and try to do the best you can do."
He did just that Monday, and he tormented his former team -- which is fighting for its playoff life -- in the process.
Said Green: "[At] a park where he played and had a lot of great memories, I'm sure, to hit that home run and catch a shutout, it was a great game for him."
AJ Cassavell covers the Padres for MLB.com. Follow him on Twitter @ajcassavell. This story was not subject to the approval of Major League Baseball or its clubs.