Buddy system: De Leon, Urias get big starts
Right-hander picks up win in series opener vs. Yanks; lefty to pitch second game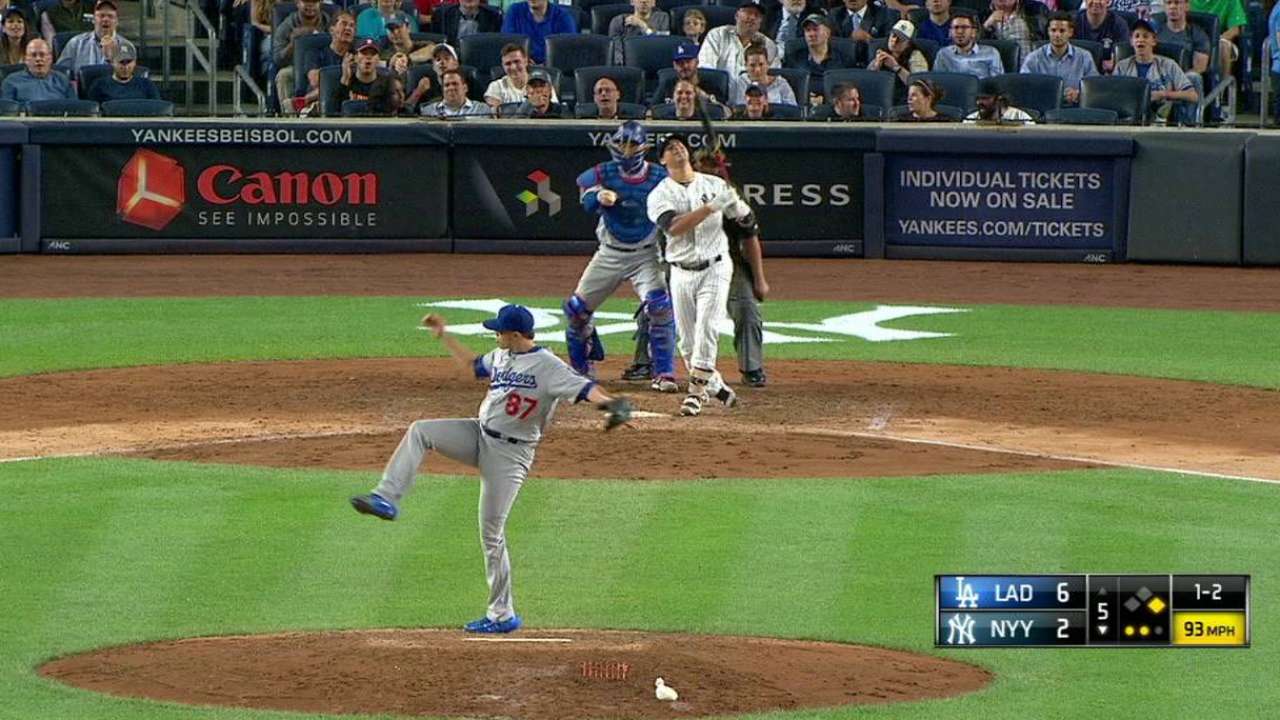 NEW YORK -- One, Jose De Leon, is a right-hander from Puerto Rico. The other, Julio Urias, is a left-hander from Mexico.
They built a strong bond after meeting as Minor Leaguers. Three times last August, they pitched on back-to-back days for the Double-A Tulsa Drillers.
This week, in the middle of a pennant race, they're pitching back to back again, this time for the Dodgers at Yankee Stadium. If Urias can do as well Tuesday night as De Leon did Monday during an 8-2 win, the Dodgers will be another step closer to winning the National League West.
The 20-year-old Urias is the younger of the two, but he owns more big league experience than his 24-year-old friend. Monday's start was just the second of De Leon's career, which had something to do with the nerves he felt before the game but not much impact on the way he pitched.
De Leon went five innings and allowed two runs. He benefited from a Dodgers offense that knocked Yankees starter Bryan Mitchell out of the game early, and from a Yankees defense that committed two errors leading to four unearned runs.
He was solid in his first road start, falling behind in a few counts and walking two, but De Leon never gave in to what could have been a challenging environment.
"His poise is off the charts," Dodgers manager Dave Roberts said. "He was unfazed."
De Leon looked forward to this start. He grew up as a Red Sox fan after a youth coach gave him a No. 5 jersey and started calling him Nomar, after former Boston shortstop (and current Dodgers broadcaster) Nomar Garciaparra. He had watched plenty of games from Yankee Stadium, mostly when the Red Sox were playing there.
De Leon dreamed of someday pitching there himself.
"I really wanted to beat the Yankees," he said.
He had a 1-0 lead before he took the mound and responded with a 1-2-3 first inning. He hung a changeup that Starlin Castro crushed for a home run to start the second inning, but De Leon bounced right back and didn't allow another run until Aaron Judge homered to open the fifth.
He did it with Urias watching, just as De Leon will watch Urias face the Yankees on Tuesday. They chatted about their back-to-back starts this week, and they pull for each other even more than most teammates would.
"More than people think," De Leon said. "We have a special connection. My mother calls him her son. He's my little brother. He came home with me during the All-Star break."
Both of them have been prized Dodgers prospects, with De Leon currently ranked No. 2, but neither was supposed to be pitching here right now, in the middle of a pennant race.
"I thought Jose might be in Puerto Rico now," Roberts said Monday afternoon. "I thought Julio might be here, just watching Major League Baseball."
Instead, injuries happened, the Dodgers had a need, and Urias and De Leon had to grow up quicker than expected. They've done exactly that, especially Urias.
"Obviously, their ascension has been accelerated," Roberts said. "I just didn't see them making the impact they've made."
Urias, Roberts said, doesn't even seem like a rookie anymore, because he already has 13 starts and five wins. Urias won four consecutive appearances from Aug. 8-27, allowing just two earned runs in 19 2/3 innings in that span.
De Leon joined him in the rotation last week, called up from Triple-A Oklahoma City in time for a Sept. 4 start at home against the Padres. He went six innings that day in a win, and his nine strikeouts were the second most by a Los Angeles Dodger in a big league debut.
Monday's start was another challenge.
"My first time I was pitching at home, and all the fans are rooting for you," he said. "This time it was with most of the fans against me. After that first home run, it was loud."
De Leon got the job done in New York, just as he had in Los Angeles.
"Dodger Stadium, Yankee Stadium, unfortunately it goes down from there," Roberts said.
Then again, as the pennant race goes on and the Dodgers move closer to clinching a fourth straight division title, maybe it doesn't go down.
Maybe it just gets better.
Danny Knobler is a contributor to MLB.com based in New York and covered the Dodgers on Monday. This story was not subject to the approval of Major League Baseball or its clubs.