Tigers do serious legwork to claim key victory
Romine, Iglesias force issue while scoring tying, winning runs in close plays at plate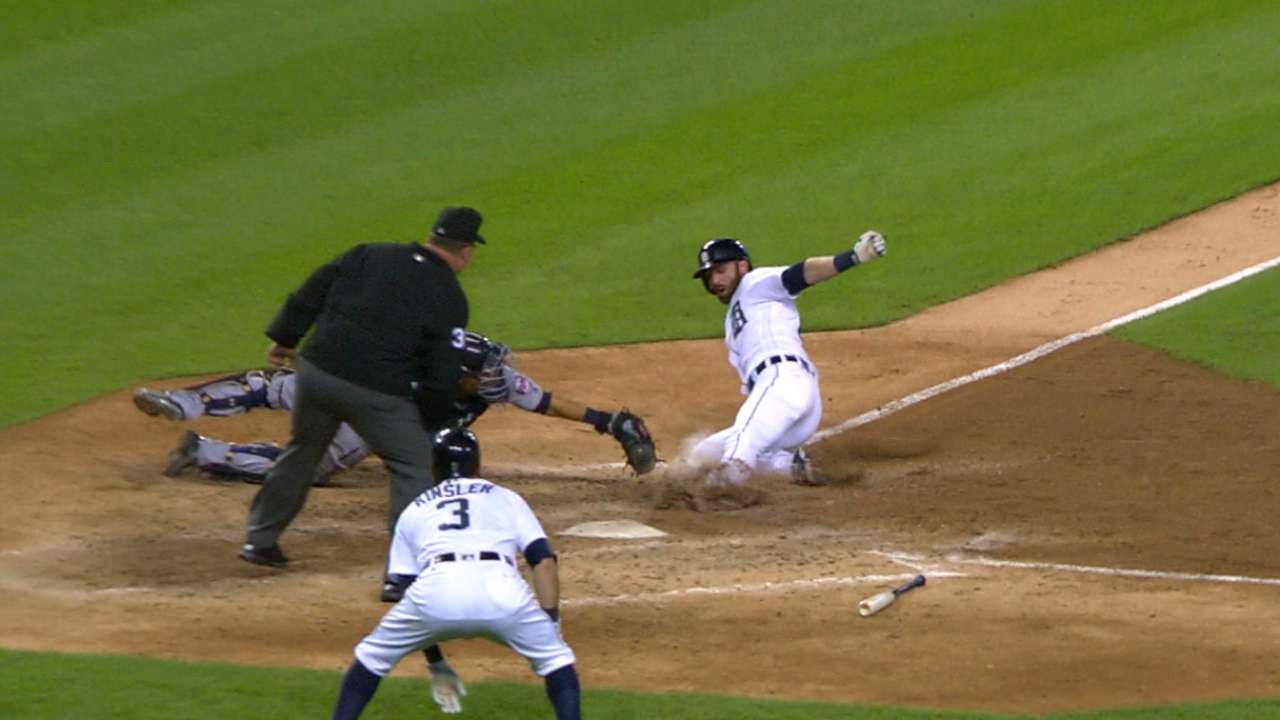 DETROIT -- Andrew Romine was going for home, he admitted, well before Tigers third-base coach Dave Clark waved him. The scoreboard dictated it. So did the season.
The Tigers have had their share of late-inning rallies on home runs recently. If they were going to rally Monday against the Twins, they might have to do it with their legs.
"We talked about it after it was all said and done, and we were both thinking the same thing," Romine said after his seventh-inning run provided the jolt during a two-run rally in Detroit's 4-2 win over Minnesota that pulled the club within one game of the Orioles for the second American League Wild Card spot. "We were thinking we have three hits off these guys. We haven't had many chances to score."
Romine was on first base, his one-out walk providing Detroit its first baserunner since the fourth. The Twins' bullpen was at work, but the Tigers weren't waiting for the big homer.
Two pitches after Romine walked, Jose Iglesias hit a line drive down the left-field line. Iglesias hesitated, thinking it might hook foul. Romine bolted at a speed to make Clark send him.
"I was going, pretty much not anticipating him stopping me," Romine said. "I saw him wave me, which was a confirmation that, 'Yeah, we're going. We've got to. We may not really have another chance.' So we were on the same page."
It goes back to something the Tigers have preached since Spring Training and manager Brad Ausmus reiterated Monday.
"The better read the baserunner gets off the bat," Ausmus said, "and the harder he runs, the faster that he is, the easier the decision is for the third-base coach in a situation like that."
The key signal, however, came from the other side of home plate, where Ian Kinsler was waiting as the next batter. He admitted he initially didn't think Romine had a chance to score from first base. But as Romine came home, Kinsler saw the throw coming in and realized catcher Kurt Suzuki was going to have a play. So Kinsler waved Romine to slide inside, around a potential tag.
"I saw Kinsler before I saw the catcher move," Romine said, "because he saw the throw before Suzuki went to get it. So I saw Kinsler about a split-second before I saw Suzuki. If I didn't see him first, I probably wouldn't have made it, seeing how close it was."
Still, Romine's slide was close enough that the Twins challenged the safe call, and Romine sweated. He knew Suzuki had tagged him on his back foot, but the question would be whether his front foot touched the plate. His best chance, he suspected, was that replay officials wouldn't be able to see anything.
"There was so much dirt flying and feet flying and gloves and stuff," Romine said. "And you've seen lots of reviews that were overturned that could have been or couldn't have been. You never know. There was too much dirt to really see it."
After one minute and 18 seconds of review, the call stood. The game was tied. And the Twins had to turn their attention to Iglesias, who had deftly taken third base on the play at the plate. Suddenly, after desperately seeking a hit, the Tigers had a chance to turn that one hit into two runs.
Once Kinsler lofted a fly ball, they took a chance again.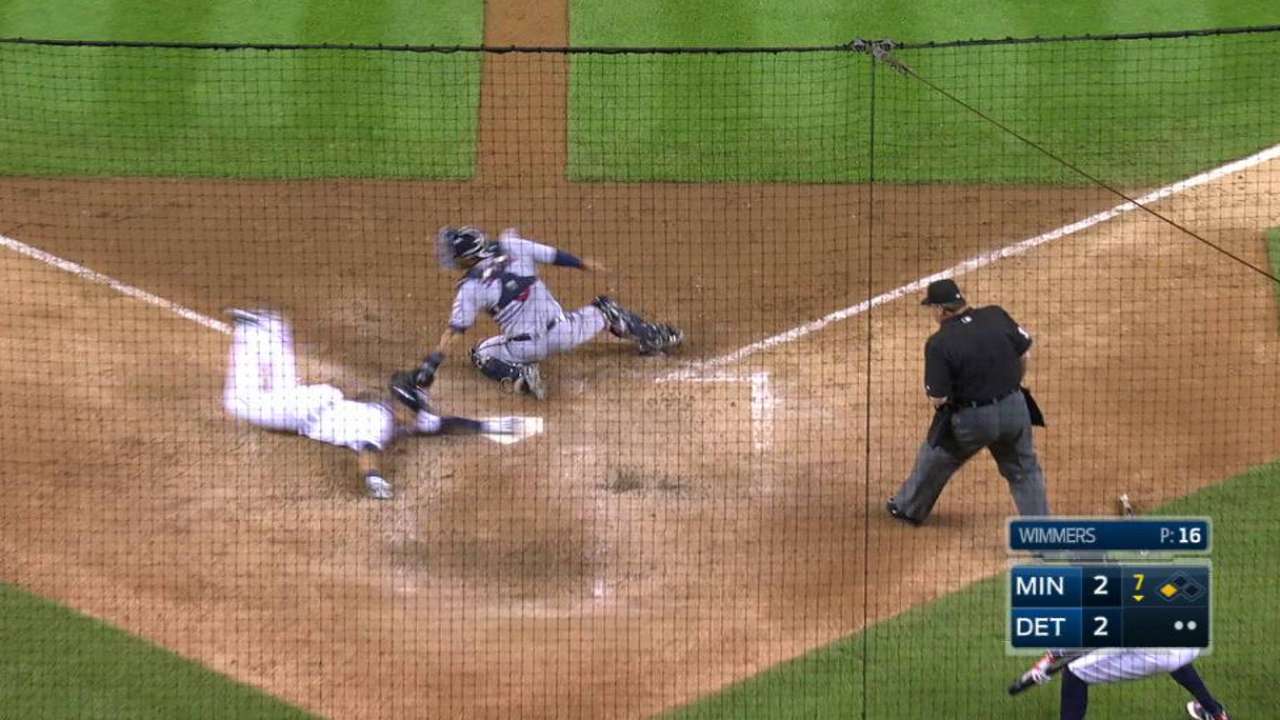 "I know the popup from Kinsler was shallow," Ausmus said, "but I thought it was a good send right there. I think it's worth taking a chance even if he does get thrown out."
Center fielder Byron Buxton's throw was just as close, maybe more so, than the previous play. Again, a deft slide -- this one head-first from Iglesias -- beat the tag.
"I got a good jump," Iglesias said. "It was a good play all around."
Jason Beck has covered the Tigers for MLB.com since 2002. Read Beck's Blog, follow him on Twitter @beckjason and listen to his podcast. This story was not subject to the approval of Major League Baseball or its clubs.