Bright lights: Urias' Bronx debut leads MLB.TV slate
10 playoff contenders to continue head-to-head battles today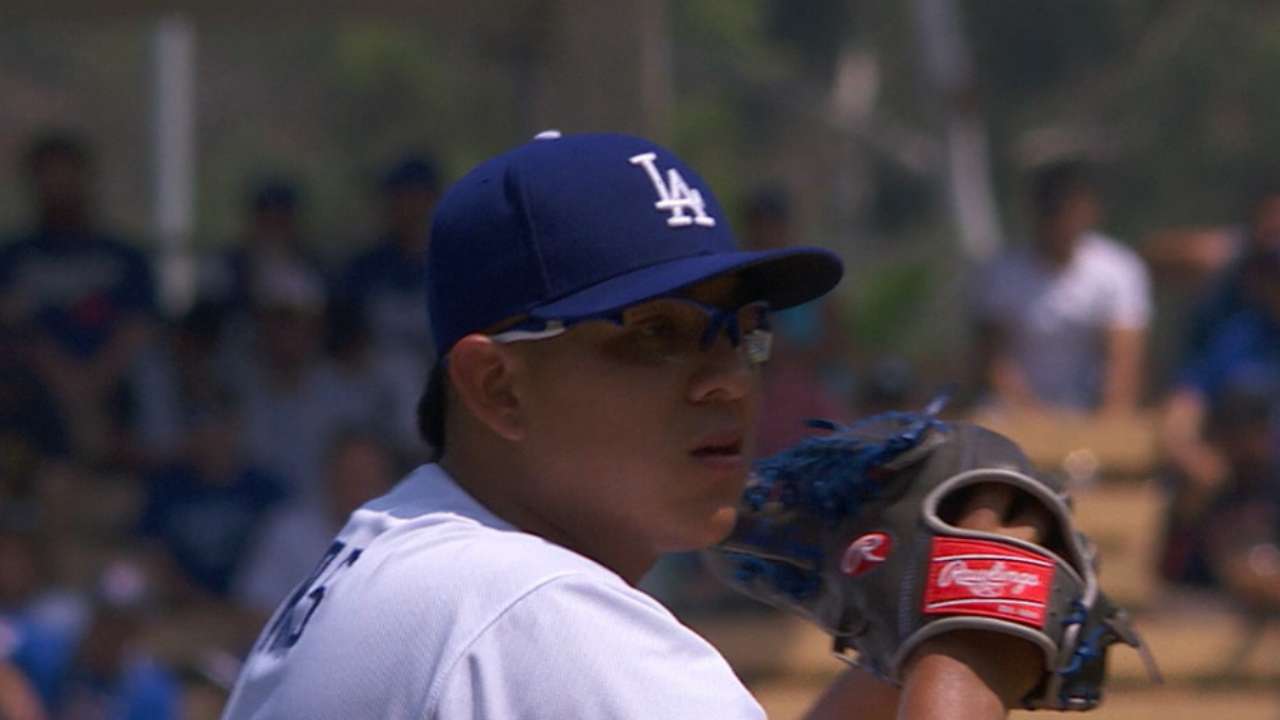 When Dodgers manager Dave Roberts made the hotly debated choice to pull Rich Hill after seven perfect innings Saturday night, he did so with more than simply protecting a blister-prone index finger in mind.
Roberts did so with an eye on the future -- in particular, October -- and the overall well-being of a potential postseason rotation that has several question marks. No one knows how close to 100 percent Clayton Kershaw will be or whether Hill, who despite 19 scoreless innings in a Dodgers uniform has pitched just three times since landing in L.A. six weeks ago, can pitch on the kind of short-rest schedule required in the playoffs. We also don't know how rookie Kenta Maeda, by far the team's most consistent pitcher in the second half, will handle the butterflies of his first MLB postseason.
With all the speculation about a potential Division Series rotation, the Dodgers can't forget about the never-say-die Giants, who despite their struggles still sit four games behind Los Angeles in the NL West. L.A. still needs to win now, in September, which means the Dodgers still need to find starting pitching when Kershaw, Hill and Maeda aren't on the mound.
That's where 20-year old Julio Urias comes in. The Dodgers front office intended to send Urias back down to the minors and lessen his workload a few weeks ago. But with constant injuries to veterans like Scott Kazmir and Bud Norris, Urias has simply pitched too well to be shipped away. The precocious lefty hasn't lost since June and went 4-0 with a 1.99 ERA in August, submitting his best audition to become the fourth member of Los Angeles' October rotation.
Urias' next test comes under the bright lights of Yankee Stadium against a team hungry to close the gap in the AL East on the MLB.TV Free Game of the Day. But that's not the only matchup to keep an eye on amid a night where 10 playoff hopefuls continue their head-to-head series.
There's only one place to keep track of all the September action: MLB.TV
MLB.TV Premium has returned with the same features as last year, and is only $9.99 for the rest of the season. This package has the best value and provides access to more than 400 devices and a free subscription to the MLB.com At Bat Premium app (a $19.99 value). It offers the best picture quality ever -- a new 60 frames per second -- for supported devices.
Here's what to watch for today in the Majors (all times ET):
Urias, CC take ball for Game 2: LAD@NYY, 7:05 p.m.
Tuesday night's battle in the Bronx features a battle of young against old as Urias takes on 36-year old CC Sabathia. The long ball has plagued New York's veteran southpaw of late, as three solo homers by the Rays chased Sabathia after just four innings in his last outing.
Sabathia has not pitched against the Dodgers since June 25, 2010, and it's likely that Los Angeles will not start a single position player tonight who was in the lineup that day six years ago. Urias, meanwhile, has held hitters to a .247 average and not allowed a homer over his last five appearances.
Stat that matters: Dodgers shortstop Corey Seager enters today with 177 hits, just one shy of Washington's Daniel Murphy for the most in the National League. Seager is vying to become just the second player age 22 or younger to lead the NL in hits since the mound was lowered in 1969, following then-Cub Starlin Castro in 2011.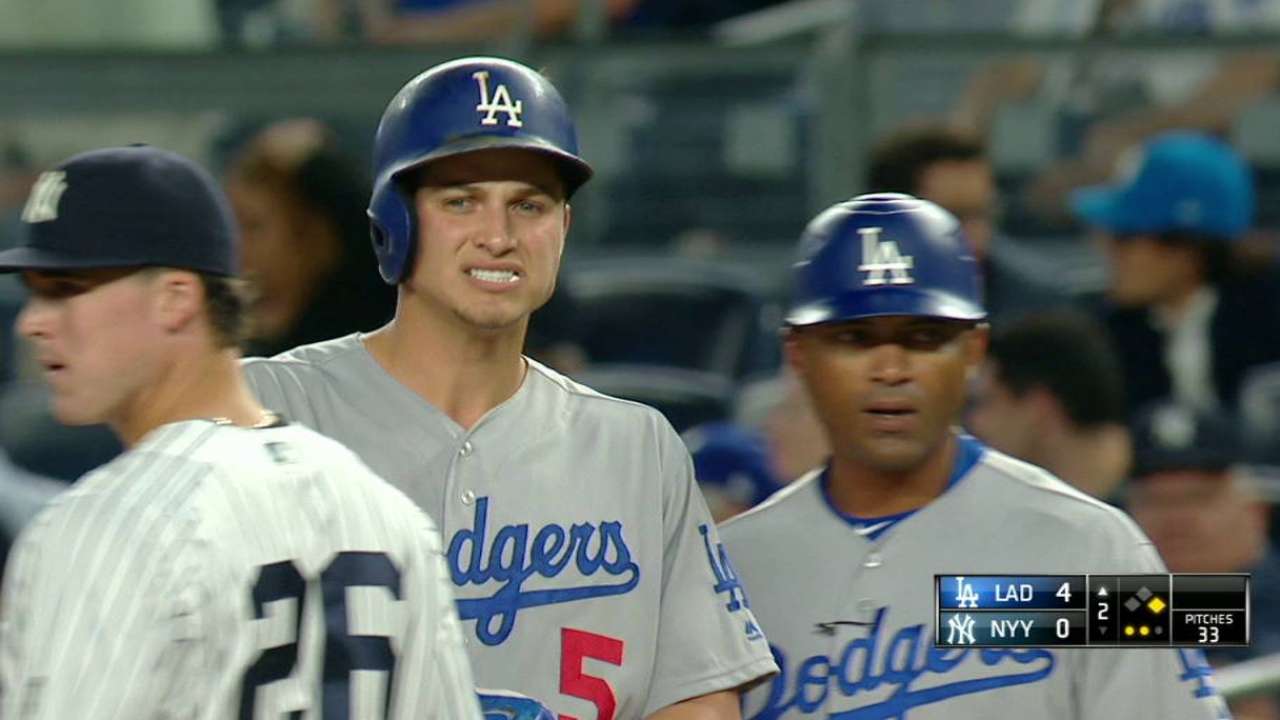 Pomeranz proving his worth: BAL@BOS, 7:10 p.m.
The Red Sox put more distance between themselves and the Orioles in Monday's series opener, and now they'll turn the ball over to Drew Pomeranz, who's been paying big dividends for Boston since he was acquired in mid-July. After Pomeranz lost his first two decisions as a Red Sox, the former Padre has posted a 2.76 ERA and limited opponents to a .236 batting average over his last seven starts. Just as important is the fact that Pomeranz has averaged six innings per start, helping to preserve a Boston bullpen that had thrown the fewest innings of any American League unit entering Monday's games.
"Drew's addition has been a boost, particularly the run he is on of late," Red Sox Manager John Farrell said recently. "There has been a very tangible improvement with how many fastballs he has thrown for strikes -- the quality and location."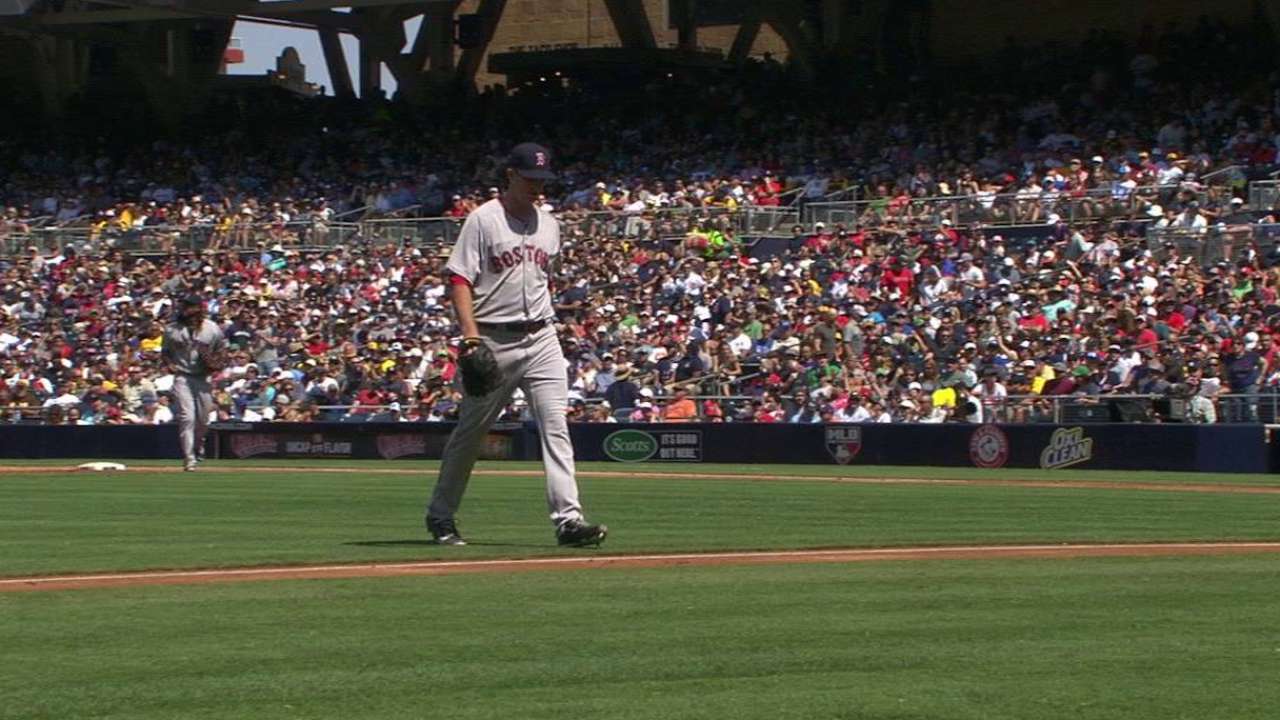 Pomeranz's location will need to be on-point against the homer-happy Orioles, a team he has faced three times as a reliever but never as a starter. He'll be opposed by Baltimore rookie Dylan Bundy, who may be showing signs of fatigue as he nears his career-high for innings set in the minors back in 2012. Bundy has failed to complete six innings in five of his last six starts, allowing six homers and an .845 OPS to opponents over that span.
Stat that matters: If Boston, the AL East's current leader, does end up winning its division, their dominance over divisional opponents of late will be a major contributor. Since the beginning of July, the Red Sox are 15-7 against AL East rivals, including a combined 5-1 against Toronto and Baltimore.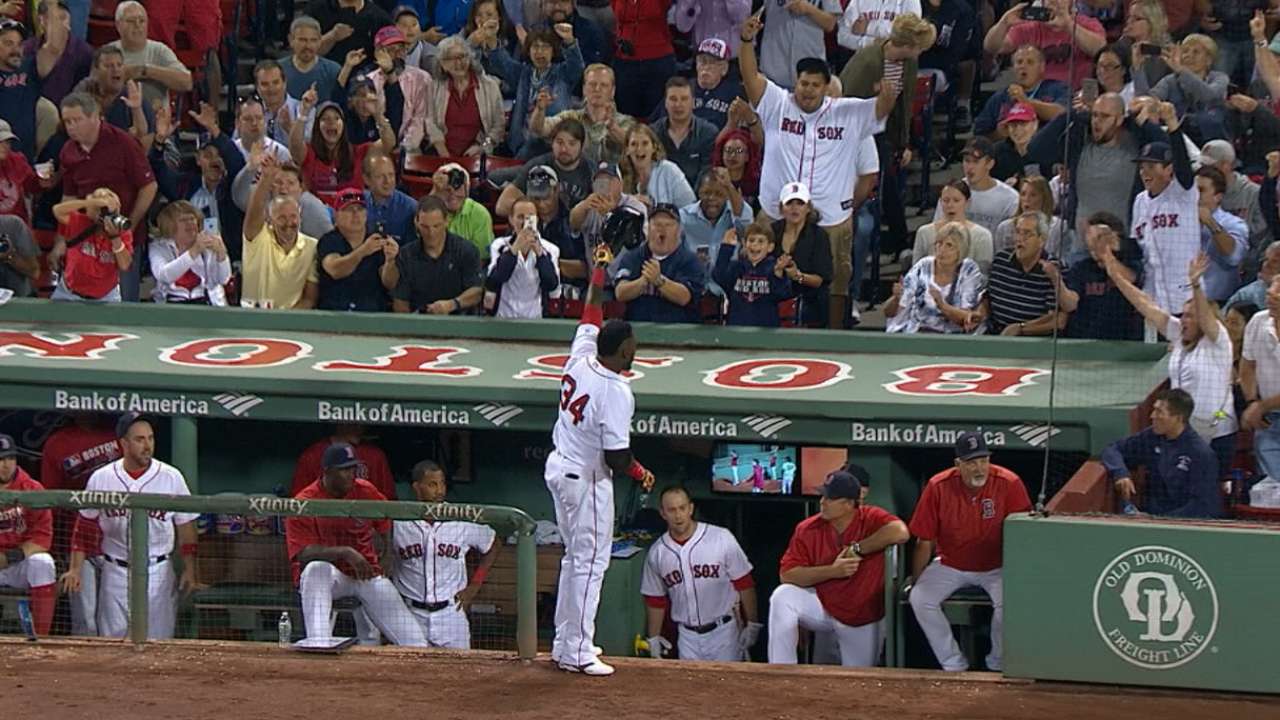 No place like home for Hammel: CHC@STL, 8:15 p.m. ET
Kyle Hendricks' near no-hitter Monday night wasn't surprising given the way he's pitched this year, but the starters for both clubs come into Tuesday's matchup with question marks.
Cubs right-hander Jason Hammel's ERA is an astounding three-and-a-half runs higher on the road than in the friendly confines of Wrigley Field. Lying at the root of Hammel's road woes is inability to keep the ball in the park, as the 16 home runs he's allowed away from home are tied for third-most in the NL.
The Cubs have enough breathing room in the standings to let Hammel work out his current inconsistency. The Cardinals have no such luxury with Jaime Garcia, however. The veteran is slumping with a 5.15 ERA and 1.40 WHIP over his last 15 starts, but Cardinals manager Mike Matheny said he will stick with Garcia in the thick of the team's Wild Card chase.
"At this point, every starter is key for us," he said. "Jaime's going to get an opportunity every fifth day to go out and be the kind of pitcher he can be, which is impressive when he's right."
Stat that matters: Garcia will need to do what he does best to succeed against the Cubs' high-octane offense: Induce ground balls. Entering Monday, Garcia ranked second-best in the NL at doing just that, with a 57.1 percent ground-ball rate. The trouble is, the Cubs avoid hitting grounders as well as anyone, boasting a 42.5 percent ground-ball rate that ranks as the second-lowest in the Senior Circuit.
Mets trying to shake off Nats: NYM@WSH, 7:05 p.m.
The Mets still can't figure out the Nationals, who improved to 11-6 on the year against them after Monday's 8-1 victory. Luckily for New York, the Cardinals' loss ensures it holds a narrow half-game lead on the final NL Wild Card spot for at least another day. Daniel Murphy extended his hitting streak last night to 17 consecutive games against his former club, which is tied for the seventh-longest streak of any player against New York since the franchise's inception in 1962.
Tuesday starter Noah Syndergaard didn't have his best stuff last time out against the Reds, but he was still good enough in the clutch situations to hold Cincinnati scoreless over five innings. Overall, Syndergaard has been the steadying force the Mets desperately need when seemingly every game has been their most important lately, as he's held opponents to only three runs on 13 hits and nine walks over his last four outings.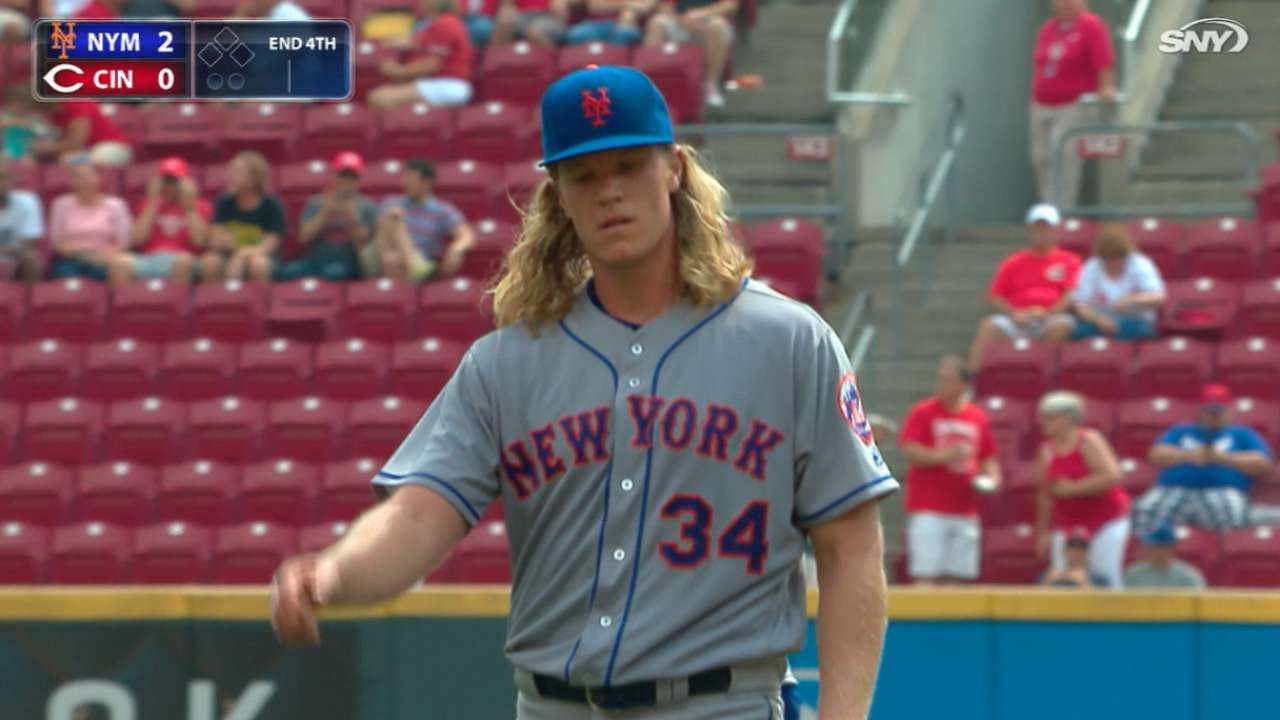 Stat that matters: The Mets are getting everything they could have hoped for and more out of Jose Reyes at the top of the lineup. Reyes has scored 16 runs in his last 16 games, including a string of eight consecutive games in which he has crossed home plate.
Rangers the biggest bully in Texas: TEX@HOU, 8:10 p.m.
Rougned Odor's 12th-inning homer late on Monday evening improved the Rangers' dominant record over the Astros to 14-3. It was the 11th career home run and 19th run batted in this season against the Astros for Odor, who is still just 22 years old. On the other hand, it was a costly loss for Houston because it meant they were unable to take advantage of losses by the Orioles and Yankees in the AL Wild Card chase.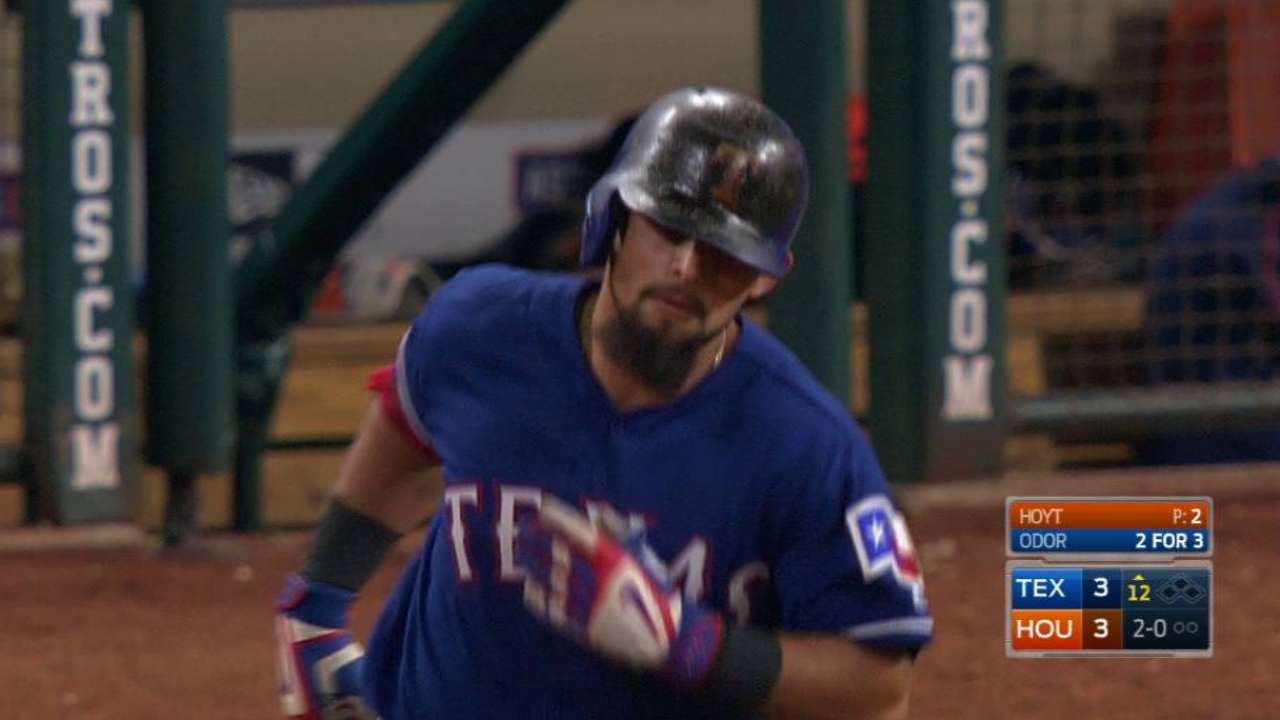 Texas starter A.J. Griffin has been mediocre of late, sporting a 6.00 ERA in his 10 starts since the All-Star break. But just like the rest of the Rangers, he's been great against Houston, limiting Astros hitters to a .171 average in his two starts against them this season. In fact, Griffin has yet to suffer a loss against Houston in his career, going 5-0 over his three seasons in the Majors.
The Astros will need a turnaround from their biggest star if they want to remain in the postseason hunt. AL MVP candidate Jose Altuve has hit just .178 since the calendar flipped to September, and he may be in danger of losing a batting title that seemed all but his just a couple weeks ago. His average now stands at .337, just seven points ahead of Boston's Dustin Pedroia (.330) at the top of the AL leaderboard.
Stat that matters: Evan Gattis displayed the never-say-die attitude that has characterized the Astros all year long when he tied Monday's game with a massive home run in the bottom of the ninth inning. According to MLB.com's Jordan Ray, a remarkable 11 of Gattis' 26 home runs have come in the ninth inning or later this season.
MLB.TV Premium subscribers get the Mosaic View -- split screen or quad, available on PC or Mac only. That always comes in handy, especially when scoreboard-watching looms. MLB.TV Premium and MLB.TV Single Team subscribers both enjoy HD and both will get real-time highlights and player stats automatically loaded moments after they occur (only for the game you are watching with MLB.TV Single Team, and for all games with MLB.TV Premium).
Matt Kelly is a reporter for MLB.com based in New York. Follow him on Twitter at @mattkellyMLB. This story was not subject to the approval of Major League Baseball or its clubs.