False finish, postgame fireworks for Blue Jays
Benches clear over 'miscommunication' after Toronto's win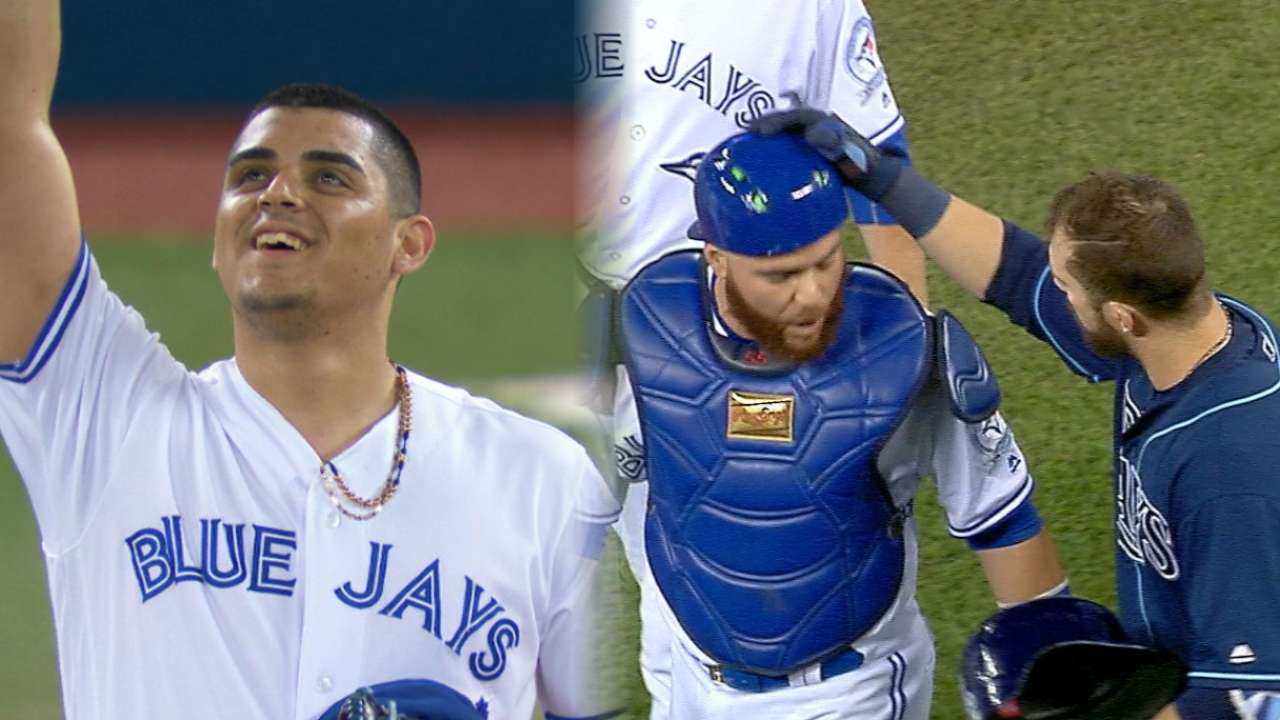 TORONTO -- The final out of Monday night's game between the Rays and Blue Jays featured enough confusion and miscommunication to last a whole night … or more. Roberto Osuna closed out Toronto's 3-2 win against Tampa Bay at Rogers Centre, but it wasn't without a pair of odd moments.
Two pitches before recording the game's last out, Osuna let loose with a bit of premature celebration, mistakenly thinking Russell Martin had corralled a foul tip for the game's last out. Soon after, it was the other way around, as just about everyone on the field thought Steven Souza Jr. had extended the game with a homer. Instead, Kevin Pillar chased the ball down to lock down the win. That's understandable, since according to Statcast™, every previous ball hit with the velocity and launch angle of Souza's at Rogers Centre this year had been a home run.
But this one was not, as Pillar chased the ball down to secure the win. Still, the misperception nearly led to a bench-clearing confrontation. Souza and Martin had a bit of a misunderstanding before cooler heads prevailed and all was fine between the Rays' outfielder and the Blue Jays' catcher.
• Cut4: Osuna celebrates win a little early
After Pillar made the catch, Souza turned back toward home and thought he heard questioning remarks from Martin, while Martin wondered out loud about what Souza was barking about. In the midst of all this, shortstop Troy Tulowitzki arrived to the scene to offer his thoughts and both benches emptied before everybody realized the episode had been caused by a simple misunderstanding.
Osuna fed Souza a 97-mph four-seam fastball, and Souza crushed it. The ball left his bat with an exit velocity of 110.3 mph and at a launch angle of 19.4 degrees, a combination that nearly always means extra bases, if not a home run. Of 11 previous balls hit at Rogers Centre this year with a velocity of at least 110 mph and a launch angle of at least 19 degrees, every single one had been a homer. Of 29 previous balls hit in the Majors this year with similar (but not greater) velocity and launch angle, 28 were hits (.966 batting average), including 12 homers and 14 doubles.
So, yes, everyone thought the ball was leaving the yard.
"I hit the ball good," Souza said. "I thought I got it, and I may have walked a little too much. And I thought Russ was saying something about it, which would have been on me, totally. And I was saying, 'Dude, I'm sorry, I thought I got it.' It was miscommunication.
"He actually said, 'I thought you got it.' And so I said, 'My bad.' And walked away. Then Troy decided to jump in and say some things that aren't necessary, but they're in a playoff race. They've got some emotions high. Some miscommunication. When you're all competing, stuff like that happens it seems."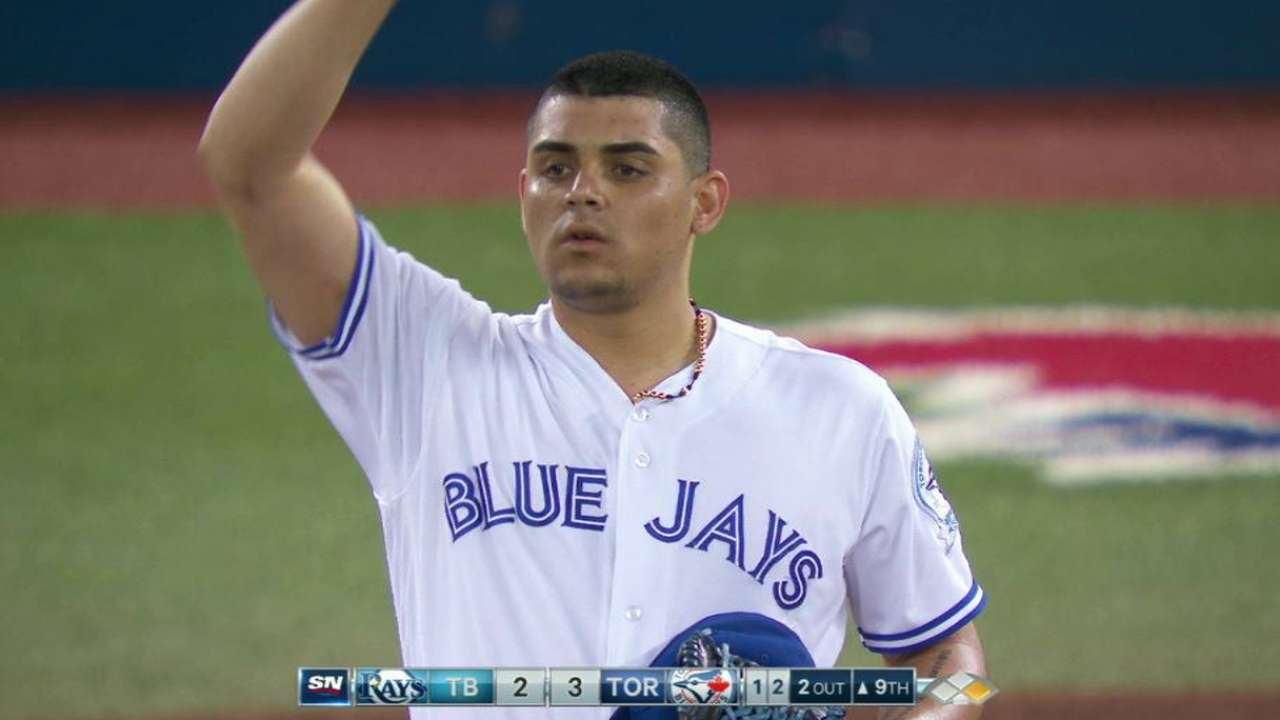 Martin noted that Souza "wasn't mad at anybody."
"He just looked like he wasn't sure what was being said," Martin said. "He was probably in defensive mode. Probably because he didn't run or something. He probably thought I was saying something about that, that he didn't run out of the box or something. But that wasn't it, I just told him, 'I thought you crushed that ball, I thought you got it.'
"Before I could really get my message across, Tulo jumped in like a ball of fire. In the end, I got to tell him, 'Hey, you did crush that ball' and he said, 'Yeah I know.' That was it and we went on our way. It was just a misunderstanding."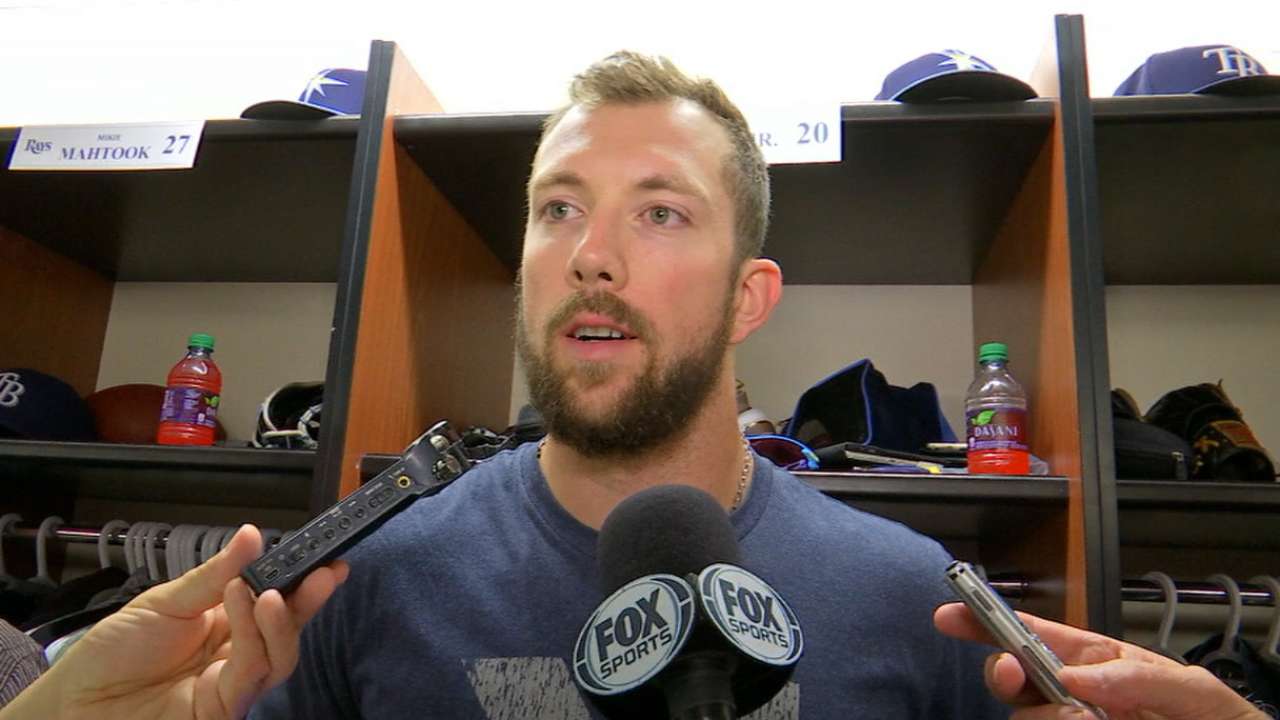 Souza said that Tulowitzki "just maybe said some stuff below the belt that I'm not going to repeat, I'll leave it on the field."
"But like I said, they're trying to win a pennant," Souza said. "I'm not going to hold it against them. Competition's flaring, close game, stuff like that's going to happen. He's just trying to protect his teammates.
"We're fine. I love watching Russ play. I love watching Tulo play. Love competing against these guys. Hopefully we squash it and go forward."
Added Martin: "There's no story. I told him he crushed the ball and he didn't understand what I said and he had that look like, 'I don't know what he said. Is he mad at me? What's this guy telling me?' Before I could explain both teams got into that melee, but I got to talk to him at the end and we're fine. There's no bad blood or anything."
Bill Chastain has covered the Rays for MLB.com since 2005. This story was not subject to the approval of Major League Baseball or its clubs.