Gomez drowns out noise, keeps eye on prize
ARLINGTON -- Rangers outfielder Carlos Gomez didn't concern himself with the array of boos he knew he would receive in his first appearance at Minute Maid Park since being released by the Astros. He had more important matters at hand, like batting leadoff and playing left field for the American League West leaders amid a pennant race, as they won the series opener, 4-3, in 12 innings on Monday night.
"I only control what I can control," said Gomez, who went 0-for-4 with a walk on Monday. "I've got bigger problem to face. I have the guy on the mound to worry about, not some fans. I just tell myself, 'Big game today.' The goal is to win, not pay attention to something else."
Gomez has maintained that he doesn't feel he has anything to prove to the Astros, despite batting just .210 in 85 games for them this year. He dealt with a similar line of questioning when the Rangers and Astros played two weeks ago at Globe Life Park.
"Like I said before, I honestly don't even think about that kind of stuff," Gomez said. "We're in first place right now, I'm just focused on that."
The way Gomez has swung the bat lately probably made it a little easier to tune out the Astros' crowd. He's hitting .308 with nine RBIs over his last 12 games. In 17 games with the Rangers, he's hit four home runs -- two coming in the last three games. He hit five while with the Astros.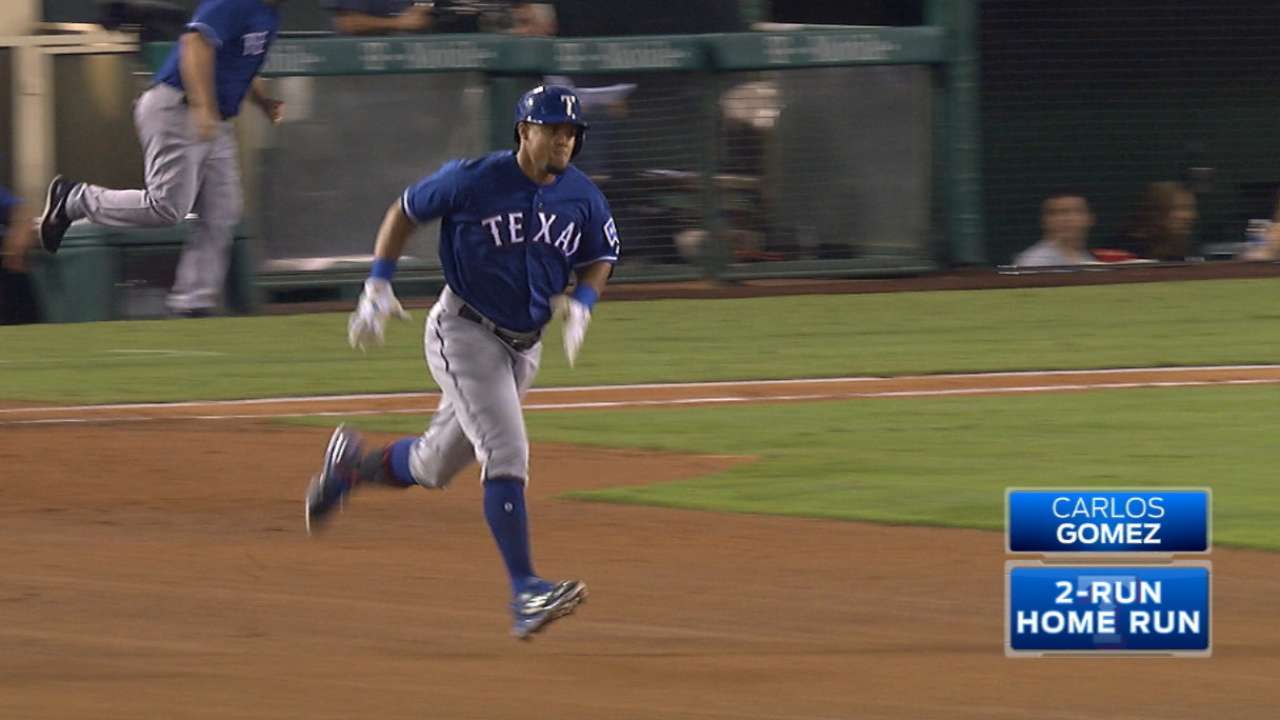 "He's looked calmer at the plate," said Rangers manager Jeff Banister, who moved Gomez into the leadoff role over the weekend. "It's all about staying within himself. He's been able to string together some quality at-bats."
Gomez credited a new approach to his swing that is different than anything he's tried in his 10-year Major League career. He's worked with Rangers assistant hitting coach Justin Mashore on keeping his hands lower before every pitch, which has helped him keep his weight back to see the ball better.
"I'm tasting something new and I'm seeing how easy it is to hit on the sweet spot and to be able to hit the ball the other way," Gomez said. "When I started [preparing] like this, I started to get really excited and anxious for the next day to come."
Before the switch, Gomez said he never saw the ball hit the bat. He relied on his natural hand-eye coordination to take over. The result was two All-Star seasons leading up to this year. But the change has been instrumental in his hot streak with the Rangers.
"I've been in the league 10 years, but I feel like I'm starting right now," Gomez said. "All that I did in the past was kind of with blind eyes. Now I've opened my eyes and I'm seeing the results."
A byproduct of his new approach has been an increase in walks. Gomez has walked 10 times in his last 13 games.
"I'm having quality at-bats and I'm doing what I want to at the plate -- more walks, seeing the pitch that I want," Gomez said. "You can see it ... we're going the right way."
Ryan Posner is a reporter for MLB.com based in Texas. This story was not subject to the approval of Major League Baseball or its clubs.