Russell, J-Hey preserve Hendricks' masterpiece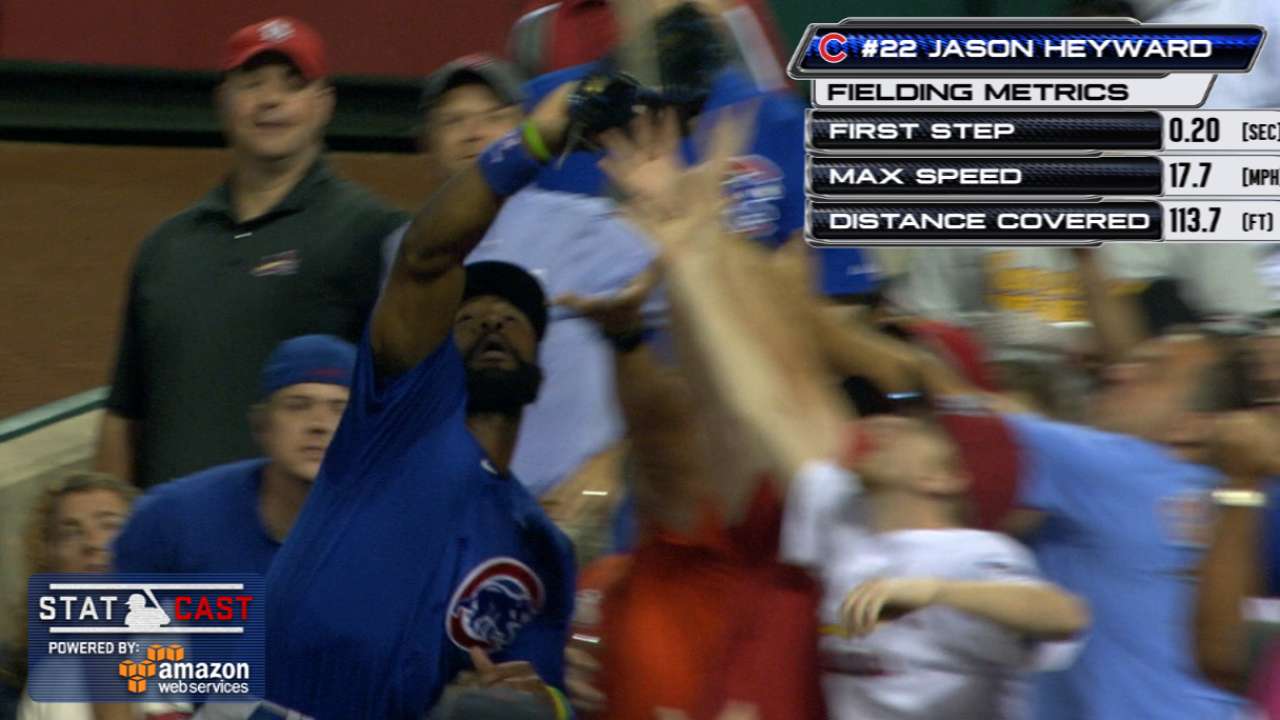 ST. LOUIS -- Addison Russell and Jason Heyward made back-to-back stellar defensive plays in the sixth inning of Monday's 4-1 win, the type you mark in your scorebook as "key moments," especially if a pitcher has a no-hitter going, which was exactly the situation the Cubs' Kyle Hendricks was in.
Hendricks had faced the minimum number of batters through five innings. The only baserunner to that point was Yadier Molina, who had walked with one out in the second but was retired when Jedd Gyorko grounded into an inning-ending double play.
Jhonny Peralta led off the Cardinals' sixth with a hard-hit ball to Russell, and the shortstop was able to stop it and make the throw in time to first baseman Anthony Rizzo. With a first step of -0.63 seconds according to Statcast™, Russell was in motion before the ball was put into play. His throw of 85 mph was his third hardest of the season, and second fastest for an out.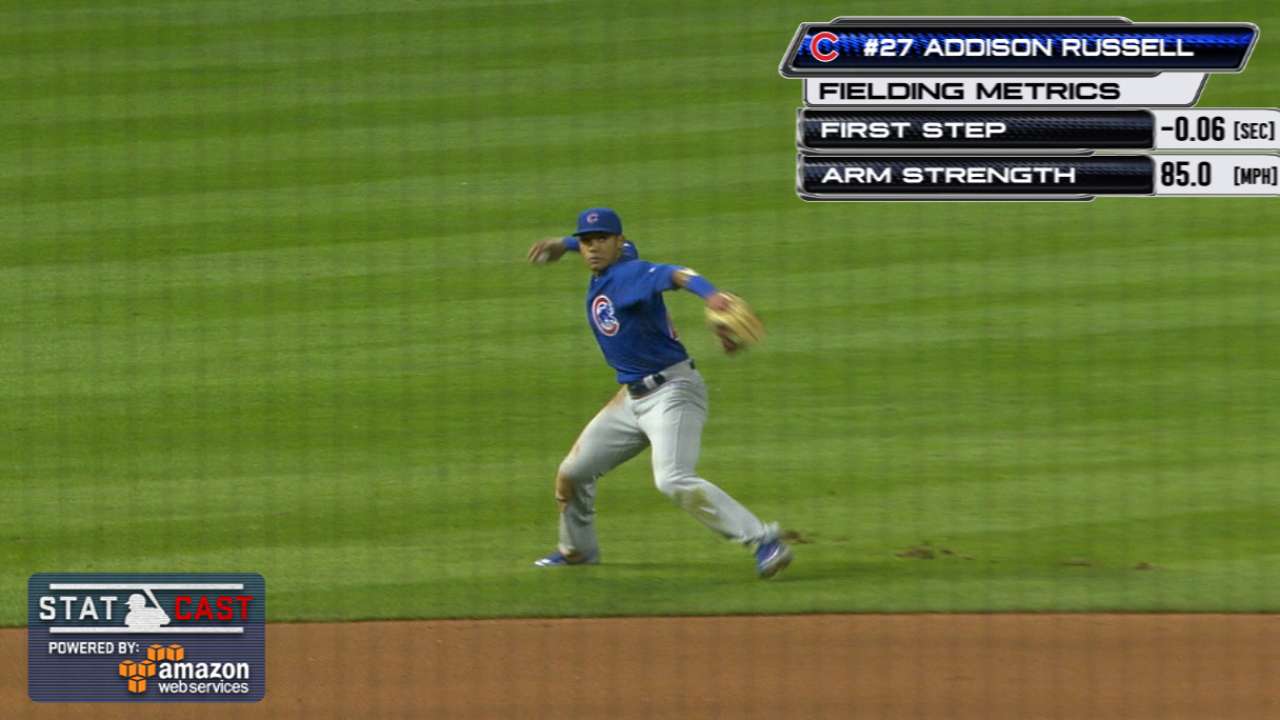 Jeremy Hazelbaker then lofted a ball into foul territory in right, but that didn't stop Heyward from diving into the first row of seats and making the catch. Statcast™ recorded Heyward's first step at 0.2 seconds, and he reached a top speed of 17.7 mph to cover 113.7 feet. His route efficiency was 95.7 percent.
What was Heyward thinking?
"Catch the ball," Heyward said. "If you can reach it, catch the ball."
The fans in that section helped Heyward get back to his feet, and Javier Baez ran over to signal that the right fielder caught the ball.
"That's a good play," Hazelbaker said. "[Heyward] covered a lot of ground to reach over the stands and make that play. It was a good play on his part. He tipped his hat on the play that [Randal] Grichuk made, so that's just appreciating good plays. We're able to do that."
Heyward flied out to center to open the Cubs seventh and Grichuk made a diving catch. Heyward saluted the center fielder as he trotted off the field.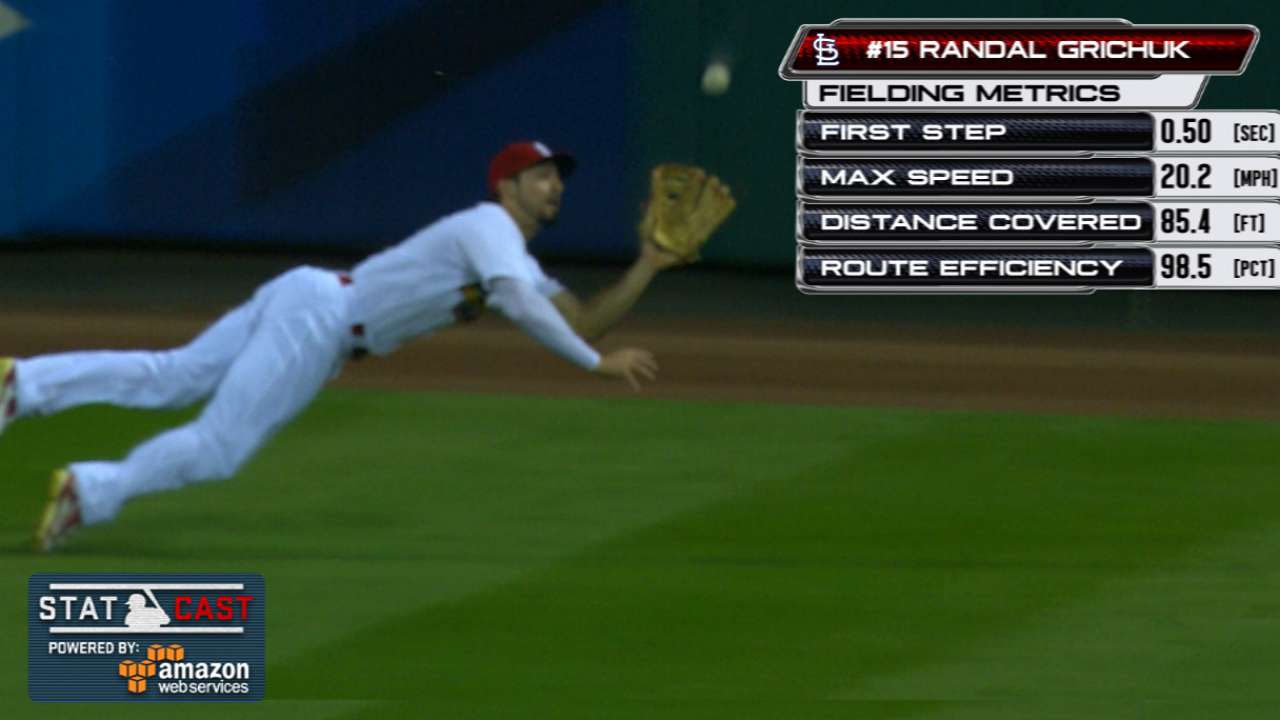 Hazelbaker eventually spoiled Hendricks' no-hit bid with a leadoff home run in the ninth inning, driving an 0-2 pitch to right.
"[Hendricks] was sharp," Heyward said. "He was able to throw a lot of his pitches. All of his pitches, I felt, looked the same. He was able to throw them in the locations they needed to be."
Hendricks appreciated the efforts in the field.
"Obviously, [a possible no-hitter] was in my head at the time, so after they made those plays, it kept me going," Hendricks said. "It opens your eyes when someone makes those plays behind you. It locks you in a little more. It helped me make better pitches, really. You always have a few of those plays in one of those games."
Catcher Miguel Montero felt the same way.
"I realized it was a no-hitter in the fifth, and then I saw Peralta hit the ball in the hole and Addy made a great play, and I was like, 'These are the things that happen in a no-hitter,'" Montero said.
Carrie Muskat has covered the Cubs since 1987, and for MLB.com since 2001. She writes a blog, Muskat Ramblings. You can follow her on Twitter @CarrieMuskat and listen to her podcast. This story was not subject to the approval of Major League Baseball or its clubs.