Foltynewicz exits with left calf contusion after comebacker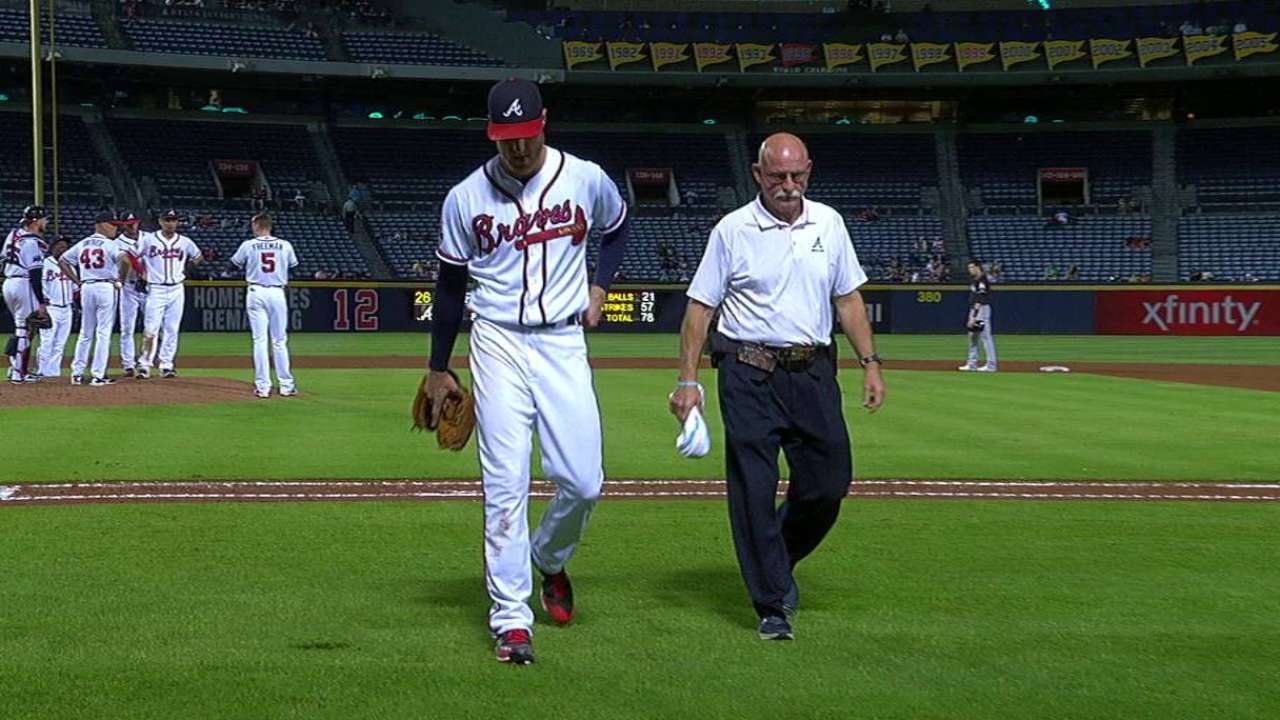 ATLANTA -- Braves right-hander Mike Foltynewicz exited Monday's 12-7 win over the Marlins at Turner Field with a left calf contusion after being hit by a line drive off Marcell Ozuna's bat in the fourth inning.
With two outs and runners on first and second, Ozuna hit a 92-mph fastball off Foltynewicz's left leg. The ball left Ozuna's bat at 110 mph, according to Statcast™.
X-rays came back negative, but Foltynewicz and Atlanta manager Brian Snitker said the team will stick to a day-to-day approach when asked about when the right-hander could potentially return.
"We're just going to go home, keep it elevated and then come back and see how the swelling has been tomorrow because it's swelling up pretty bad right now," Foltynewicz said. "There's not much we can really do right now. Just wait until tomorrow, see how it feels and then go from there."
Foltynewicz immediately went to the ground after the ball struck him, and he took a knee as Snitker and a trainer visited him on the mound.
The 24-year-old eventually walked off the field without any assistance, but after returning to the clubhouse, the swelling in his calf forced him to resort to crutches to navigate the locker room.
"I think the adrenaline was still hitting me as I was walking off the field," Foltynewicz said. "Right now, I don't even know how I did it. It hurts that bad."
But the injury wasn't the only damage Foltynewicz sustained in the fourth, as the right-hander allowed five runs in the inning just moments after the Braves seized a 7-0 lead in the previous frame.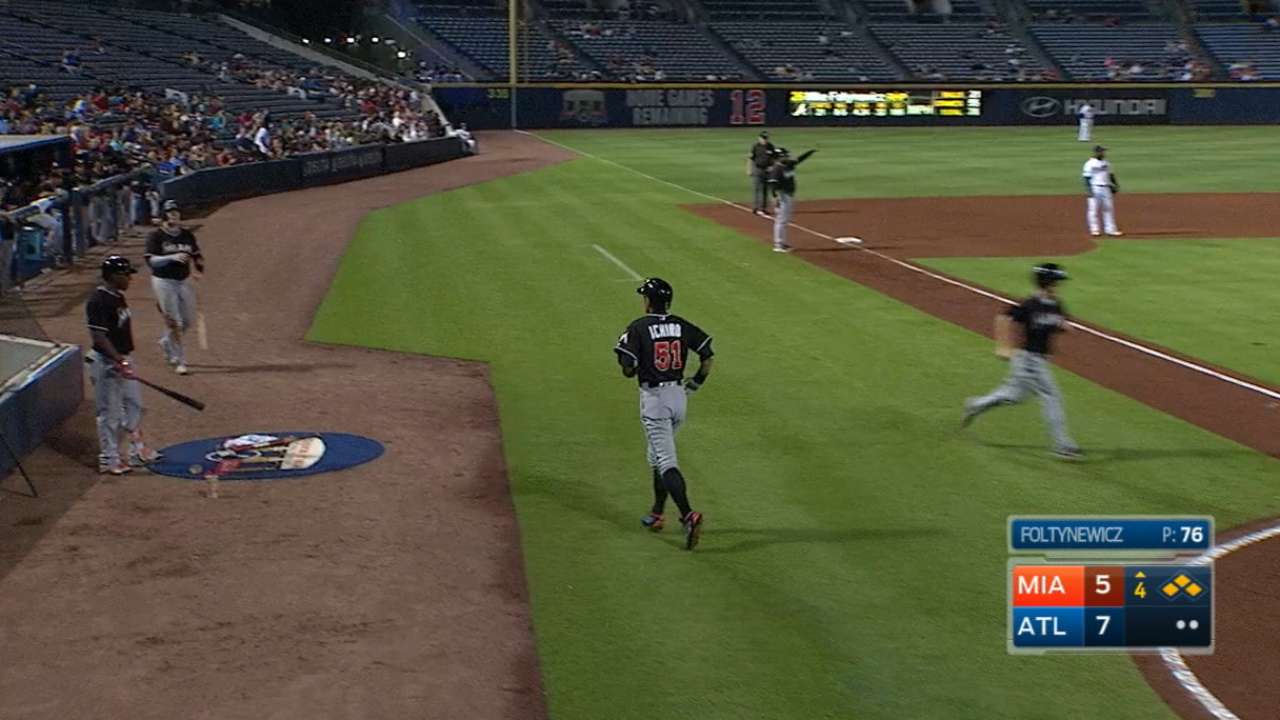 At times this year, Foltynewicz has struggled putting batters away with two strikes. That issue plagued him once again in the fourth, as he got two strikes on five of the 10 batters he faced but allowed hits to three of them while recording only two outs.
"Every single pitch they hit was up in the zone or right down the middle, either one," Foltynewicz said. "We get back to where I'm not putting guys away with two strikes, and that was definitely a cause tonight. A lot of my pitches were up with two strikes, and they were having a first-and-third party there for a while."
Foltynewicz's fourth-inning struggles ultimately spoiled what was an impressive first three innings for the right-hander, who struck out five of the first 13 batters he faced.
And while Atlanta's offense erupted for five runs to eventually secure the win, Snitker hopes Monday's outing will be one Foltynewicz can learn from going forward.
"He was throwing too good and his stuff was too good to let that happen," Snitker said. "That's a mental-type thing and focus. That's all part of it, too, is how to channel that type of thing. The only way you learn it is to experience it, then you know you're better prepared for it when it happens."
Pat James is a reporter for MLB.com based in Atlanta. This story was not subject to the approval of Major League Baseball or its clubs.