MLB.com Columnist
Phil Rogers
Tribe sparkplug Naquin deserving of AL ROY nod
Center fielder's emergence essential to first-place Indians' success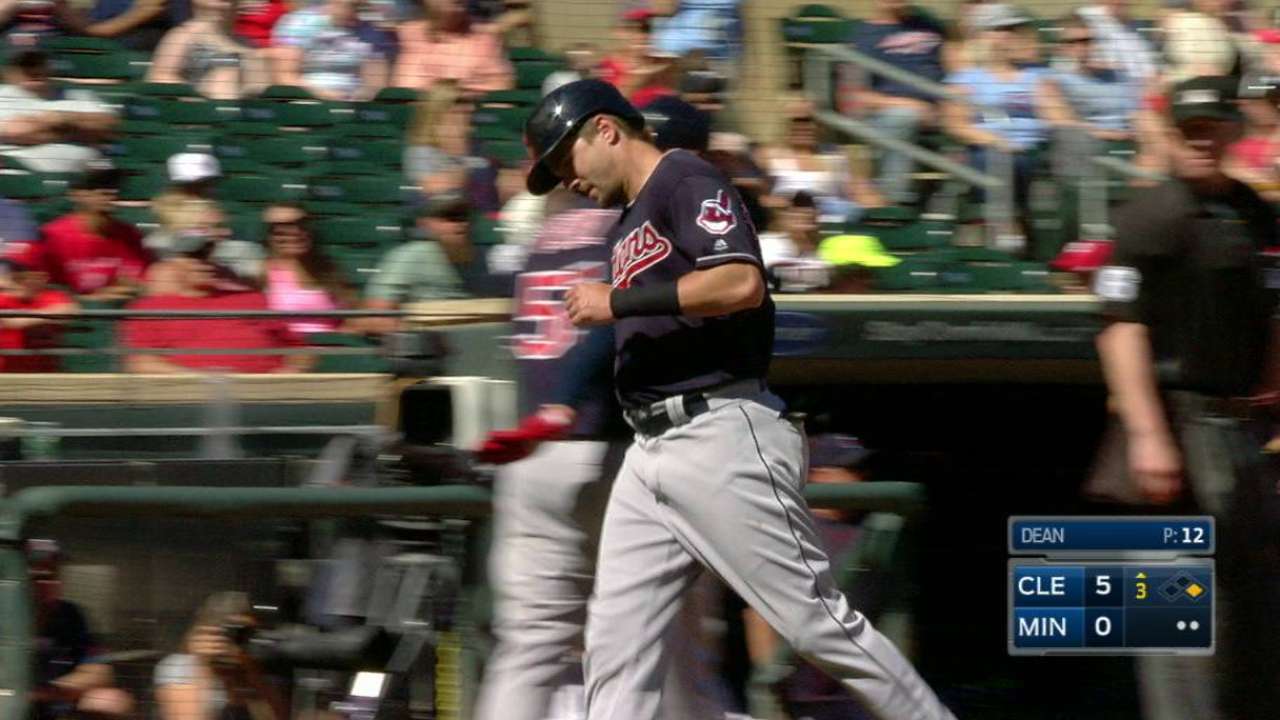 CHICAGO -- Has a Rookie of the Year Award winner ever hit eighth?
Tyler Naquin does, but you can't judge his value to the first-place Indians by Terry Francona's lineup card. He hit .341 in April, began to mix in some power in June and has emerged as a key player down the stretch.
"Well, he's got a nine-hundred OPS," Francona said Monday. "That's pretty significant."
Naquin actually carried a .928 OPS into a four-game series against the White Sox. He's become a Pick to Click in an open-for-debate American League Rookie of the Year Award race.
Michael Fulmer was a strong favorite not too long ago, but the Tigers right-hander with the killer changeup has seemed to hit a wall since mid-August, creating room for other candidates to creep into the picture. He'll still be tough to beat, but other players have started to step forward.
Gary Sanchez? He will likely get some votes, but it doesn't seem like two months should make a Rookie of the Year season.
The list of candidates with tenure includes Nomar Mazara, Max Kepler and Edwin Diaz, the bat-defying Mariners closer. But don't overlook how Naquin is emerging from the shadows into the role of viable alternative as the Indians' primary center fielder.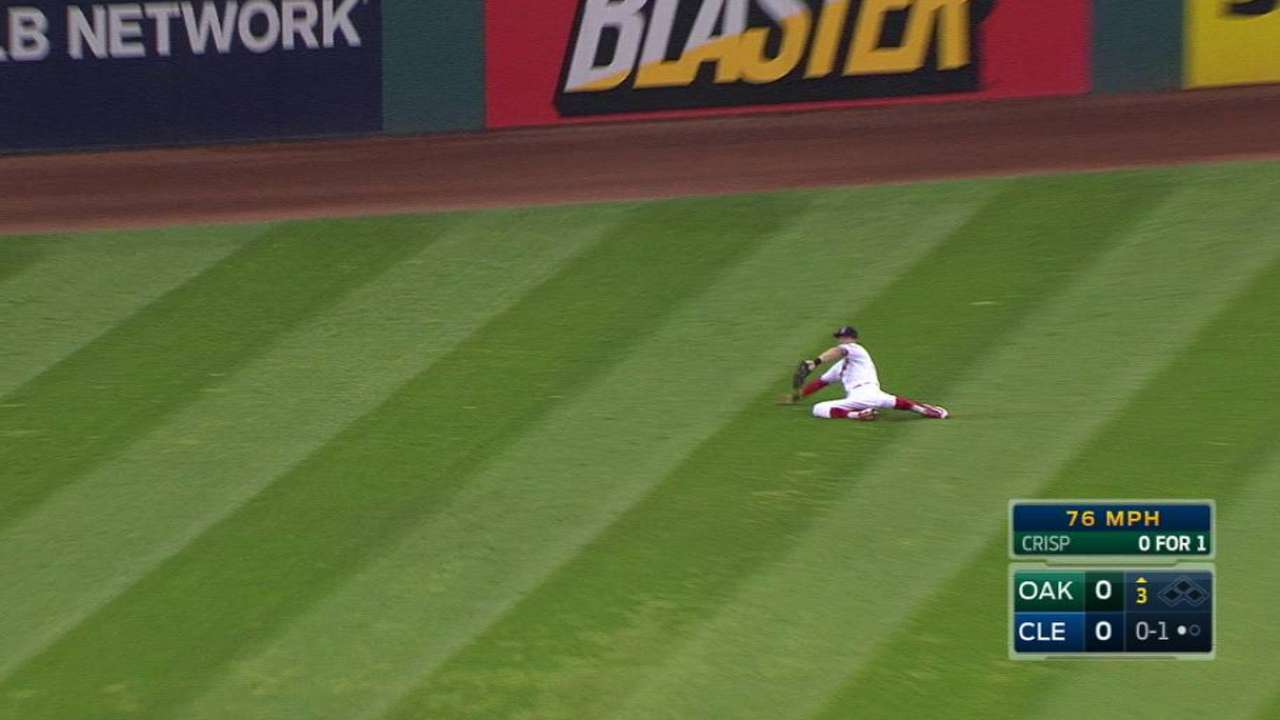 By owning right-handed pitchers, the 2012 first-round pick from Texas A&M has become a core piece of the Indians' lineup, which has become the biggest reason that Cleveland seems headed to the postseason for the second time in Francona's four years on the job.
"They say baseball's kind of like a roller-coaster ride," said Naquin, who is hitting .300 with 14 homers and 42 RBIs. "You have to smooth it out the best you can. … Getting comfortable in the box, [adding] a little more confidence and knowing you belong.''
This is not the rotation-driven Indians team most of us expected, and that point was hammered home on Monday when Danny Salazar was shut down for the rest of the regular season because of a strained flexor tendon in his right arm.
Corey Kluber and Carlos Carrasco have been good enough that the Tribe's rotation ranks second in the AL in ERA (4.04), but the Indians lack the depth they had in the first half of the season. Their hitters are providing lots of run support, however, despite a lost season for Michael Brantley, the left fielder who finished third in AL MVP Award voting in 2014.
Naquin's development was slowed by his own injuries in 2014 and '15. He seemed like an afterthought at the start of Spring Training, but he claimed a job when Brantley opened the season on the disabled list and Abraham Almonte was suspended for a positive PED test.
Francona has used nine starters in right field, eight in left field and five in center field. Naquin has done the most to offset Brantley's absence. His wRC+ of 144 ranked 15th among Major League players with at least 300 plate appearances entering play Monday, just behind Anthony Rizzo, Jose Altuve and Miguel Cabrera and ahead of Manny Machado, Jose Cruz and Mookie Betts.
"He's been a fun guy to watch," Francona said. "Just when you think he might start to struggle, he figures out how to get a couple hits or hits a home run. He plays with a lot of energy. He doesn't back down from anything.''
Naquin provided the signature moment of the Indians' season on Aug. 19, hitting a walk-off inside-the-park home run to give them a 3-2 win over the Blue Jays.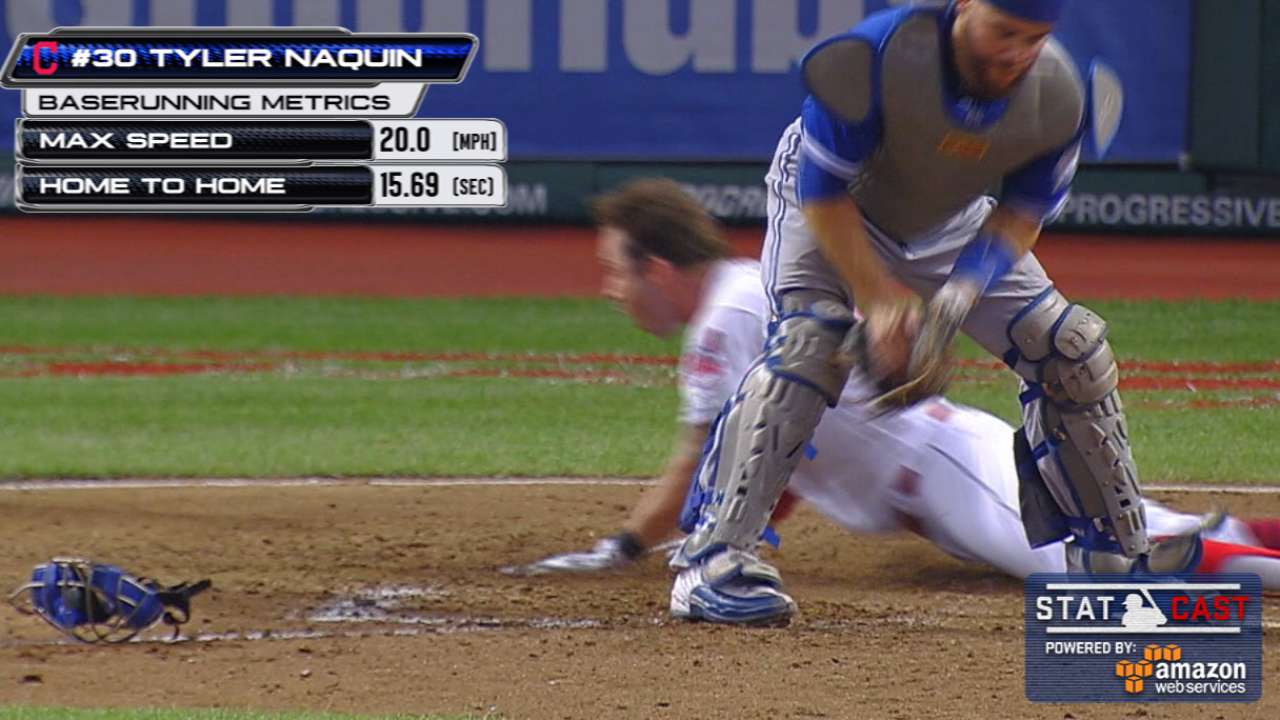 "It was insane," Naquin said. "When I hit it, saw it, I felt like it might have a chance but I got it on the inside part of the bat a little bit. I [thought], 'If that thing bounces away, I need to keep on running in case it caroms off,' and sure enough it did."
While advanced metrics show that Naquin has been extremely productive at the plate, his raw totals won't command attention with voters. But only three years ago, the Rays' Wil Myers won the AL Rookie of the Year Award with similar totals (.293-13-53 with an .831 OPS).
Myers was helped by the 2013 Rays winning 92 games. The Indians are on pace to win 95, and Naquin deserves his share of the credit.
Phil Rogers is a national columnist for MLB.com. This story was not subject to the approval of Major League Baseball or its clubs.