Gold medalist adds punch to 'second' pitch
Boxer Shields follows up 2012 first pitch with another one in Detroit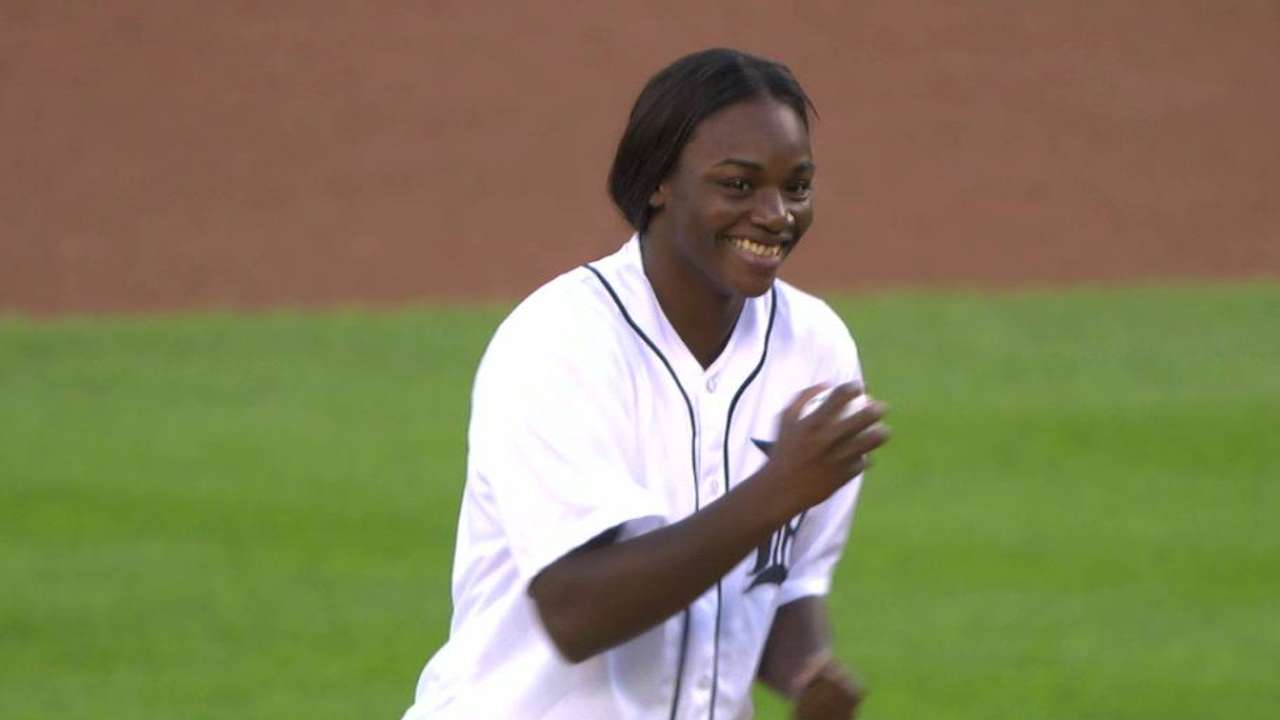 DETROIT -- Two-time Olympic boxing gold medalist Claressa Shields threw out the ceremonial first pitch at Comerica Park on Monday before the Tigers' series opener against the Twins.
Shields, 21, is a native of Flint, Mich. This was the second time the Tigers have invited her to throw out the first pitch; the other time came in 2012 following her first gold medal in London at the age of 17.
Shields said that boxing was the only sport she ever really cared about growing up. She rarely watched TV, so she never had much of a connection to Detroit sports teams. Not until 2012, anyway.
"I've been a fan of the Detroit Tigers since 2012, when they invited me to throw out the first pitch, and now I'm here to throw out my second pitch," Shields said.
Shields joked that throwing the first pitch is nothing compared to boxing. She did, however, think it was a little tougher this time.
"I get out there and look at the distance, and I was like, 'What? Did it get longer?'" Shields said.
Tigers outfielder Tyler Collins caught the first pitch.
"I may not be able to throw it like a professional, but you see, I'm good at more than just boxing, I'm multitalented," Shields said. "Actually I could have gone up there and sung the national anthem, but I'm hoarse today, so I decided to throw the first pitch."
As she held both of her gold medals in her lap, Shields kept things light in a brief media session, as she has done over the last three weeks since returning from Rio. She also had a serious moment, taking time to reflect on the portrayal of Flint in the media following the recent water crisis, hoping her gold medals have inspired Flint natives.
"I hope it all brings attention to Flint," Shields said. "[I hope] it brings attention to our water crisis, our poverty level, our murder level; people will want to help and will see that even though I'm from Flint, look where I am now. I just hope that it gives kids in Flint some hope."
Shields also talked about her future, saying she is on the fence between turning professional or returning for the 2020 Olympics in Tokyo, though she hopes she will be able to do both, as the International Olympic Committee is debating allowing professionals to participate.
Kyle Beery is a reporter for MLB.com based in Detroit. This story was not subject to the approval of Major League Baseball or its clubs.