Sanchez meriting serious AL ROY consideration
First-year catcher's meteoric start transcending small sample size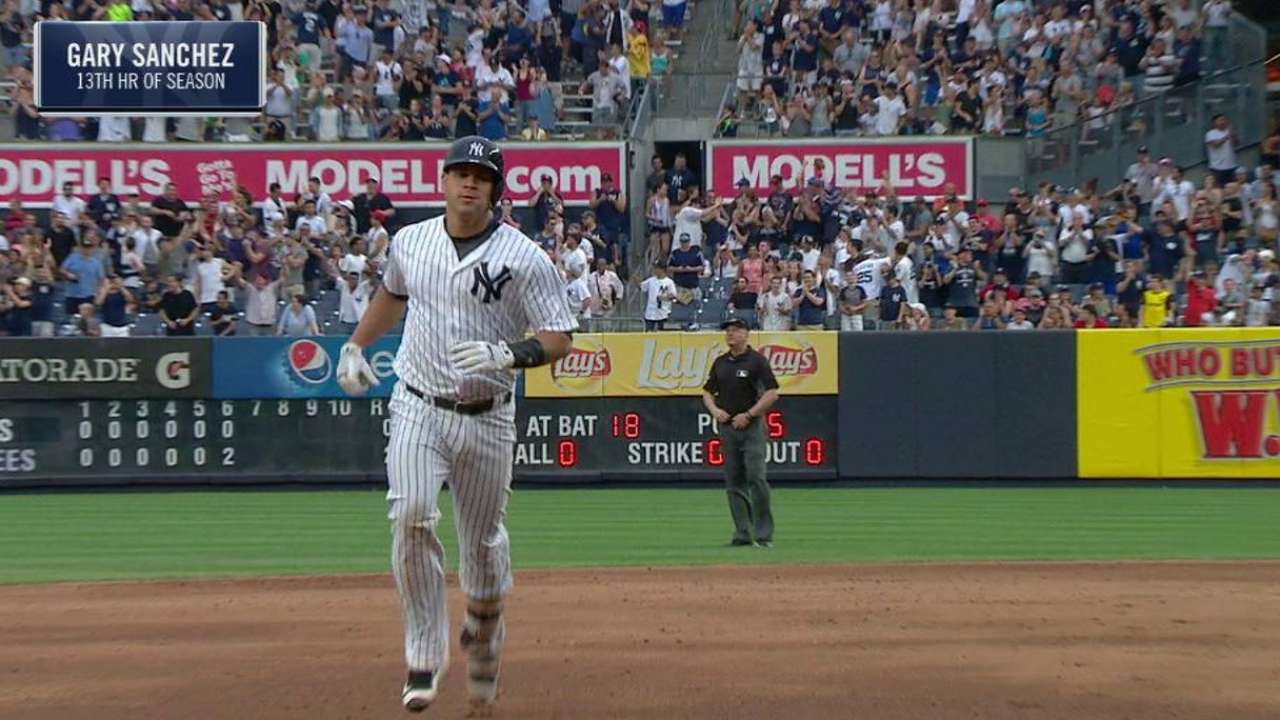 NEW YORK -- Gary Sanchez's first at-bat on Monday exhausted his rookie eligibility, meaning that if the power-hitting catcher ever dreamed of winning the American League Rookie of the Year Award, it will have to happen this offseason.
In the remarkable six weeks or so that propelled the Yankees back into the postseason chase, perhaps Sanchez's greatest accomplishment is this Baby Bomber deserves a place in the discussion. Despite not playing regularly until August, Sanchez's numbers rank alongside the AL's best newcomers.
"When I came up, what I was thinking about was just getting the opportunity to play," Sanchez said through an interpreter. "They gave me the opportunity, I became the everyday catcher and good things have happened for me. At the same time, it has been a special time for me because of everything that has happened. You can't lose focus. You've got to stay focused."
Sanchez, 23, enters play on Tuesday batting .333 with 13 home runs, 24 RBIs and a .697 slugging percentage in 34 games. The slugging percentage leads the Majors among players with a minimum of 140 plate appearances, and Sanchez's 2.4 FanGraphs WAR (fWAR) is the highest of any rookie AL position player.
"It's definitely nice, because if you're part of that group, then you're doing something right," said Sanchez, whose advanced stats are helped by his strong work on defense as well at the plate.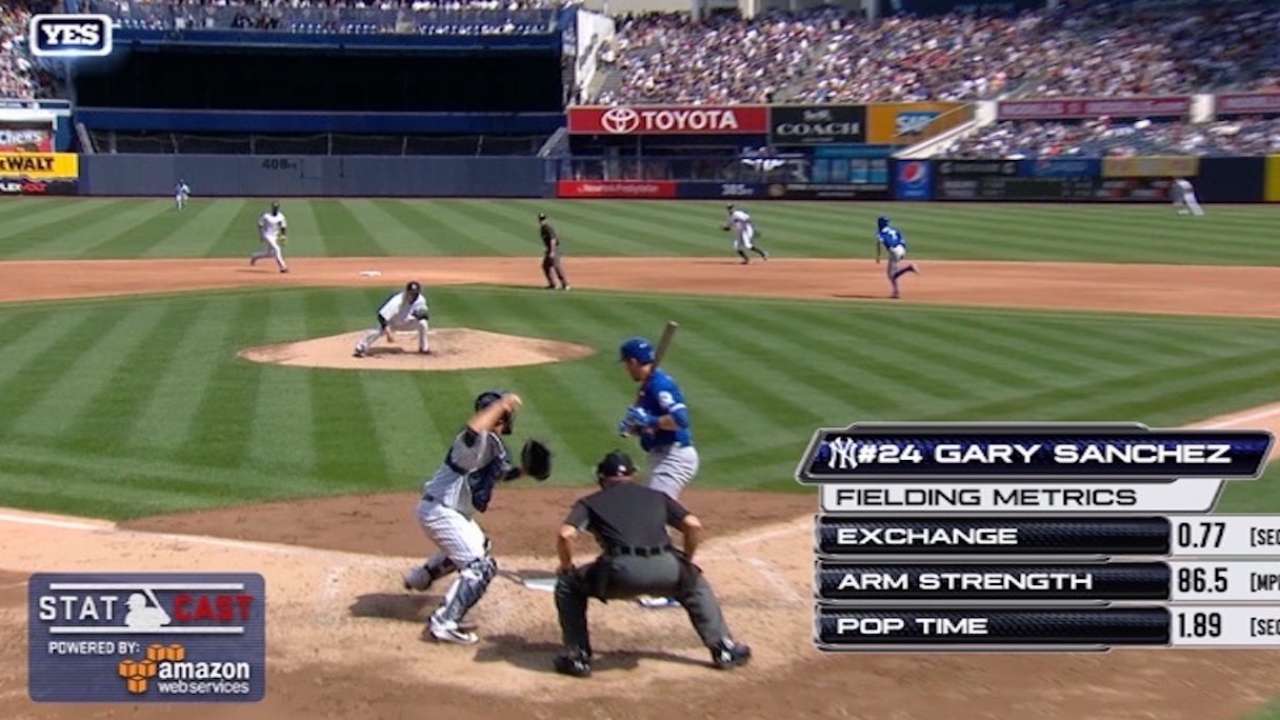 Among AL players, only the Tigers' Michael Fulmer (2.6 fWAR) has been more valuable by FanGraphs' measurements. Fulmer has been widely viewed as a front-runner for the AL Rookie of the Year Award, as the impressive right-hander has gone 10-6 with a 2.76 ERA in his first 23 Major League starts.
The Indians' Tyler Naquin (.304, 14 HR, 42 RBIs, 2.0 fWAR), the White Sox's Tim Anderson (.281, 7 HR, 46 runs scored, 1.7 fWAR), the Twins' Max Kepler (.238, 16 HR, 59 RBIs, 1.1 fWAR) and the Rangers' Nomar Mazara (.270, 17 HR, 57 RBIs, 1.0 fWAR) are among those expected to merit serious consideration when voters cast their ballots.
Yet Sanchez, the first catcher in history to be named both the AL Player of the Month and the AL Rookie of the Month, still has time to close ground.
"I think he should be considered," Yankees manager Joe Girardi said. "I think it's going to be hard for him to win, in a sense, because he hasn't been here the whole year. But if he puts up 20 days like he did the other 20-day period, he's going to be in real consideration."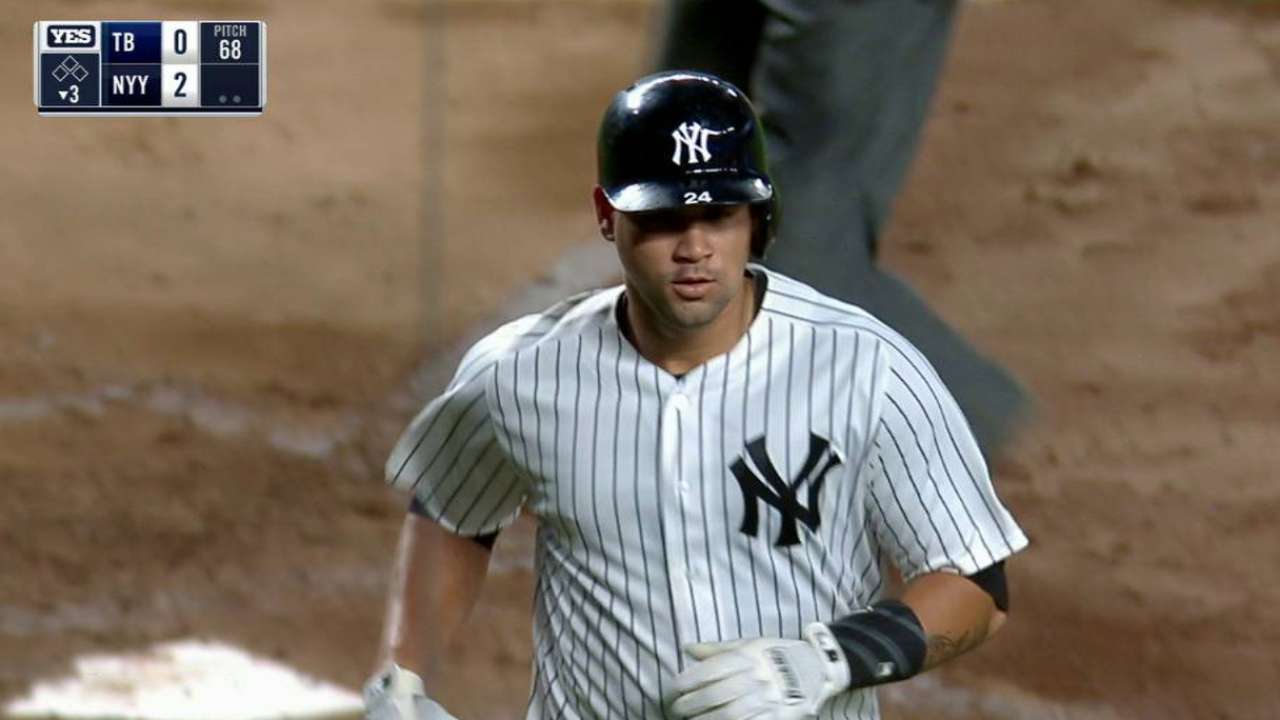 Sanchez made a brief cameo on May 13, going hitless in a 7-1 loss to Chris Sale and the White Sox, but for all intents and purposes, his big league season began when he was called up from Triple-A Scranton/Wilkes-Barre for an Aug. 3 Subway Series game against the Mets.
Sanchez's 130th at-bat on Monday ensured that 2016 will go into the books as his rookie season, and there is precedent for a player joining a club so late and still winning a Rookie of the Year Award.
It happened in 1959, when Willie McCovey was called up by the Giants and hit .354 with 13 homers, 38 RBIs and a 1.085 OPS and won the National League Rookie of the Year Award despite playing in just 52 games. If Sanchez appears in all of the Yanks' remaining games, he would finish with 54 games played.
More recent, the Rays' Wil Myers won the 2013 AL Rookie of the Year Award, even though he only played in 88 games.
Sanchez will leave the debates about who deserves what hardware to others, saying that he is focusing on getting ready to play and help the Yankees keep their postseason drive alive.
"It's hard to think about anything else besides the common goal here," Sanchez said. "What I think about every day is to get to the park, be ready, help the pitcher, help the team. It's hard to stop and think about anything else but the goal, which is to win."
Bryan Hoch has covered the Yankees for MLB.com since 2007. Follow him on Twitter @bryanhoch, on Facebook and read his MLBlog, Bombers Beat. This story was not subject to the approval of Major League Baseball or its clubs.