Simmons' absence apparent in series opener
Pennington steps in and drives in run, but makes throwing error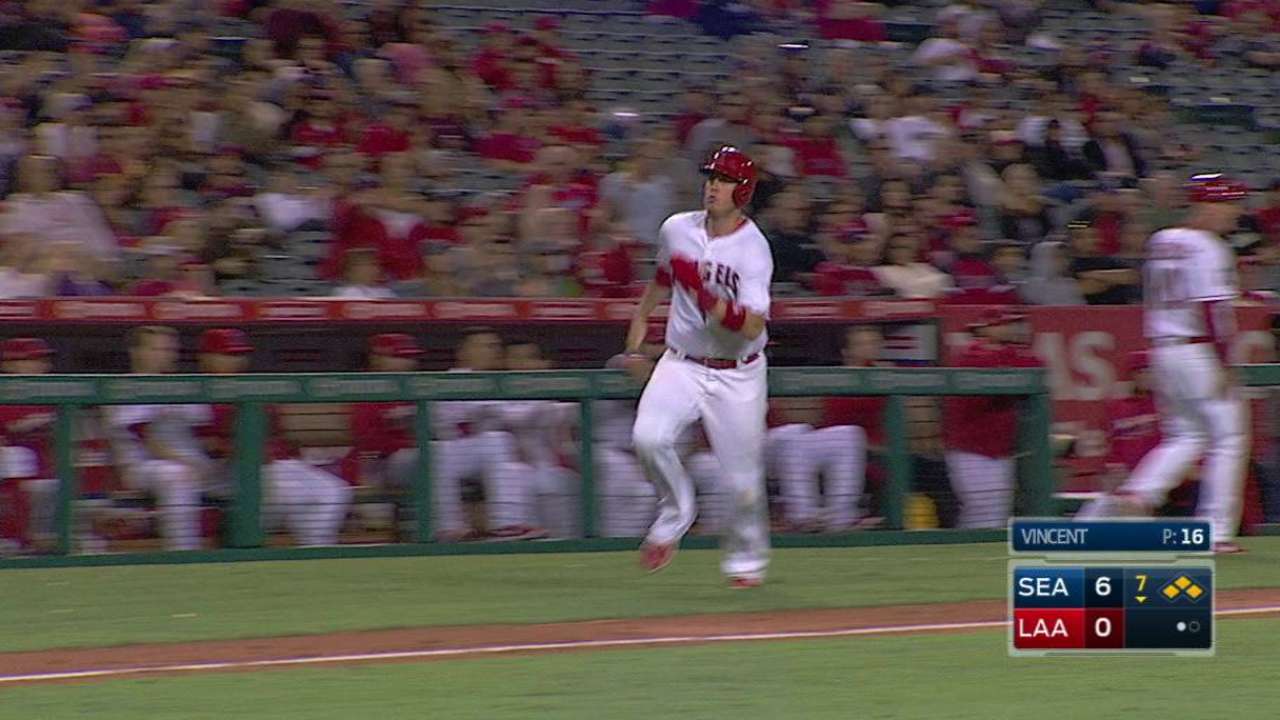 ANAHEIM -- The Angels sorely missed Andrelton Simmons in the field and at the plate in Monday night's 8-1 loss to the Mariners.
Simmons was scratched from the lineup before the opener of a three-game series at Angel Stadium, the result of a bruised right hand. He's considered day to day. Simmons took grounders on the field before the game, but the club decided he couldn't go about two hours before first pitch.
Angels manager Mike Scioscia said the injury was limiting Simmons both defensively and offensively. Simmons was not in the clubhouse when reporters were allowed in after the game, but it sounds like the Angels want to be cautious with the injury. Simmons fractured the same hand as a rookie with the Braves in 2012 and missed 57 games.
"He had injured that hand a couple years ago, and it came up a little sore in his pregame," said Scioscia. "It just wasn't going to work. We'll get it evaluated and hopefully it's just a day-to-day thing."
The Angels could have used Simmons' bat against Mariners lefty Ariel Miranda, who scattered three hits over six shutout innings. Simmons is in the midst of an eight-game hitting streak, with five extra-base hits in that time. He had two home runs in Sunday's 3-2 win over the Rangers but injured his hand in the eighth inning on a rundown.
"On the rundown play yesterday when he tagged out [Carlos Gomez], Gomez stopped and he kind of jammed his hand into him when he tagged him and it just came up a little bit sore," Scioscia said.
Cliff Pennington started at shortstop on Monday and drove in the Angels' only run with a single to left in the seventh that scored C.J. Cron.
However, Pennington made a throwing error that allowed a run to score during Seattle's four-run seventh inning. The Angels brought the infield in with a runner on third and one out. Pennington fielded a grounder from Robinson Cano and threw wide of the plate as Norichika Aoki slid home to give the Mariners a 6-0 lead.
It was a play that Simmons, perhaps the best defensive shortstop in baseball, likely would have made. For Pennington, it was his second error in 356 1/3 innings this season.
Simmons has been a bright spot for the Angels this year after coming over in an offseason deal with the Braves. In addition to his elite defense, Simmons is hitting .286/.325/.371 over 107 games, on pace for his highest batting average over a full season.In 2012, he hit .289 in 49 games.
Austin Laymance is a reporter for MLB.com based in Los Angeles. This story was not subject to the approval of Major League Baseball or its clubs.