Nunez, Olson make their Major League debuts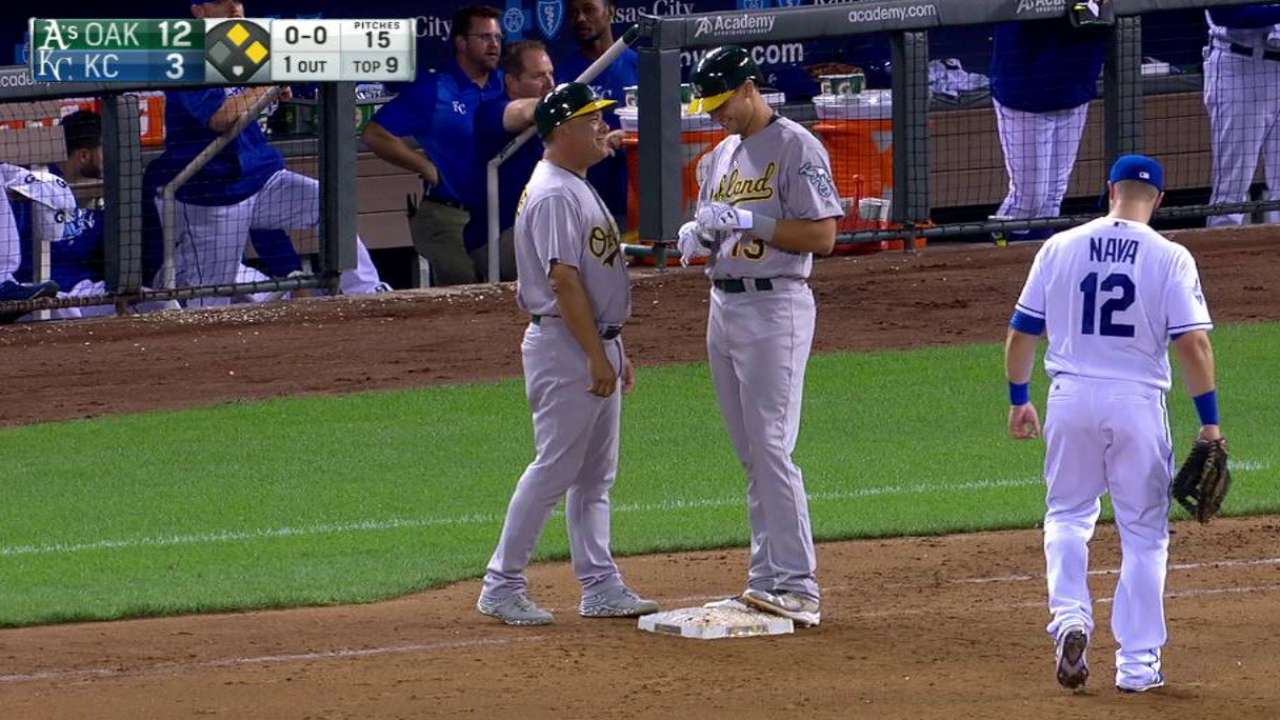 KANSAS CITY -- With Triple-A Nashville's season coming to a halt Sunday evening, the A's added two more prospects to their Major League roster ahead of Monday's 16-3 win in Kansas City, bringing aboard corner infielders Renato Nunez and Matt Olson.
Like several other young players already residing on the A's roster, including Ryon Healy and Bruce Maxwell, 22-year-olds Olson and Nunez -- both homegrown players -- are considered significant pieces of the A's future.
"These are two of our better prospects," A's manager Bob Melvin said.
Coincidentally, Olson and Nunez were retired as the final two outs of Nashville's season-ending loss Oklahoma City in Game 5 of the Pacific Coast League playoffs, making news of their promotion a welcoming distraction.
"It was definitely a silver lining," Olson said. "I was obviously happy, a little shocked. I didn't really see it coming. It just wasn't on my mind really at the time. I was thinking about the game."
Olson made his big league debut less than 24 hours later at Kauffman Stadium in the bottom of the eighth inning at first base. He experienced his first big league plate appearance in the ninth, drawing a walk -- as he had done 384 times in 586 Minor League games.
Nunez, the A's No. 5 prospect, followed with a groundout as a pinch-hitter in his big league debut.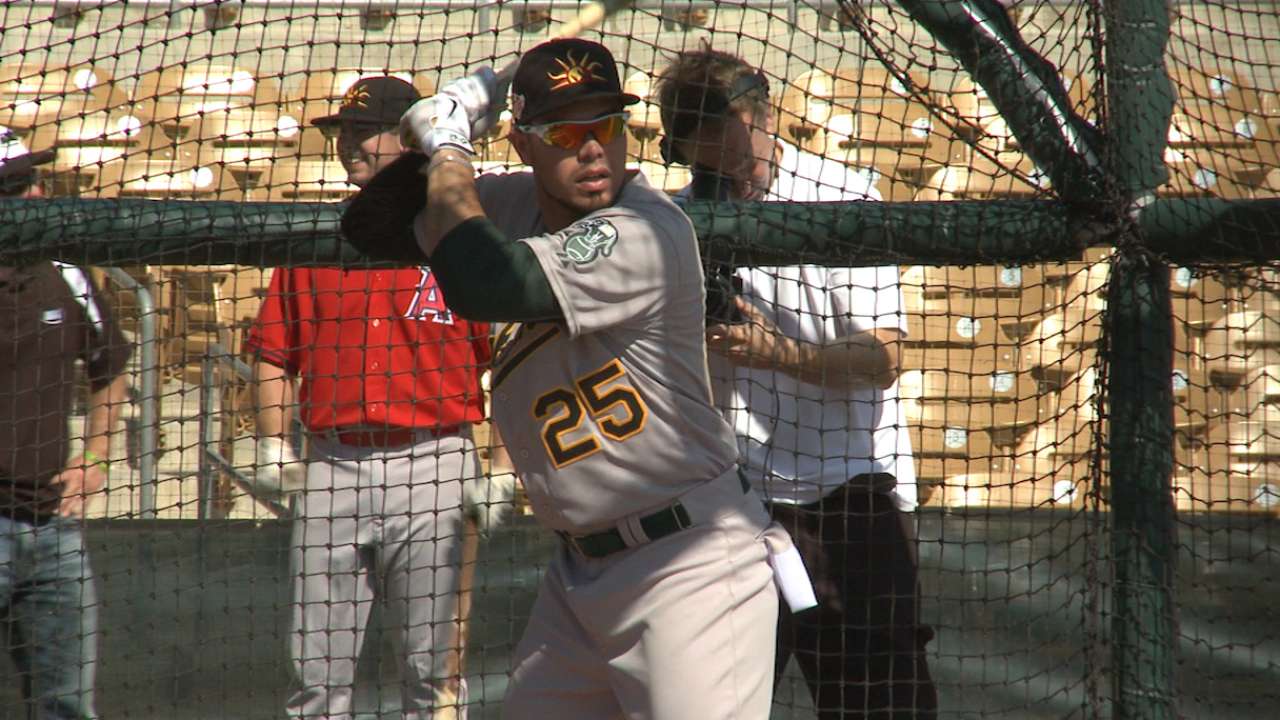 "If anyone is apropos of getting a walk in their first Major League at-bat, it's probably him," Melvin said. "Any other time, I'd probably let him swing 3-0 just to try to let him potentially get a hit, but he'd have taken it anyway."
Olson, a first-round pick by the A's in the 2012 Draft, hit .235 with 17 home runs, 34 doubles and 60 RBIs for Nashville this season, adding 71 walks for a .335 on-base percentage. Nunez has power potential, too: the right-handed batter, signed by the A's as a free agent out of Venezuela in 2010, totaled 23 home runs during the regular season, plus three more in five playoff games for the Sounds.
"He's a guy that when he gets hot, he gets really hot, and same with Matt," said Healy, who called Olson on Sunday night.
Nunez is expected to make his first Major League start Tuesday at designated hitter, while Olson, ranked No. 15, may have to wait his turn until Thursday, based on probable matchups. Melvin would like to see Olson at first base but noted he could also get time in right field.
"He has some versatility based on the fact he can play right," Melvin said, "but if you're looking up prototypical first basemen, this is one of those guys."
That could mean decreased playing time for Yonder Alonso, a regular at first base against right-handers, but Melvin stressed his desire to continue to spread at-bats around a crowded roster. That includes first baseman-outfielder Danny Valencia, who is expected to remain with the A's through at least the end of the season, despite a report suggesting he could potentially be released.
The A's will not call up any more players, barring the need for pitching due to injury. Already, they have utilized 17 rookies this season, with Nunez and Olson bringing that number to 19.
"They're going to be a big part of our future I believe," Melvin said, "so it's nice to get them here and get them some experience at the big league level."
Jane Lee has covered the A's for MLB.com since 2010. Follow her on Twitter @JaneMLB. This story was not subject to the approval of Major League Baseball or its clubs.