Tigers race past Twins to gain in WC chase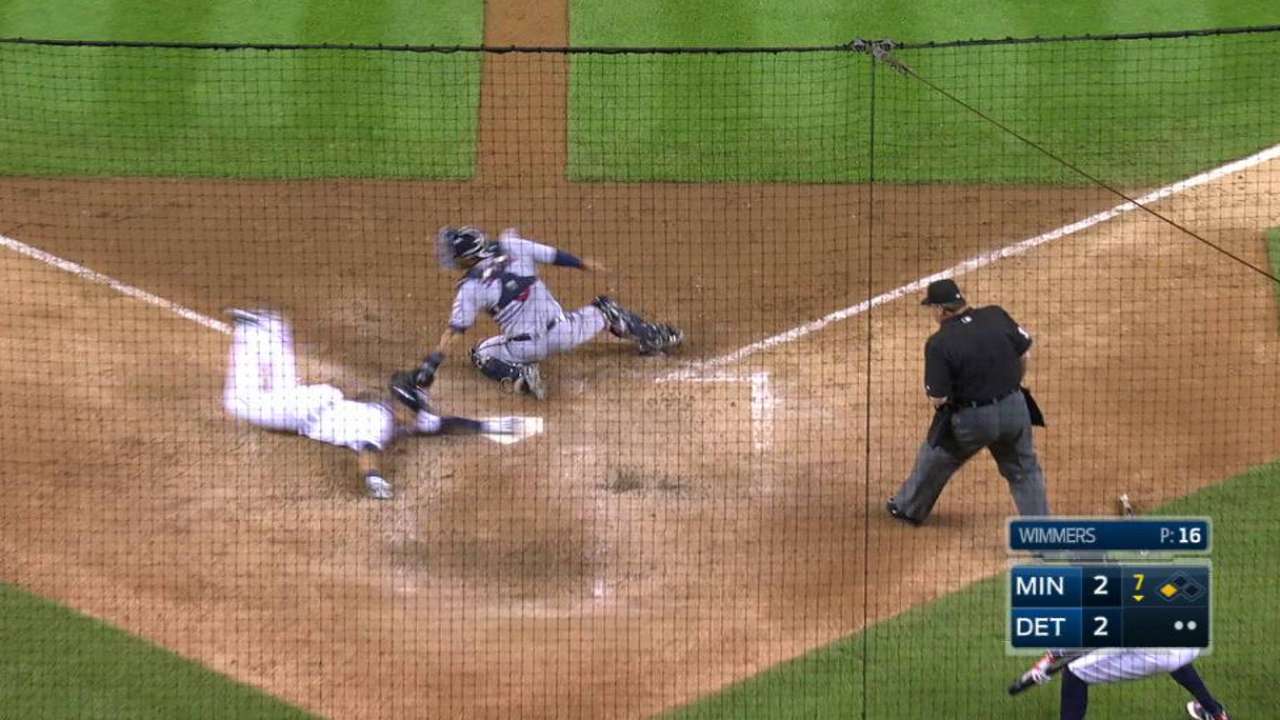 DETROIT -- Jose Iglesias led another Tigers late-inning comeback Monday, doubling home the tying run and scoring the go-ahead tally on Ian Kinsler's sacrifice fly to rally Detroit past the Twins for a 4-2 win at Comerica Park.
The victory drew Detroit back within a game of Baltimore for the second American League Wild Card spot, making up the ground lost when the O's took two of three from the Tigers over the weekend.
"We've been winning games late lately," Kinsler said. "We'd like to make it a little easier on ourselves, but when our pitchers keep the opposing team to two runs, we like to think we have a shot to win, at any point in the game. It was just a matter of time, and we were able to put enough runs on the board."
Though Daniel Norris set a career high with 11 strikeouts -- all swinging -- over 6 1/3 innings, solo homers from Brian Dozier (No. 40) and Kurt Suzuki were enough to keep the Twins ahead through the middle innings thanks to Ervin Santana's five innings of one-run ball. Andrew Romine's one-out walk in the seventh was Detroit's first baserunner in three innings, but Iglesias' line drive down the left-field line converted the run off Alex Wimmers. It also set up Kinsler, whose leadoff home run opened the scoring in the first.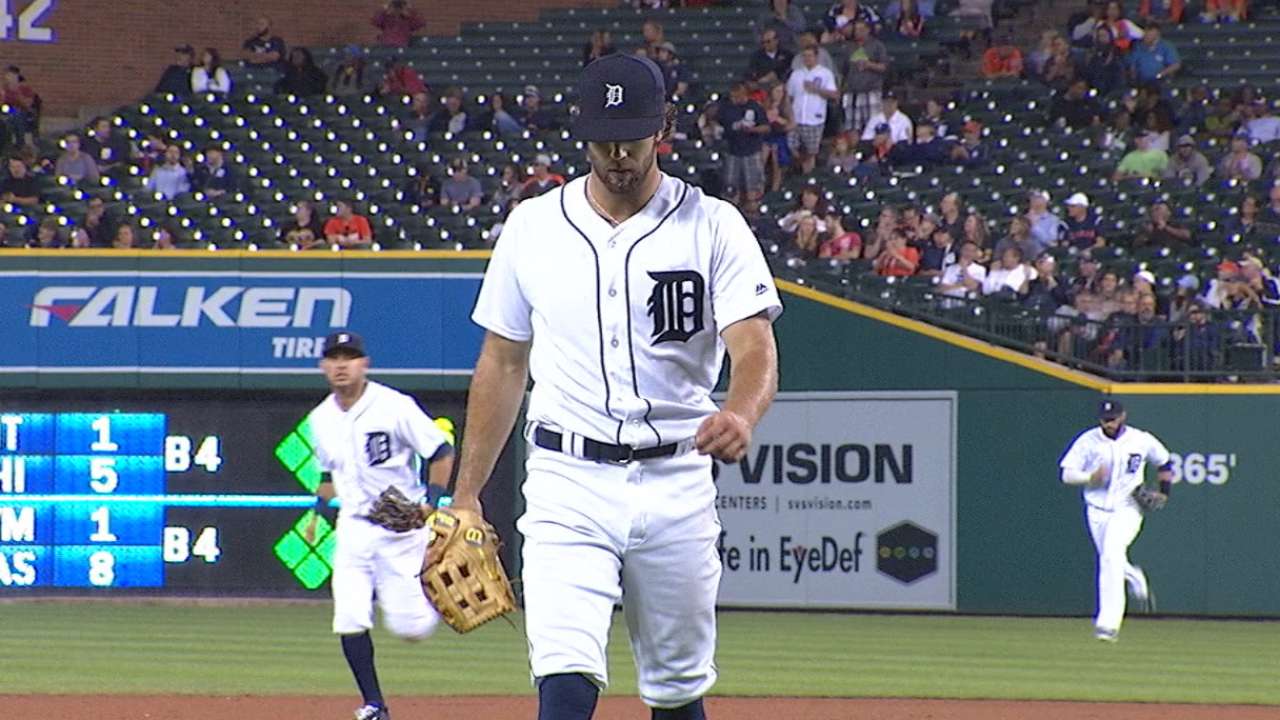 "We've been having trouble in latter innings of ballgames, and tonight that was the case," Twins manager Paul Molitor said. "Ervin threw a lot of pitches, so we only had him for five. We were limited in the bullpen, and we had to make a choice there in the seventh. The walk was a big part of the inning there, and Iglesias dumped that ball into the corner."
After Cameron Maybin ran down Max Kepler's drive to left-center with two on in the eighth, Miguel Cabrera added an insurance run with his 32nd homer of the season and 440th of his career, tying him with Jason Giambi for 42nd on Major League Baseball's all-time list.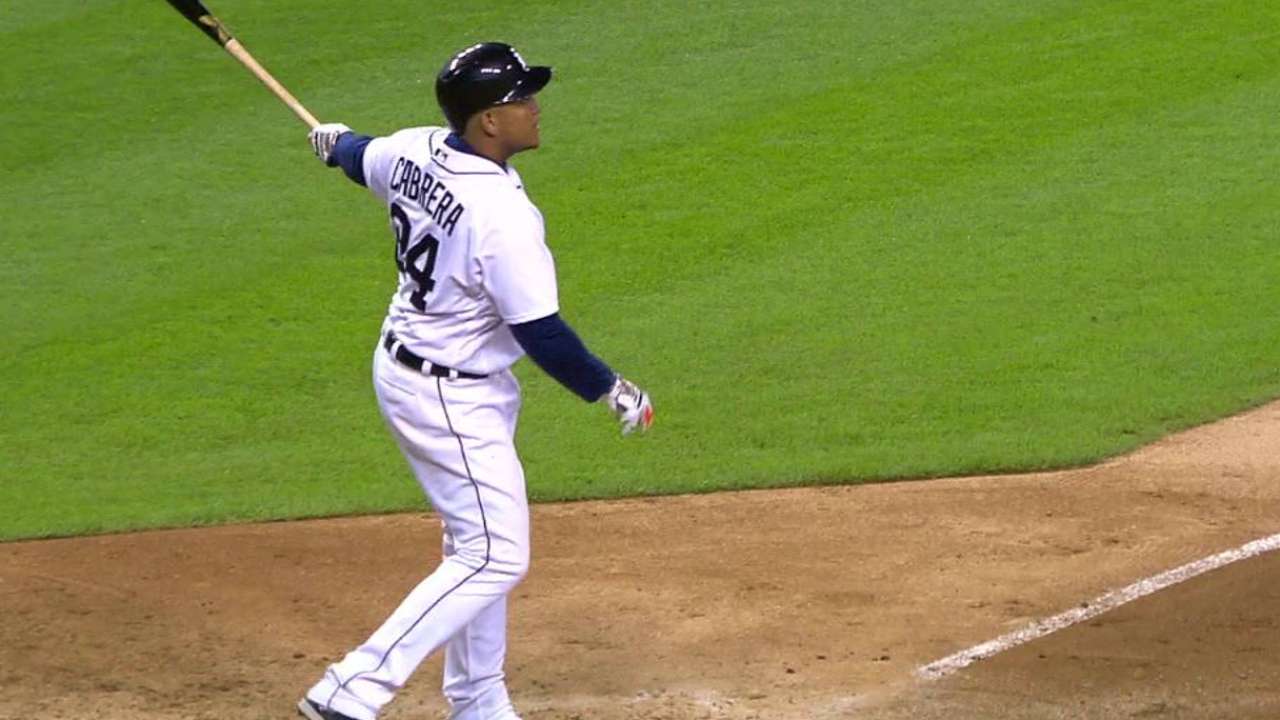 Francisco Rodriguez walked consecutive batters with two outs in the ninth, putting the potential tying run on base, but retired Robbie Grossman on a groundout for his 41st save of the season.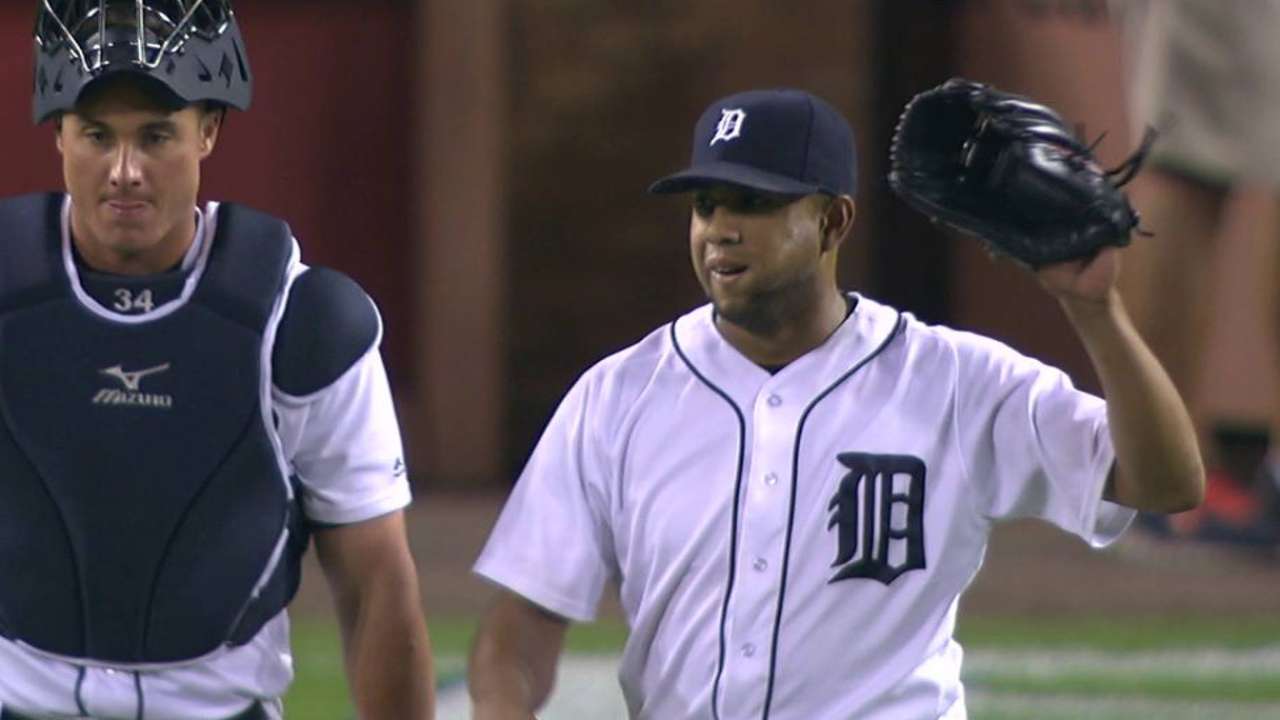 "The important thing is, in a time when we're struggling to score runs, we're able to come away with wins," Tigers manager Brad Ausmus said. "We did it [Friday] against Baltimore. We didn't do it yesterday. Did it today against Minnesota. When our offense isn't hot and we can still come away with wins, I think that's a huge plus."
MOMENTS THAT MATTERED
Romine beats throw home: Iglesias initially thought his liner was going to hook foul, hesitating a second before taking off. Romine, however, took off, earning the wave home from third-base coach Dave Clark. The throw to the plate looked like it beat him, but Romine slid around Suzuki's tag to score the tying run. Iglesias moved to third on the throw and scored on a similarly aggressive dash home on Kinsler's sacrifice fly.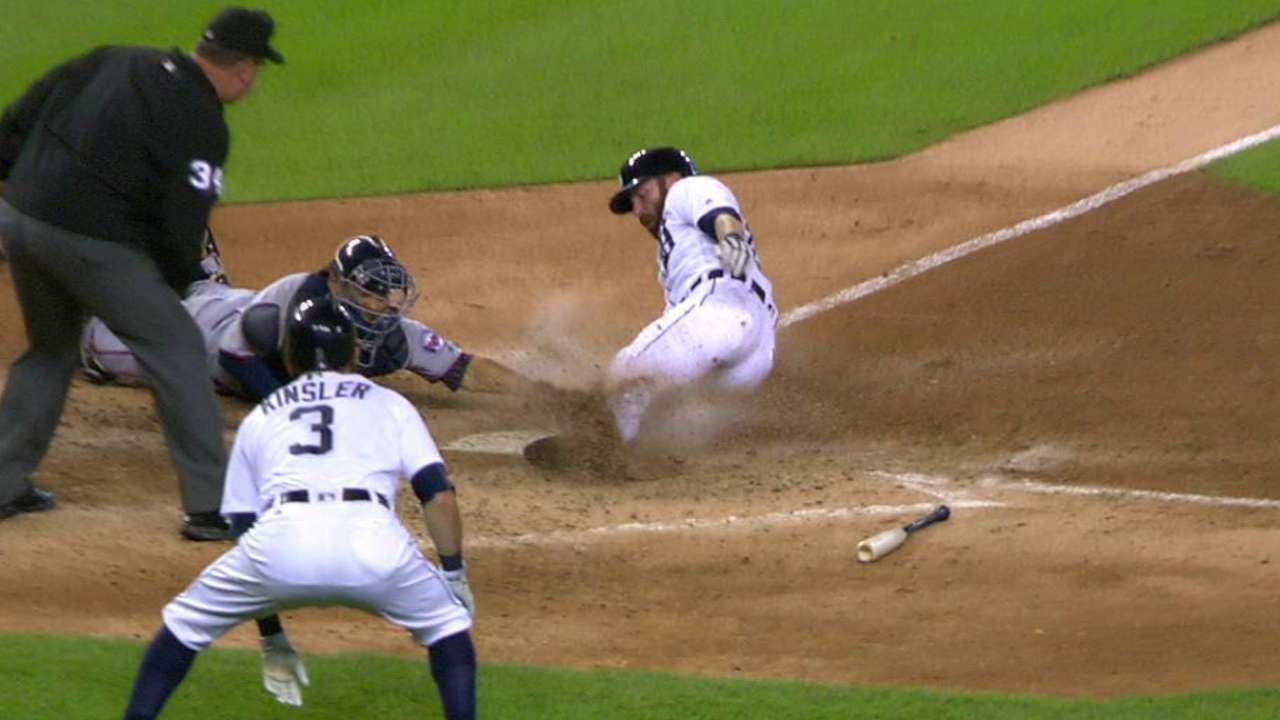 "We're good sliders," Romine said. More >
This is 40: With his solo shot in the third, Dozier became the second Twins player to reach the 40-homer plateau -- joining Hall of Famer Harmon Killebrew, who last accomplished the feat in 1970 -- and third in franchise history, including the Washington Senators. Dozier also became the first AL player to reach 40 homers while primarily playing second base, breaking Alfonso Soriano's record of 39 set with the Yankees in 2002.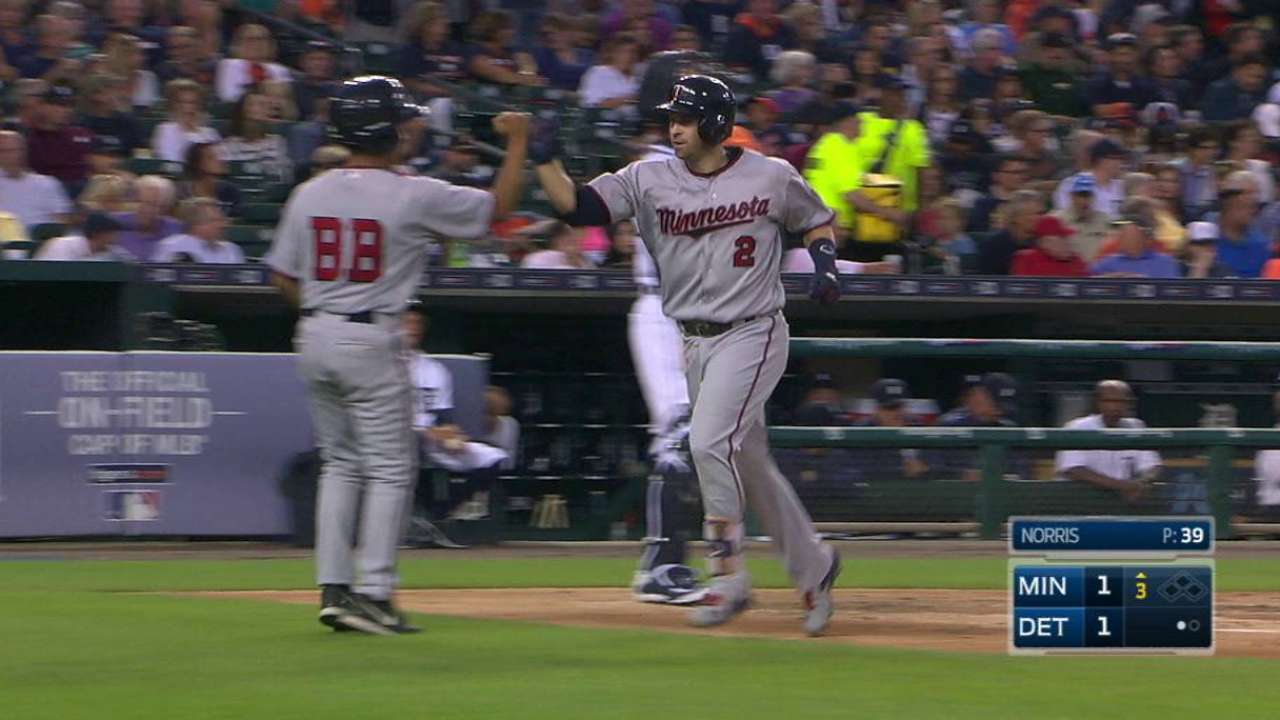 "I think at the end of the year, once it's all over, I can get back home and reflect on the season and 40 and all that stuff a little bit more," Dozier said. "But right now, if we were in the Tigers' position, or Cleveland's, and we had a chance to make a push, I'd feel a little bit better. To me, it's just a number. But I might feel a little bit better once I get time to reflect." More >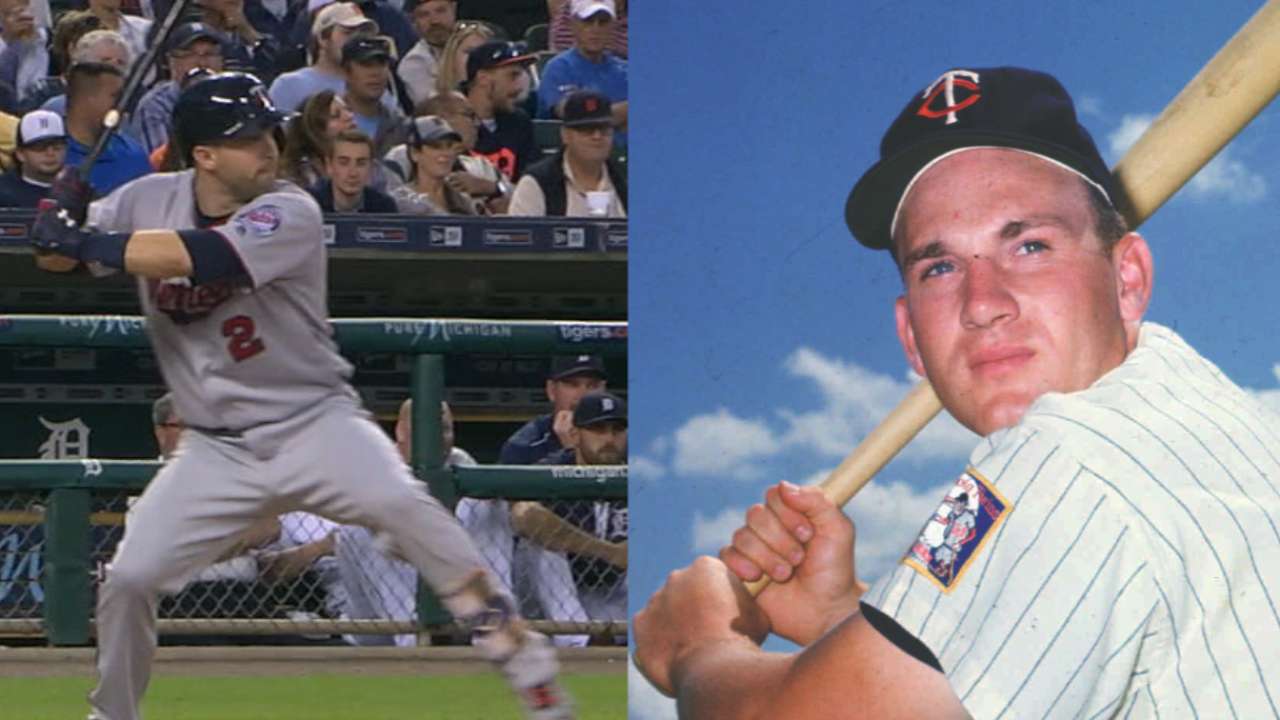 Kinsler's record-tying blast: Long before Kinsler's sacrifice fly, he hit his seventh leadoff home run this season, sending a Santana fastball deep to left for his 26th homer of the year. Kinsler tied Curtis Granderson's team mark for most leadoff homers in a season. More >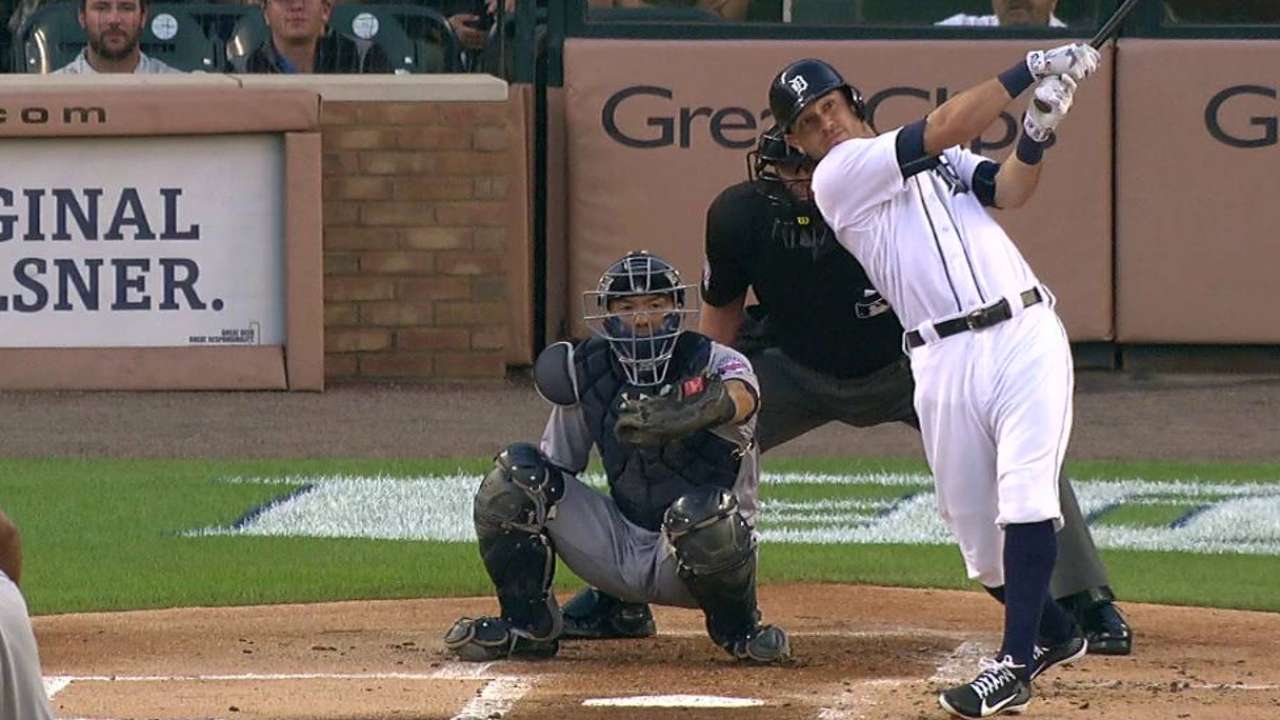 Suzuki smash: Suzuki gave the Twins a one-run lead with a solo shot off Norris to lead off the fourth. It was Suzuki's seventh of the year, which is his most since he hit 14 homers with the A's in 2011. But Suzuki was unable to come through with two on and one out in the eighth, as reliever Bruce Rondon struck him out.
"Just not enough offense," Molitor said. "I'm not sure how many hits we ended up with [five], but we couldn't capitalize on the opportunities we had."
QUOTABLE
"They're going to expect this every year from me. But it's a cool number, I guess." -- Dozier, joking about reaching homer No. 40
"Leaving Spring Training, if someone says you have a chance to go to the playoffs and win, entering September, you're going to take it. So we're in a good spot, and it's getting down to the end. You can no longer say it's a long season." -- Kinsler
SOUND SMART WITH YOUR FRIENDS
Of Dozier's 40 homers, 38 have come while playing second base, with two coming as a designated hitter. The Major League record for homers by a player who primarily played second base is 43 set by Davey Johnson for the Braves in 1973. Johnson and Rogers Hornsby share the record of 42 homers in a season while playing second base.
AILING
Tigers outfielder Justin Upton (left calf strain) and Twins third baseman Miguel Sano (lower back tightness) both exited and are considered day to day.
UPON FURTHER REVIEW
The Twins won a challenge in the first inning, when J.D. Martinez was originally ruled safe at first on a throw from Sano that took Kennys Vargas off the bag. But after a review, it was determined Vargas placed the tag on Martinez for the third out.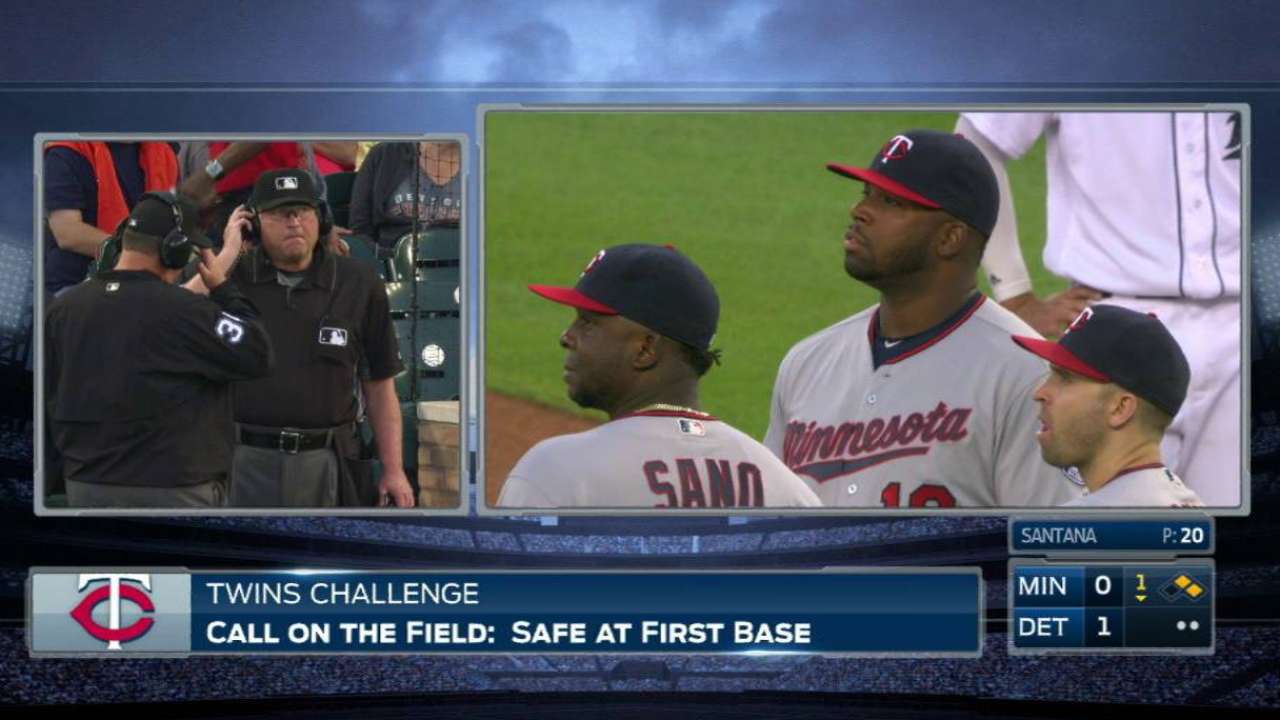 Minnesota lost a critical challenge in the seventh, however, when Romine was ruled safe on a close play at the plate as he tried to score from first on a double to left from Iglesias. After a review, the play on the field stood as called, allowing the tying run to score.
WHAT'S NEXT
Twins: Right-hander Kyle Gibson (5-9, 5.34 ERA) will start for the Twins in the second game of the four-game series on Tuesday at 6:10 p.m. CT. Gibson has been inconsistent this year and is coming off a no-decision against the Royals, allowing four runs in six innings on Wednesday.
Tigers: Lefty Matt Boyd (5-3, 3.89) will try to beat the Twins for the third time this season when he takes the mound. He gave up two home runs Aug. 24 at Target Field but neither with runners on base, containing the damage over six quality innings.
Watch every out-of-market regular-season game live on MLB.TV.
Jason Beck has covered the Tigers for MLB.com since 2002. Read Beck's Blog, follow him on Twitter @beckjason and listen to his podcast.

Rhett Bollinger has covered the Twins for MLB.com since 2011. Read his blog, Bollinger Beat, follow him on Twitter @RhettBollinger and listen to his podcast.

This story was not subject to the approval of Major League Baseball or its clubs.