Harrison done for season with groin strain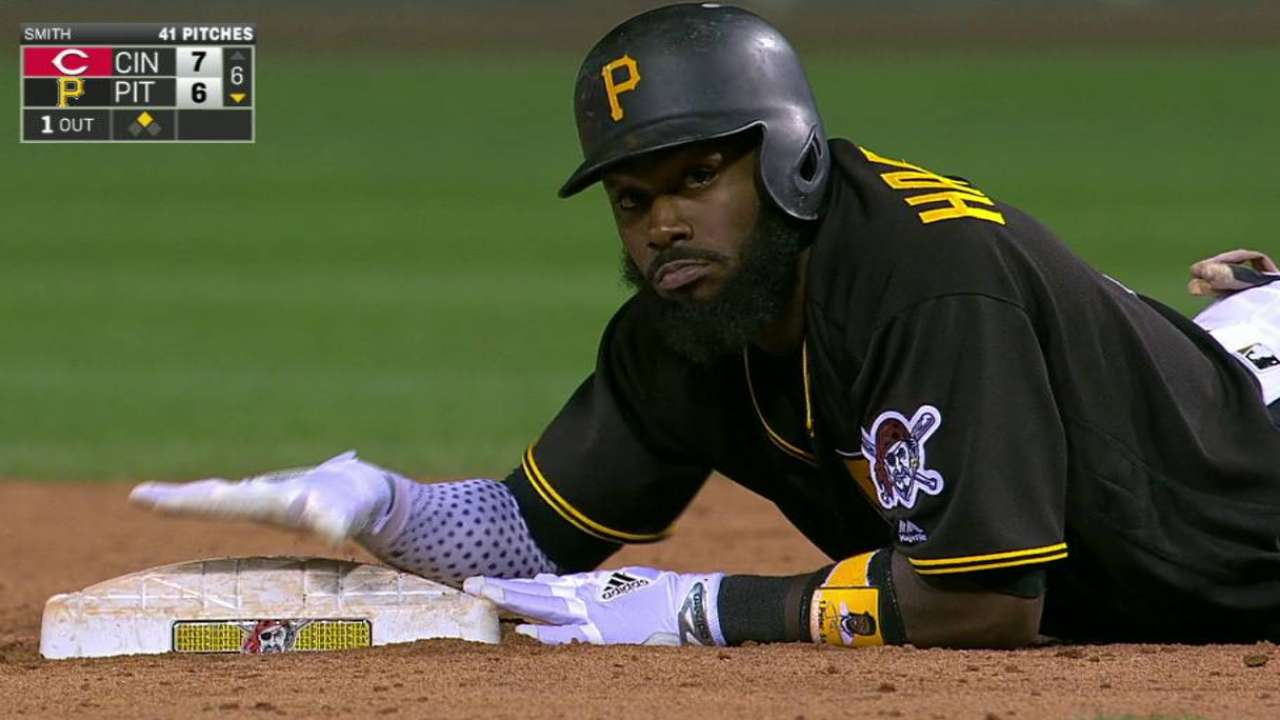 PHILADELPHIA -- The Pirates will be without their leadoff-hitting second baseman the rest of the season, as Josh Harrison was diagnosed Monday with a right groin strain.
The estimated time to return from the injury is four to six weeks, the club announced. Harrison's season is most likely over, but he will remain with the team and hope for the best-case scenario in which the Pirates are still playing -- in the postseason -- when he's back to full health.
"It's a little different, knowing some special things have to happen in order for me to play again this year," Harrison said Monday afternoon. "It's not devastating in the sense that I still got to play a good part of the season. If things shake out here over the next 20-something games and we find our way, I could be a little closer. If not, just get ready for next year."
Harrison sustained the injury hustling out a two-run double Saturday night. He slid into second base and pounded the bag in pain before leaving the field. The news comes at an inopportune time, not just because of the Pirates' standing -- six games out of the second National League Wild Card spot with 21 left to play -- but also because he had been at his best before the injury.
Harrison hit .405 with a .951 OPS in his past nine games, and he hit .326 with a .765 OPS and five steals in 33 games after returning full-time to the leadoff spot.
"Josh was playing some good baseball. He was really contributing offensively at the top of the lineup, gave us a shot in the arm," manager Clint Hurdle said. "You love the energy in the dugout, on the field. There's some disappointment on his part, because he wants to finish. He was finishing strong."
The timing disappointed Harrison, but he said he has already committed the way he felt recently to memory, hoping to replicate it when he returns. For now, he will rest and receive treatment, avoiding any sharp movements and providing moral support from the clubhouse and dugout.
"You can take positives out of anything," Harrison said. "It could always be worse."
Harrison hit .283/.311/.388 with four homers, 59 RBIs and 19 steals as the Pirates' everyday second baseman this season. He was worth nine Defensive Runs Saved at second base and totaled 1.9 Wins Above Replacement in 131 games, according to Baseball-Reference.com.
With Harrison sidelined, the Pirates will turn to veteran utility man Sean Rodriguez and rookie Adam Frazier to fill in at second base. Rodriguez made his second straight start at second in Monday's series opener against the Phillies. Alen Hanson and Pedro Florimon aren't likely to start, but they also could see time at second base in Harrison's absence.
"We're well-staffed, well-manned for the position," Hurdle said.
Frazier started in left field and led off Monday with Starling Marte (back spasms) out of the lineup for the seventh consecutive game. Marte worked out on the field before Monday's game and could return to the lineup soon.
Adam Berry has covered the Pirates for MLB.com since 2015. Follow him on Twitter at @adamdberry. This story was not subject to the approval of Major League Baseball or its clubs.