Vogelbach's debut is brief but memorable
Mariners' prospect misses second base after pinch-hitting in ninth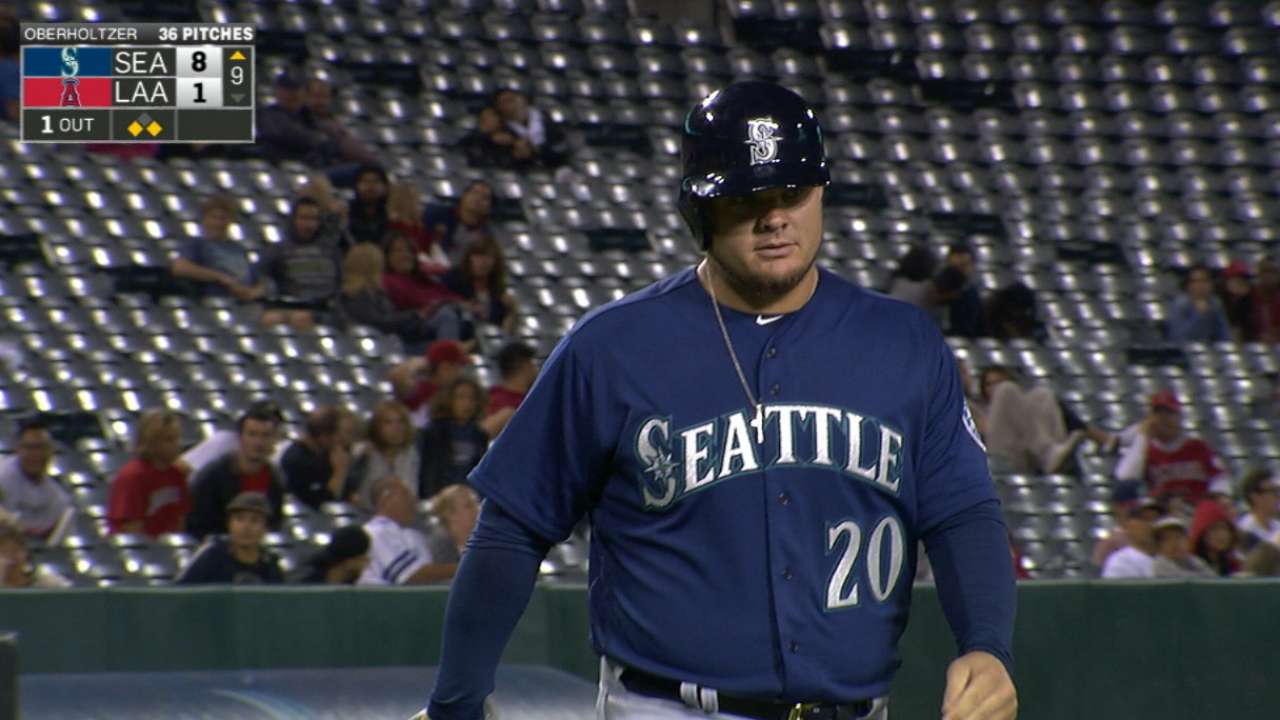 ANAHEIM -- First baseman Daniel Vogelbach won't have to wait long to get his shot with the Mariners, as manager Scott Servais said the big rookie will be in the starting lineup on Tuesday when Seattle faces Angels right-hander Alex Meyer.
Vogelbach, one of the Mariners' top hitting prospects after being acquired from the Cubs in a trade for Mike Montgomery in July, was one of three players called up to Seattle's Major League roster on Monday now that Triple-A Tacoma's playoff run has ended. He made his big league debut in the ninth inning of the Mariners' 8-1 win in the series opener, pinch-hitting and reaching base on a fielder's choice.
But his debut took an odd turn when he wound up missing second base while going from first to third on what would have been a single to right field by Kyle Seager, a miscue that cost Seager a base hit and led to some good-natured ribbing when Vogelbach reached the dugout in what fortunately was a one-sided win.
"I said, 'Your first Major League game will certainly be memorable,'" Servais said. "'You'll never forget it, and you'll never miss a base again.' And he said, 'You've got that right.'"
But Vogelbach will get his chance for redemption on Tuesday and is soaking up every moment of his new experience.
"This is a dream come true, isn't it?" Vogelbach said, sitting in the visiting dugout at Angel Stadium prior to Monday's series opener. "As a kid, this is what you dream of. It's been a long road, and I wouldn't have wanted to change it anywhere. I've learned a lot as I came thorough the Minors, and I've grown a lot as a player and a person. I'm just happy to be here."
The Mariners also recalled right-handed pitcher Cody Martin and infielder Mike Freeman, both of whom spent some time with the club earlier this season. The Rainiers were eliminated from the Pacific Coast League playoffs by El Paso on Saturday.
Vogelbach, 23, will get some immediate playing time, as first baseman Adam Lind is expected to miss three or four days after spraining a finger on his right hand in Sunday's 3-2 victory in Oakland.
Servais had right-handed-hitting Dae-Ho Lee in the lineup on Monday against right-hander Ricky Nolasco because of Nolasco's reverse splits this season, but said the lefty-swinging Vogelbach will definitely get his opportunities in the final three weeks, as the Mariners are interested to see how the big youngster fares against big league pitching.
"Even though he looks the part of the big lumbering power hitter, he actually uses the whole field to hit and controls the strike zone very well," Servais said. "He does have big-time power to all parts of the field, so he's not just locked into doing one thing. He's a good hitter who has power. Obviously he's not going to steal bases or that type of stuff. Defense is something we've got to put some time and effort into and he knows it."
Vogelbach, the Mariners' No. 7-ranked prospect by MLBPipeline.com, posted a .292/.417/.505 line with 23 home runs and 96 RBIs in 133 games with Tacoma and the Cubs' Triple-A Iowa club this year.
The 6-foot, 250-pound Florida native hit only .240 in 44 games with Tacoma, but he had 42 walks and a .404 on-base percentage along with seven homers and 32 RBIs.
Working counts and controlling the zone fit well with the Mariners' philosophy, which was why general manager Jerry Dipoto went out and got Vogelbach at midseason as he looks for a long-term fit at first base.
"My whole life I've tried to be a good hitter," Vogelbach said. "I'm a firm believer of being a good hitter first and the home runs will come. And that's something I've prided myself in, taking what the pitcher gives me, taking RBIs when there's a runner on third and less than two outs, I think it all goes back to helping the team win."
Vogelbach was named to the 2016 Triple-A All-Star team, and he led the PCL in walks (97) while also ranking second in on-base percentage, third in RBIs, fourth in OPS (.923), fifth in total bases (232), tied for sixth in home runs and eighth in runs (79). The 2011 second-round Draft pick recorded his fourth Minor League season with at least 15 home runs, while setting career highs in runs, home runs, RBIs, walks and on-base percentage.
Martin, 27, provides the Mariners with a long reliever in the bullpen. He made two spot starts for the club in August and was 1-2 with a 4.50 ERA in 20 innings over seven total appearances in three stints with Seattle. The former Gonzaga University standout was 10-7 with a 3.62 ERA in 25 games (including 20 starts) for Tacoma.
Freeman also spent some time with the Mariners in August after being selected off waivers from the D-backs. In two stints with the club, he appeared in two games and was 2-for-6 with an RBI.
The 29-year-old can play second, shortstop, third and the corner outfield spots, and he provides added infield depth behind utility man Shawn O'Malley. Freeman posted a .314/.385/.419 line with four home runs and 39 RBIs in 114 games with Reno and Tacoma in the PCL this year.
The club now has 35 players on its Major League roster with the addition of September callups and Servais said that likely will be the final additions as the team heads into the final weeks of the season still fighting for a postseason berth.
Greg Johns has covered the Mariners since 1997, and for MLB.com since 2011. Follow him on Twitter @GregJohnsMLB and listen to his podcast. This story was not subject to the approval of Major League Baseball or its clubs.