Price dominates for seventh straight win
Lefty not holding anything back as Sox enter stretch run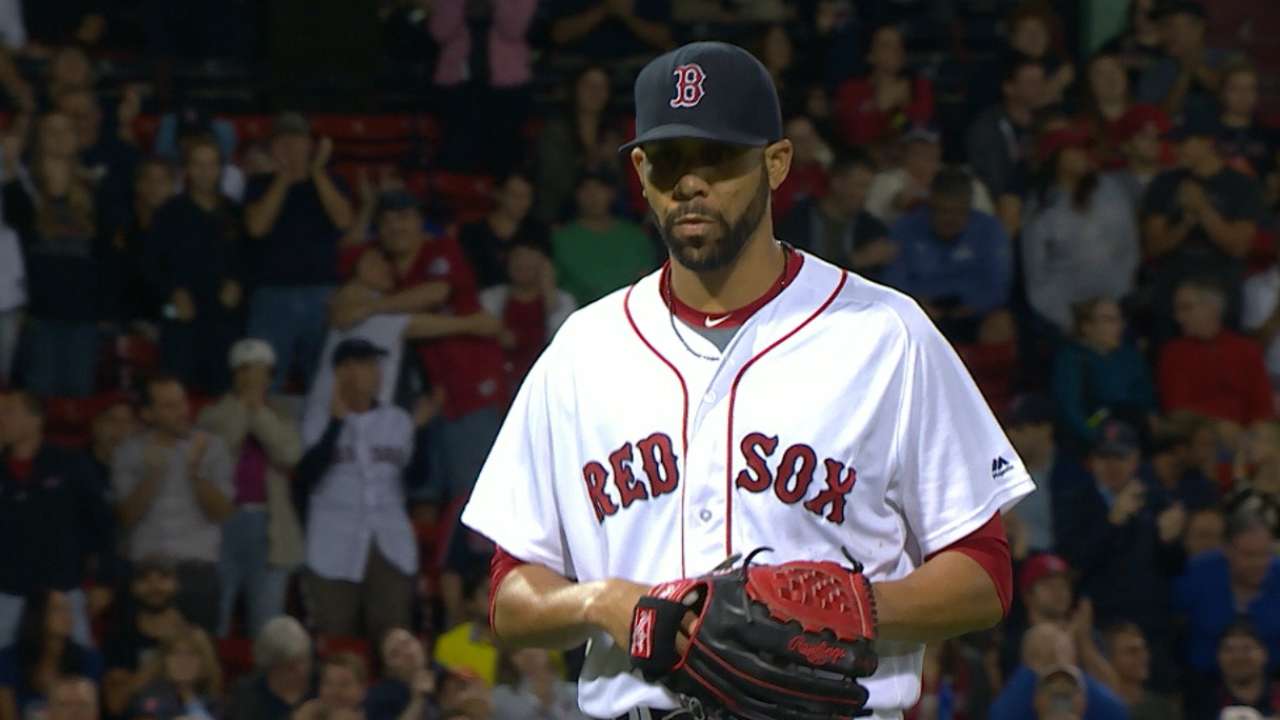 BOSTON -- Red Sox left-hander David Price had a simple explanation for his career-high seventh straight win after a dominant 12-2 victory over the Orioles on Monday at Fenway Park.
"Execution," Price said. "I am just sticking with it."
The left-hander finished the night allowing two runs on two hits in eight innings for his 16th win of the season.
During the streak, which dates back to Aug. 12, Price has tossed quality starts all seven times and has posted a 2.16 ERA during that stretch.
It couldn't come at a better time for the Red Sox, who hold a slim two-game lead over the Blue Jays in the American League East.
"He's thrown much more consistent quality starts," said Red Sox manager John Farrell. "He's on a run right now that might be the best run of his career inside not only these seven consecutive wins he's recorded, but the second half of the season. He continues to increase his power, he's maintained his direction through the lane in which he's intending to execute pitches."
Price's only mistakes came on solo home runs crushed over the Green Monster by Chris Davis in the second inning and Manny Machado in the fourth.
Working the corners the entire night, Price tossed 99 pitches, 76 for strikes. He also struck out nine and walked none thanks to a filthy changeup that kept the Orioles' hitters off balance.
Ironically, Price said the pitch wasn't very good while warming up in the bullpen before the game.
"Tonight it was a wipeout changeup that was the put-away pitch. He got a high number of strikes and strikeouts on his changeup," Farrell said. "He's pitching with such conviction right now and it shows in his body language and the way he's finished hitters off."
Orioles manager Buck Showalter knows what a dominant Price looks like.
"A guy like David is pitching as well as anybody in baseball right now. That's why he can command those types of commitments that they made to him," Showalter said. "Tonight's a good example of how important those guys are. He's become so much of a pitcher and now his stuff is up to par, too. So you give him really four pitches to work with, it's a tough proposition."
With Monday's outing, Price has tossed 205 2/3 innings this season. However, don't tell the workhorse to hold anything back down the stretch or for a potential playoff run.
"We might not get to the postseason, so why save something?" Price said. "Every start is the same. I'm going to take the same mindset in Spring Training or Game 162 or 163. I want to put up nine zeros, and I don't look at any situation differently."
Quinn Roberts is a reporter for MLB.com based in Boston. This story was not subject to the approval of Major League Baseball or its clubs.