Astros miss 'big bolt' after chasing Arrieta
Lineup is 1-for-18 with RISP over last 4 games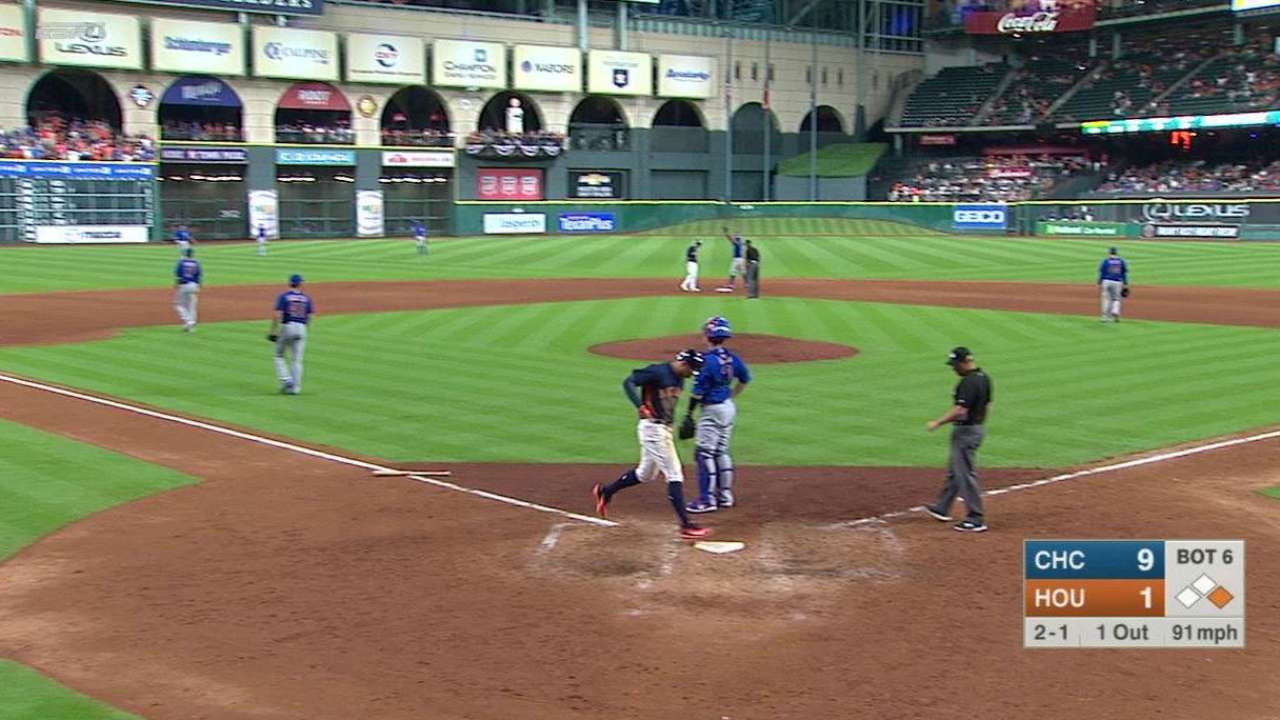 HOUSTON -- On most nights, chasing Cubs ace Jake Arrieta from a game in the sixth inning by pushing across a pair of runs and then loading the bases later in the frame with one out would probably cause Astros manager A.J. Hinch to smile.
The Astros trailed the Cubs by six runs when Evan Gattis and Colby Rasmus came to the plate in the sixth inning with the bases loaded. But both players flied out to center against reliever Justin Grimm, and Houston never recovered offensively despite back-to-back homers from Yulieski Gurriel and Gattis to start the ninth inning of the 9-5 loss.
"Very proud of our guys for fighting back and making it semi-interesting," said Hinch, whose team trailed, 9-0, in the fourth. "We had a chance in the sixth and got a couple of runs and could have had a bigger inning, and then hit a couple of homers in the ninth. We kept fighting and didn't have enough tonight."
The Astros, who managed just two runs in the first two games of the series against the Cubs, were 1-for-4 with runners in scoring position Sunday. They're 1-for-18 with runners in scoring position in their last four games.
"When you get behind, seven, eight, nine runs, you're going to need a big bolt to make it interesting and get back into it," Hinch said. "It's rare that you get that opportunity to hit a three- or four-run homer and get right back into it, but we had a little bit of momentum there. We moved a couple of bases, things like that. Even chasing Arrieta in that inning was a success, but obviously it wasn't enough."
Brian McTaggart has covered the Astros since 2004, and for MLB.com since 2009. Follow @brianmctaggart on Twitter and listen to his podcast. This story was not subject to the approval of Major League Baseball or its clubs.