Jackson takes another step toward consistency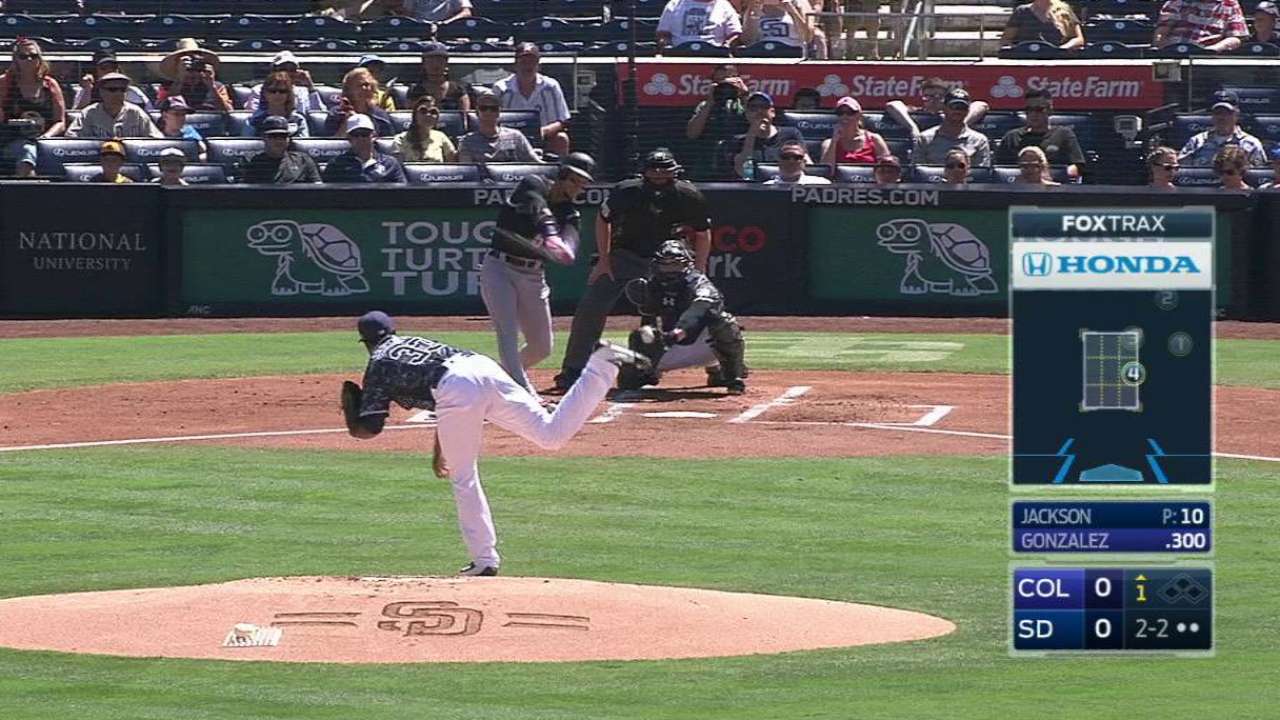 SAN DIEGO -- When he has his best stuff, Edwin Jackson has already proven he can be practically unhittable.
But -- like any pitcher -- Jackson doesn't have his best stuff every time he takes the hill. His goal is to make the most of those outings, and his performance in Sunday's 3-2 loss to the Rockies was an encouraging step in the right direction.
Jackson needed just 72 pitches to toss six innings of two-run ball. He hung a 1-2 slider to Charlie Blackmon in the fourth inning, and the baseball ended up in the right-field seats. But he was otherwise solid.
"I didn't necessarily feel like I had my best stuff as far as strength-wise," Jackson said. "I knew I wasn't going to be able to go out and try to overdo it. I had to be efficient, make them put the ball in play. Six innings, two runs, you give your team a chance to win."
Jackson's tenure with the Padres has been hot and cold, to say the least. He entered Sunday's outing coming off seven shutout frames against the Red Sox and their loaded lineup. But in the three starts before that, he had allowed a total of 18 runs in 11 2/3 innings.
"I would like to be more consistent," Jackson said. "As a pitcher you always want to be more consistent. ... I did have a little skid, where I wasn't really doing anything. I wasn't throwing the ball as well as I'd like. That's just part of the game. You have to keep going and continue to strive to get better and get more consistent."
Trailing, 2-0, in the sixth inning, Padres skipper Andy Green opted to pinch-hit for Jackson with Jon Jay -- despite the fact that Jackson had thrown only 72 pitches. Jay grounded out, but the next two Padres scored, tying the game.
"I could've went out there another inning," Jackson said. "But it's a 2-0 game, we have bats on the bench. ... That's just one of the things about the National League sometimes."
The Padres signed Jackson to a Minor League deal in June, before recalling him after the All-Star break. Since joining the Padres, he's carried two no-hitters into the sixth inning, but he's also surrendered at least five runs on four separate occasions.
Jackson, who turned 33 on Friday, is essentially auditioning for 30 teams that could use pitching help in the offseason. A bit more consistency would certainly help his cause.
"He was solid," said Padres skipper Andy Green. "He was able to hold them down without having his sharpest stuff. I didn't think it was the slider he had last game. I think he was giving everything he had, I think his mentality was right, I think his approach was right. It wasn't his absolute best stuff, but it was still more than enough to navigate six innings very well."
AJ Cassavell is a reporter for MLB.com. Follow him on Twitter @ajcassavell. This story was not subject to the approval of Major League Baseball or its clubs.