Weaver addresses uncertain future after win
Free agent following this season, Angels veteran improves to 12-0 at home vs. Rangers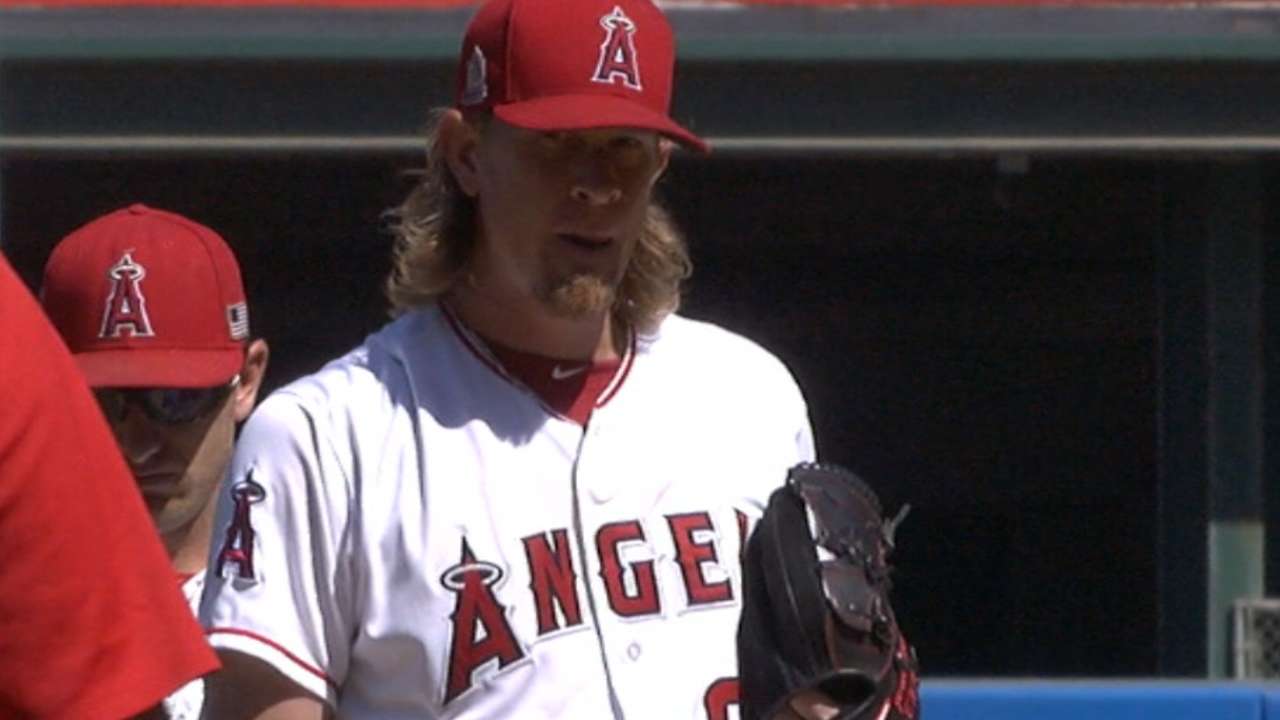 ANAHEIM -- Jered Weaver opened up a bit about his uncertain future with the Angels after a solid start to beat a tough Rangers lineup on Sunday afternoon.
A free agent after the season, Weaver certainly looked like a pitcher who could help the Angels, or another club, in 2017. The 11-year veteran set a season high with eight strikeouts and pitched 6 2/3 innings of two-run ball to earn his 11th victory as the Angels used three solo home runs, including a pair from Andrelton Simmons, to beat the first-place Rangers, 3-2, at Angel Stadium.
"I've never been in this position before, where not knowing what's going to happen next year," said Weaver, who improved to 12-0 with a 2.24 ERA in 19 career home starts against the Rangers. "It's definitively a ball of confusion going on in my head. I just try to focus on going out there and pitching."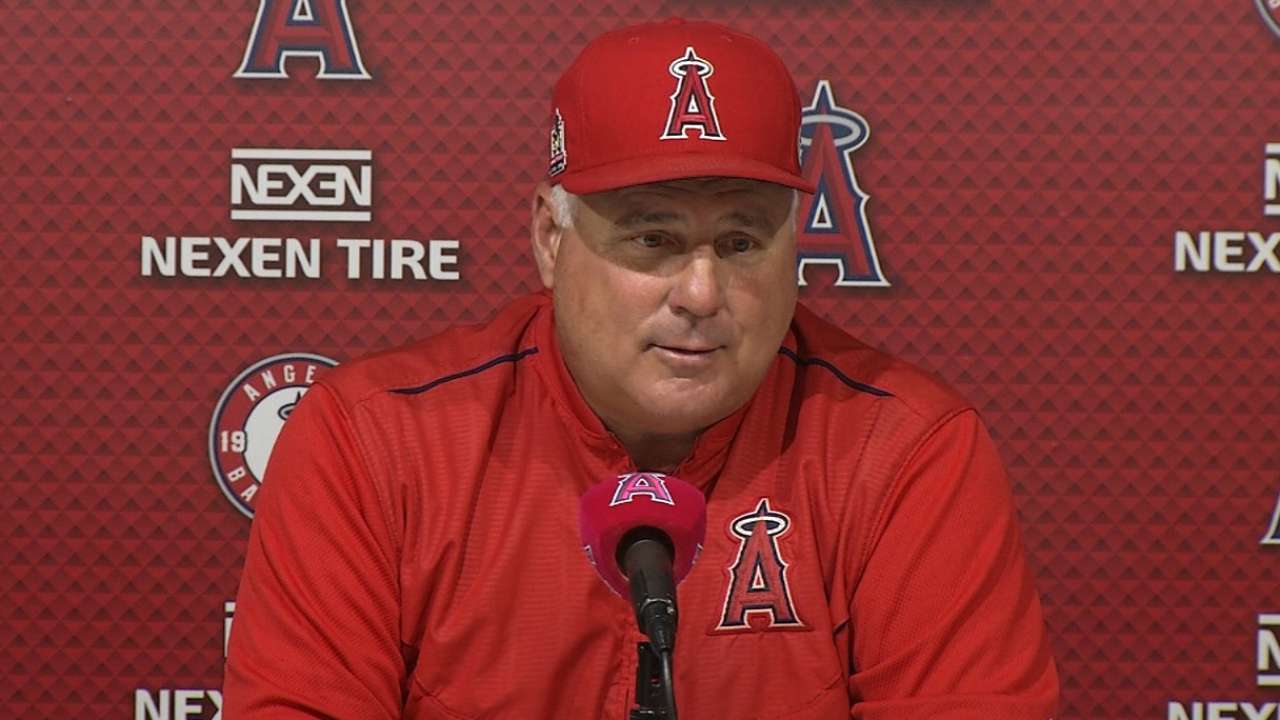 Weaver walked off the field to a standing ovation when he was removed for Mike Morin in the seventh inning. Angels fans understand Weaver's time with the organization could be coming to a close, that nothing is guaranteed beyond the final three weeks of the season.
"I don't try to think about it too much, just try to focus on trying to keep my team in the game," said Weaver, who is lined up for, at most, four more starts this year.
"You come back from the road, and you never know if you're going to see those same clubhouse guys again, or you never know if it's the last time you walk down the tunnel to the field," Weaver continued. "It's hard not to think about, but at the same time I just have to go out there and keep pitching."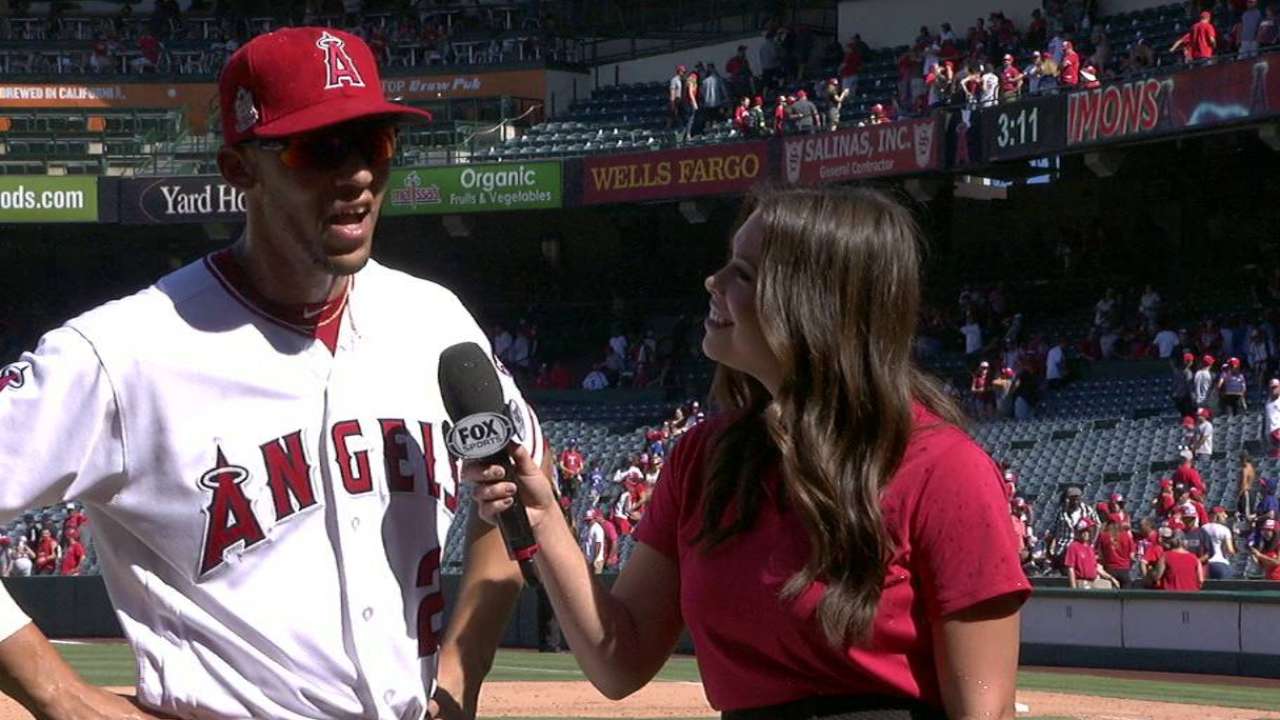 Weaver has done a great job recently with what he can control -- pitching. He's won his last three decisions, two of which came against postseason contenders in Texas and Toronto.
Of course, there has been a toll on Weaver's body from the 2,008 regular-season innings he has given the Angels. No longer the pitcher he was when he debuted in 2006, Weaver has put in countless hours to get his body in a position to continue to perform at a high level.
"Over the last couple years it's been a guessing game of what's going on," he said. "I think I got it figured out. There's nothing structurally wrong, just a bit of restriction in certain areas. It doesn't allow me to throw the ball like I want to. A lot of work in between [starts] and everything is starting to come along."
Weaver is starting to see the fruits of his labor in the training and weight room. He said that makes him more optimistic about his ability to pitch in the Majors beyond this year.
"It's been a slow process, it's been a little bit longer than I thought, but every day is getting better, so it's definitely promising," Weaver said.
So does Weaver definitely want to pitch somewhere in 2017?
"We'll talk about that later," he said. "We'll talk about it on the last homestand."
The Angels' last homestand runs Sept. 26-Oct. 2, the final day of the season. As it stands now, Weaver is lined up to pitch against the A's on the final game of the year, provided the Angels stick with a five-man rotation.
Austin Laymance is a reporter for MLB.com based in Los Angeles. This story was not subject to the approval of Major League Baseball or its clubs.