Tape, glue help Paxton power through injury
Mariners starter has torn fingernail that hampers cutter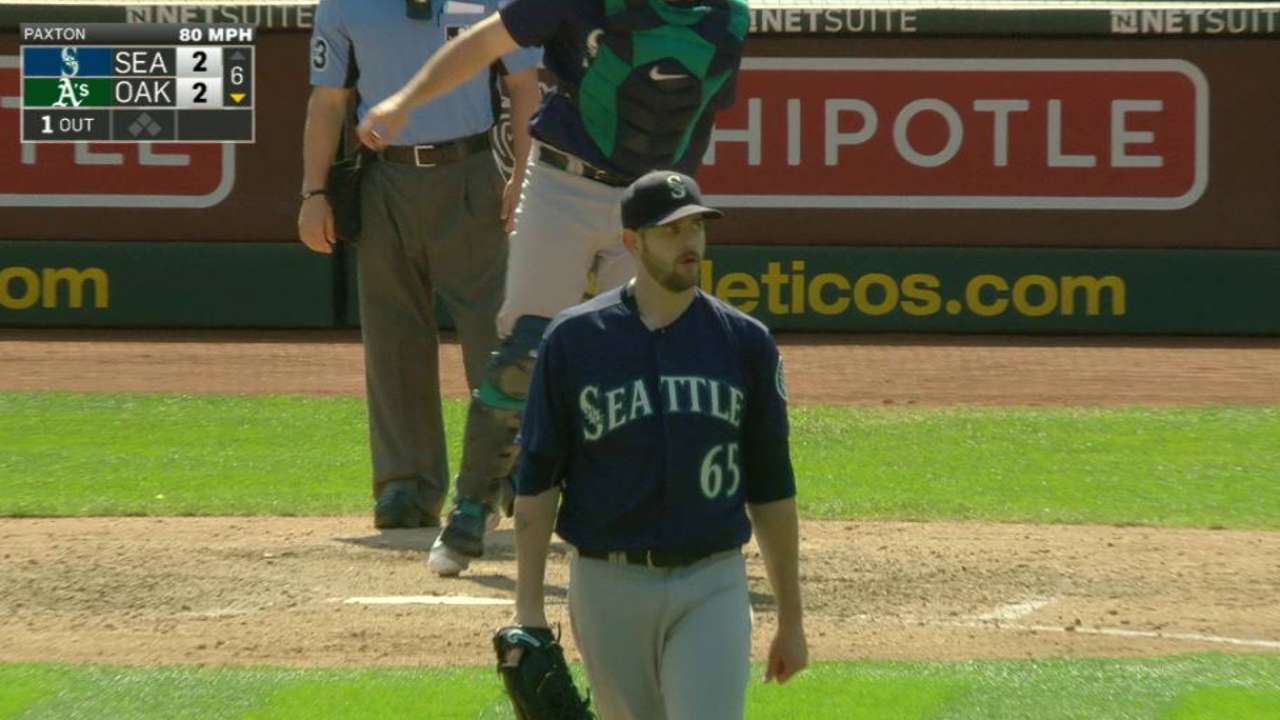 OAKLAND -- Hampered by a torn middle fingernail on his throwing hand, James Paxton couldn't throw a cutter Sunday. So his fastball lacking its normal command obviously didn't bode well.
But, as Mariners manager Scott Servais said, Paxton "got through it" and delivered another quality outing for Seattle in its 3-2 win over the A's at the Coliseum.
"Certainly what we needed from him today," said Servais.
Paxton found the majority of his success in the series finale from his offspeed pitches, evidenced by using curveballs to induce inning-ending double plays in the first and second innings.
The double play he forced Chad Pinder to ground into in the second inning also turned the tides for the left-hander. At that point, Paxton had allowed two earned runs on four singles, including a walk with the bases loaded. But after he forced Pinder to hit a grounder to third, the A's would never threaten against him.
"We worked around it well, used the curveball more today and that worked," Paxton said when talking about his pitch selection.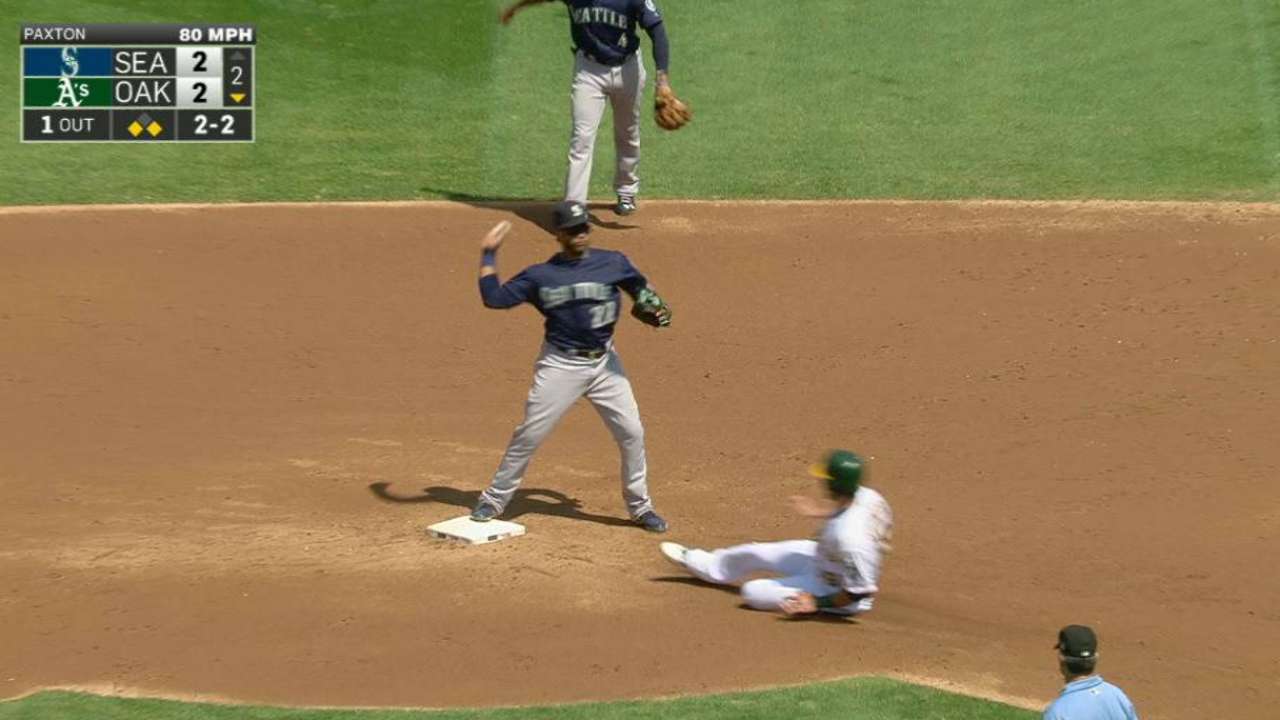 Paxton grew strong as the game wore on and didn't allow another A's baserunner to reach second base. He exited the game after throwing 98 pitches in six innings and displayed that he can still be effective, despite being limited to three pitches.
"He did a great job splitting the breaking ball," catcher Mike Zunino said. "I think it definitely shows he's got more than enough to get guys out."
In his first start since tearing the nail on his middle finger last Tuesday, Paxton allowed six runs (four earned) in just 4 1/3 innings. He used a fake fingernail to offset the issue, but said it continued to fall off during that outing. He used tape and glue over the nail Sunday and better results followed.
"I felt really good about it, with the approach we were taking with it," said Paxton, adding that he plans to use tape and glue again in his next start. "I was really trying not to think about it at all, and just execute the pitches that we were using."
"I really don't put a limit on myself. It wasn't an issue, no matter how many pitches I threw."
Worth noting
Adam Lind exited during the fifth inning of Sunday's game because of a sprained finger. Servais said X-rays were negative. However, Lind may miss a couple games because of the issue.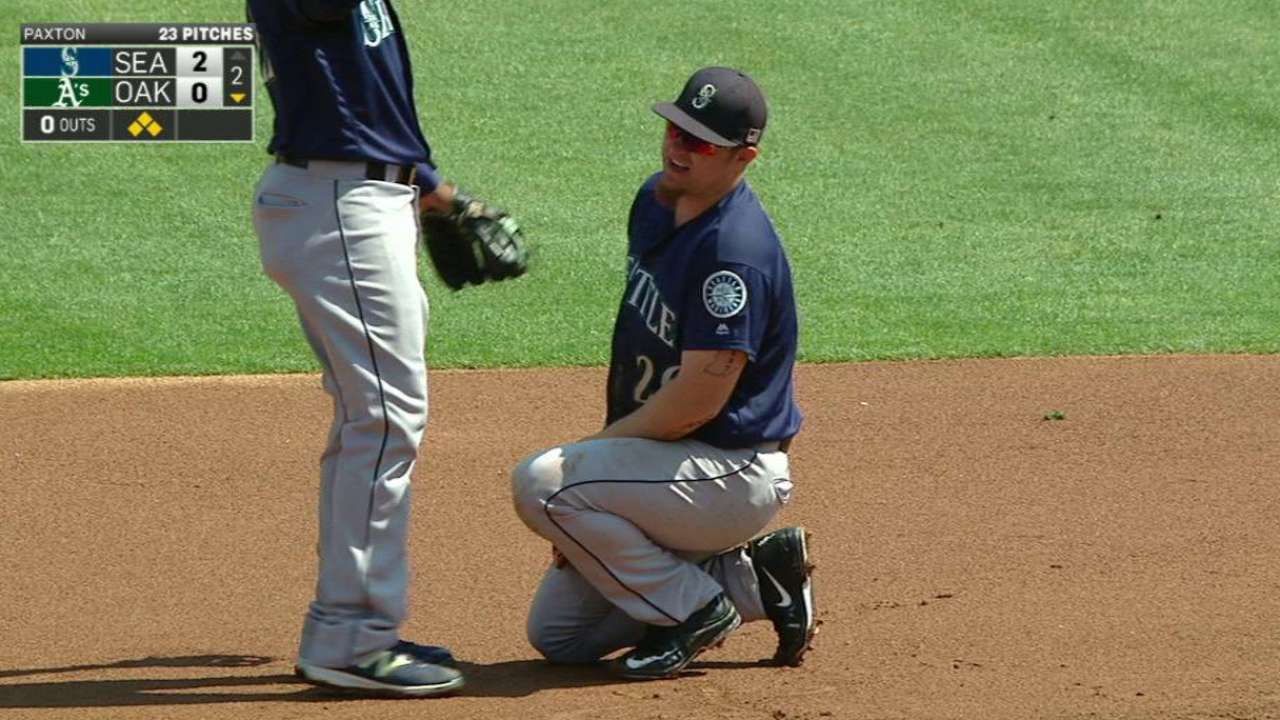 The injury occurred when Lind dove to snag a grounder from Stephen Vogt in the second inning. The first baseman was checked on by the Mariners' trainers, but initially stayed in the game.
"He may be out a couple days and we'll see where it goes from there," Servais said.
Justin Wise is a reporter for MwLB.com based in the Bay Area. He covered the Mariners on Sunday. This story was not subject to the approval of Major League Baseball or its clubs.