Kluber steps up as the rock of Tribe's rotation
Righty reaches 200 K's in third straight season with superb start vs. Twins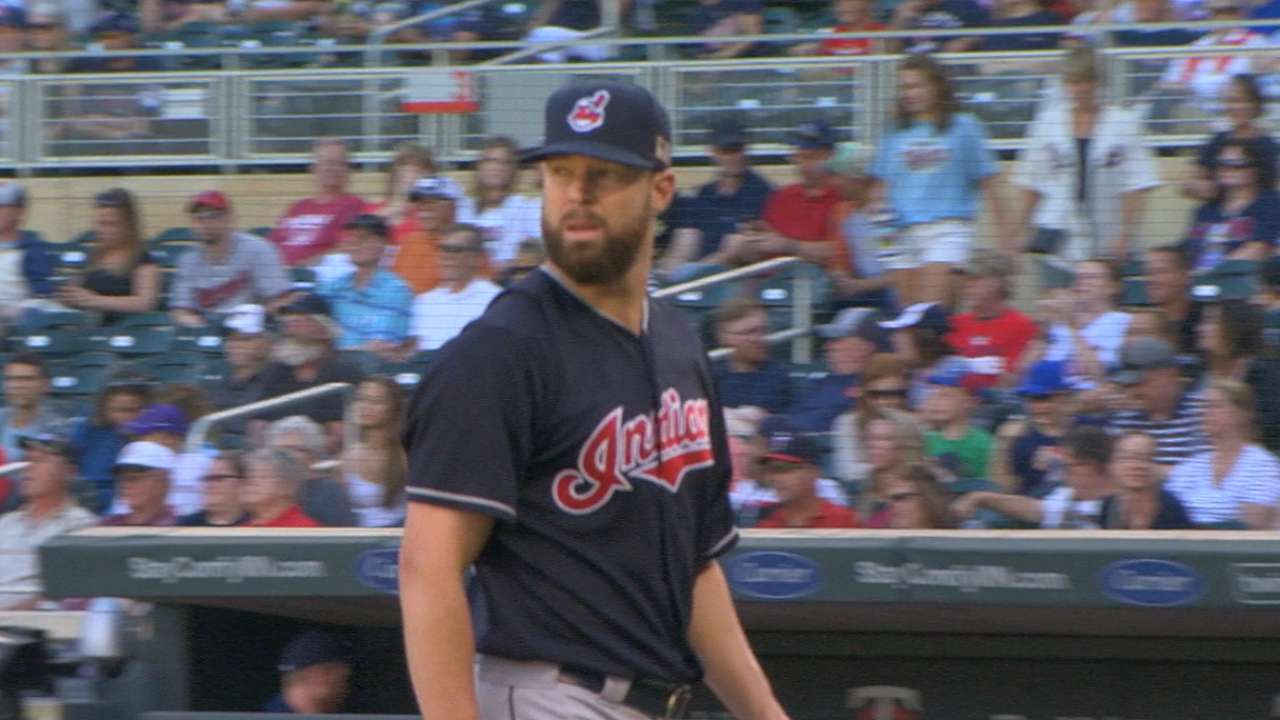 MINNEAPOLIS -- Through all the ebbs and flows of the season, there has been one constant source of consistency for Cleveland. Every five days, no matter the circumstances, Corey Kluber has clocked in, logged innings and been the rock the rotation needs.
On Sunday afternoon, Kluber was there again, slicing his way through the Twins' lineup and barely flinching throughout a seven-inning performance. His stoic expression never cracked, but some of the Minnesota bats did in a 7-1 victory for the Indians at Target Field, marking the 10th win in 13 games for the American League Central's pacesetters.
"Man, it's a good feeling," Indians catcher Roberto Perez said, "knowing that your ace is going to pick us up."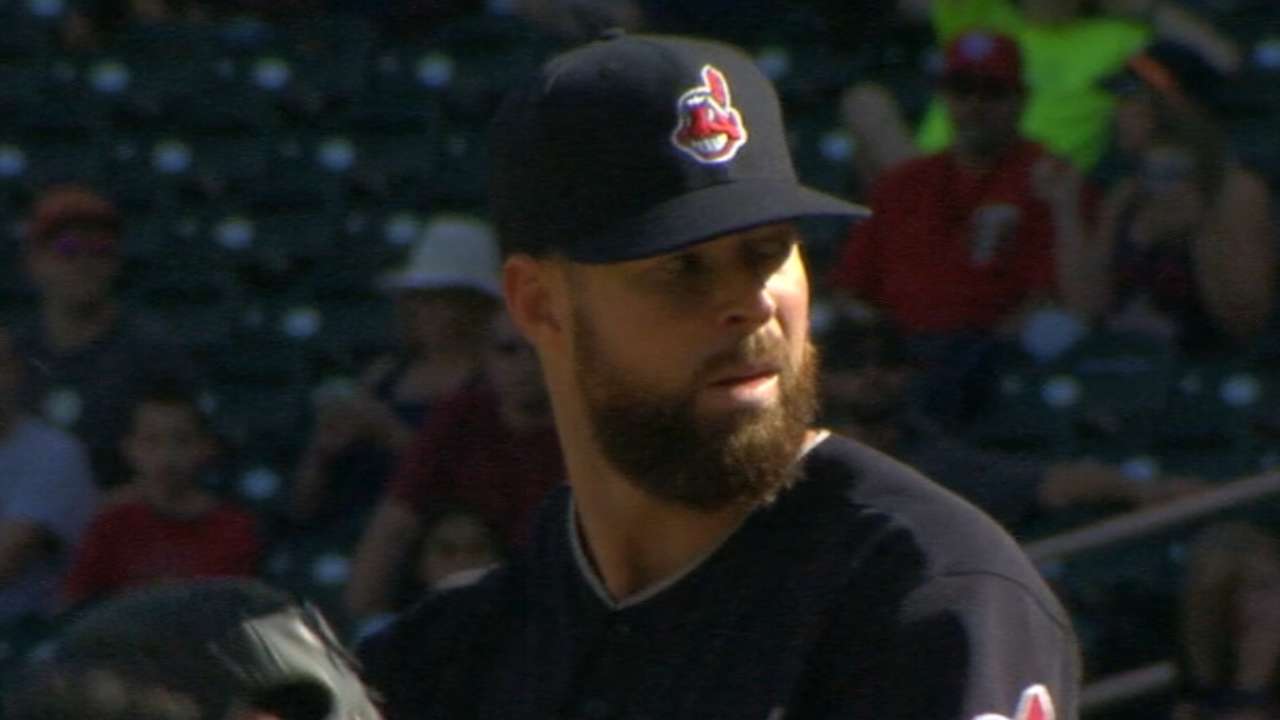 Cleveland needed Kluber to do precisely that once again.
The Indians and Twins played a 12-inning marathon on Saturday night, when Cleveland matched a franchise record by using 10 pitchers in a single game. On the previous night, righty Danny Salazar left after four innings due to a right forearm injury, pressing the bullpen into work earlier than expected. The back end of the rotation is fraying. The bullpen is taxed.
Enter Kluber.
"He was really good," Indians manager Terry Francona said, "on a day when he knew what happened last night."
Kluber said he did not have the previous two games on his mind as he prepared for this outing against the Twins. That would imply that the right-hander, and American League Cy Young Award contender, would not be focused on pitching deep into the game under different circumstances. That is always his goal, and as he sits on the cusp of a third straight 200-inning season, it is a goal he has once again met.
On the year, Kluber is now 16-9 with a 3.05 ERA and 208 strikeouts in 197 2/3 innings. The right-hander has gone 8-1 with a 2.04 ERA in his past 12 outings, and he has turned in a 12-3 ledger with a 2.40 ERA and 135 strikeouts in 124 innings dating back to the start of June.
"He's good," Twins manager Paul Molitor said. "You watch him and how he works and the focus he has with each pitch, he slows the game down. I don't think he made many mistakes."
Kluber's seven innings helped the Indians move seven games ahead of the Tigers in the chase for the AL Central crown. While on the mound in Minneapolis, Kluber piled up 10 strikeouts and only relinquished one unearned run. The righty joined Sam McDowell, Bob Feller and Gaylord Perry as the only pitchers in Cleveland history to have at least three 200-strikeout campaigns.
"It's just another number," Kluber said.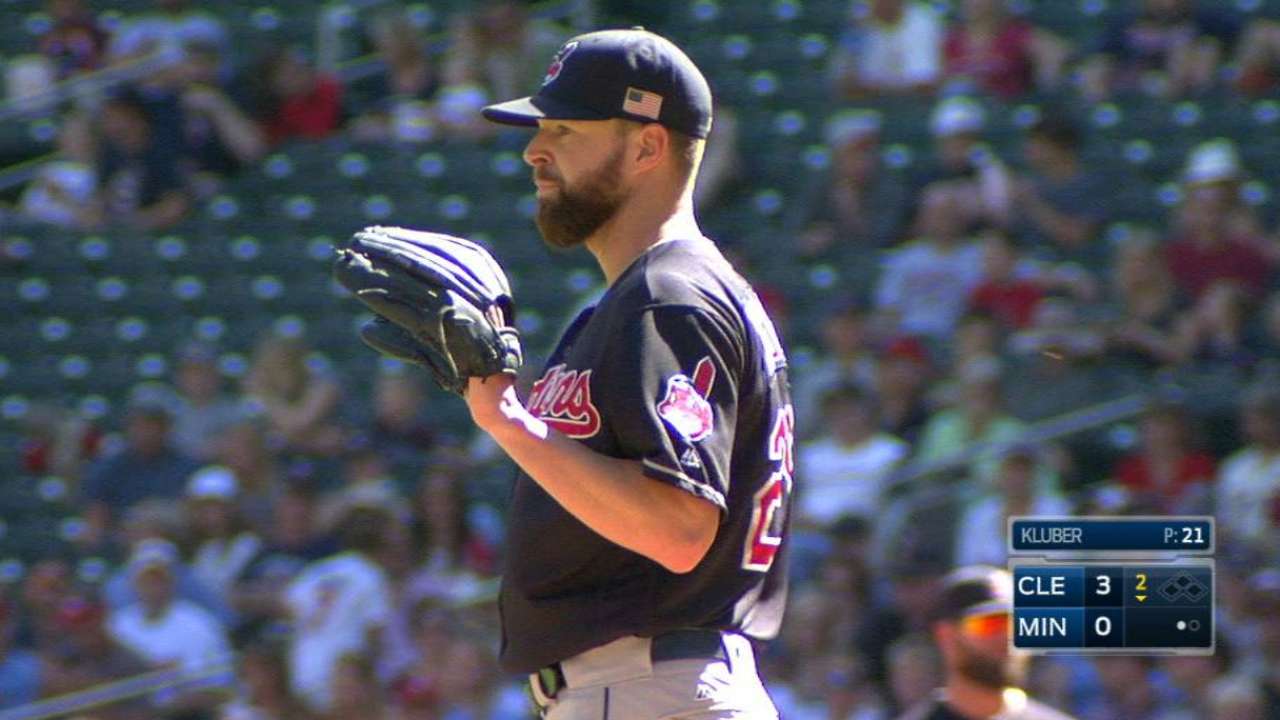 Kluber is not in this for personal milestones or accolades. He has said often that he would have traded in his 2014 AL Cy Young Award for a World Series ring. The same applies this season, and now Cleveland is getting closer to sniffing the champagne that could be flowing. The Indians have not made the playoffs since '13 and have not won a division title since 2007.
Kluber is a big reason behind the fact that those droughts could be ending, but he warned that it remains too early to start looking ahead.
"We aren't to the point of worrying about that, yet," Kluber said. "If we do start getting ahead of ourselves, then that kind of opens the door for dangerous things to happen. We're just trying to keep going a game at a time. That's what's gotten us to this point so far, and I think we know that's going to be the best way to approach it from here on out."
So, Kluber will continue to take the ball, anchoring a staff still dealing with adversity.
"He's kind of earned that [trust]," Francona said. "Because of the way he's handled himself, and the way he's ready every five days, it is a good feeling."
Jordan Bastian has covered the Indians for MLB.com since 2011, and previously covered the Blue Jays from 2006-10. Read his blog, Major League Bastian, follow him on Twitter @MLBastian and listen to his podcast. This story was not subject to the approval of Major League Baseball or its clubs.