Sanchez struggles as blister issue resurfaces
Blue Jays righty gives up six early runs; next start to be determined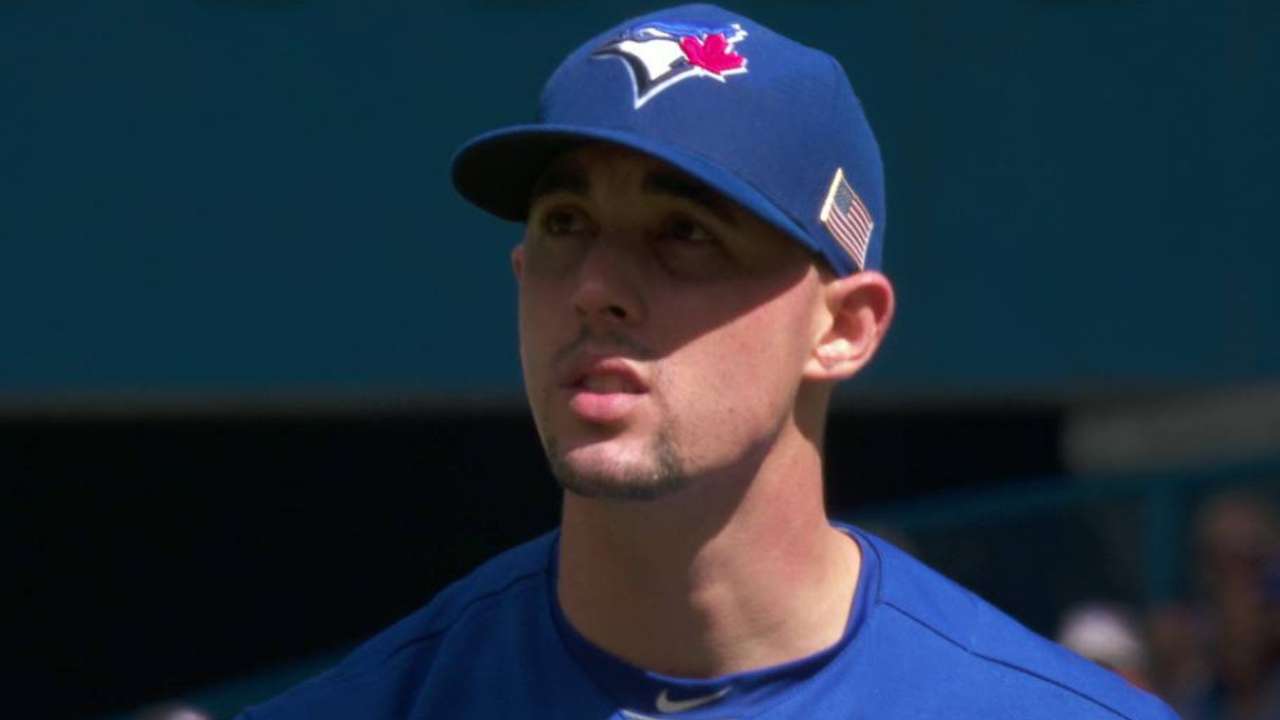 TORONTO -- Aaron Sanchez picked a bad time to have arguably his worst start of the season, but it appears as though a blister on his right hand played at least some kind of role.
The 24-year-old right-hander was hit hard early and often during Toronto's 11-8 loss to the Red Sox at Rogers Centre. He matched his career high with six earned runs and the 3 1/3 innings were his shortest since a start vs. the Orioles on April 11, 2015.
He was visited by trainer George Poulis during the fourth to have the blister on his right middle finger examined. He remained in the game for another hitter, but the ailment has been bothering him off and on since Spring Training and it resurfaced early Sunday.
"I don't want to make excuses," said Sanchez, who walked four and threw just 40 of his 75 pitches for strikes. "I have to find a way to get deep into the game, but obviously it didn't help."
The exact diagnosis for the injury can depend on the day. It has been described as a hot spot, which is considered an area of soreness and irritation. There have been other times when that hot spot turns into a full blister, which is when a small bubble is formed on the skin.
"I think it's like a little bit of both," Sanchez said. "At the start of Spring Training, it was a blister. I maybe got it once or twice before the All-Star break and it was a hot spot and then it was a blister again. It's just one of those things where it comes and goes. It's something that we've stayed on top of all year. You just don't know with it. I've kept it tame pretty much the whole year and hopefully I can continue that after today."
Sanchez should have plenty of time to recover. Toronto has yet to announce when Sanchez will pitch again, but he previously was expected to be pushed back by at least a few days as the club continues to monitor his workload, and the blister only increases the likelihood of Toronto taking that approach.
Bullpen issues
Sanchez's rough outing combined with a poor start by Boston's Clay Buchholz meant Sunday's series finale turned into a battle of the bullpens. Blue Jays manager John Gibbons thought he had everything lined up the way he wanted after his club took an 8-6 lead after four innings, but that turned out not to be the case.
The original plan called for Joe Biagini to pitch two innings before the Blue Jays went with their big three of Joaquin Benoit, Jason Grilli and Roberto Osuna. Unfortunately for Gibbons, Biagini could not get out of the fifth, which meant Toronto had to scramble for a backup plan.
In the sixth, Gibbons made the curious decision to use right-hander Bo Schultz with the bases empty and one out. Schultz previously had thrown just three pitches this month, but was being called upon to face the top of Boston's lineup with a one-run lead.
"I was really just trying to get two outs out of Schultzy, against the right-handers," Gibbons said when asked to explain his bullpen moves. "Not an easy assignment."
The move didn't work out. Schultz allowed a pair of singles to Dustin Pedroia and Xander Bogaerts before Gibbons went to the bullpen yet again. This time it was Benoit but instead of coming in with a clean inning the veteran reliever was thrown into the fire with a pair of runners on base for David Ortiz.
Benoit had been automatic for the Blue Jays this season. He had not allowed a run since joining Toronto at the end of July and his 18 1/3 innings scoreless streak was the second longest in the Major Leagues. Unfortunately for Benoit and the Blue Jays, that run came to an end when Ortiz homered to right just like he did vs. Benoit in Game 2 of the 2013 American League Championship Series.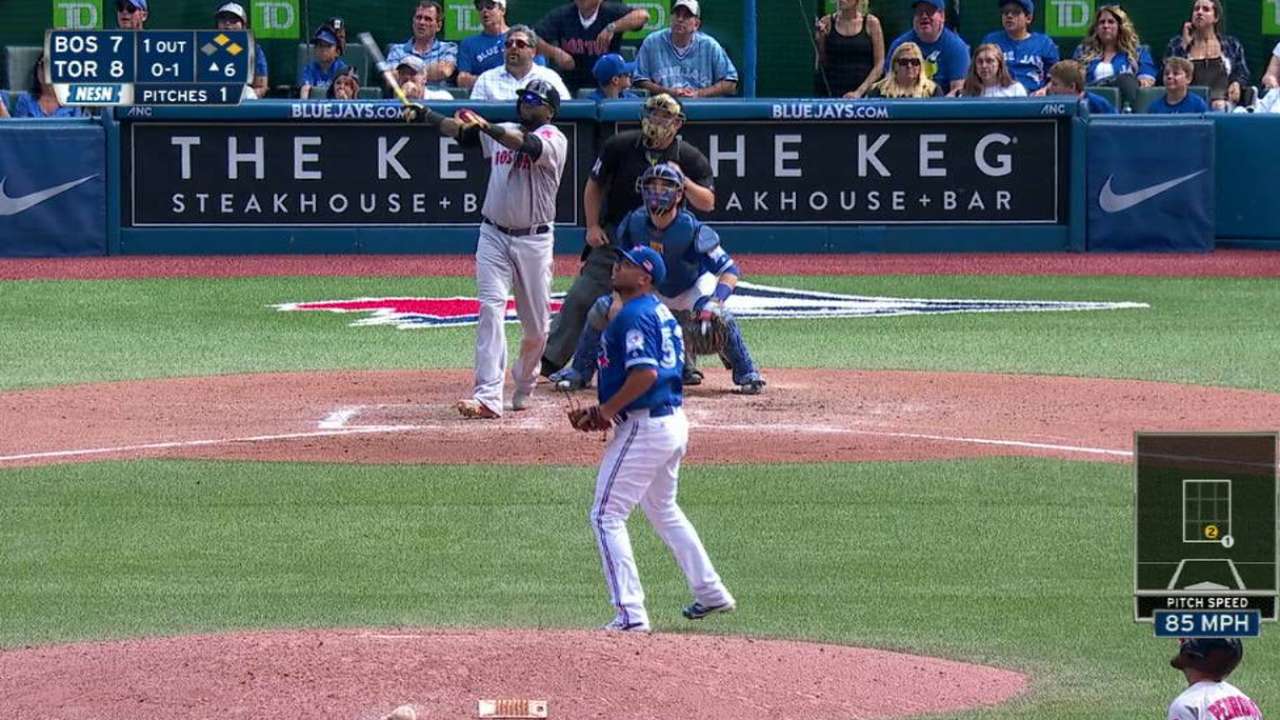 "I was trying to go down and away so we could keep the ball on the ground," Benoit said. "I threw a pitch and he missed and when I threw the next pitch it stayed up middle over the plate. He hit it out."
Gregor Chisholm has covered the Blue Jays for MLB.com since 2011. Follow him on Twitter @gregorMLB and Facebook, and listen to his podcast. This story was not subject to the approval of Major League Baseball or its clubs.