Phillies eye improvement of league-low OBP
Joseph, Galvis go yard in finale loss to Nationals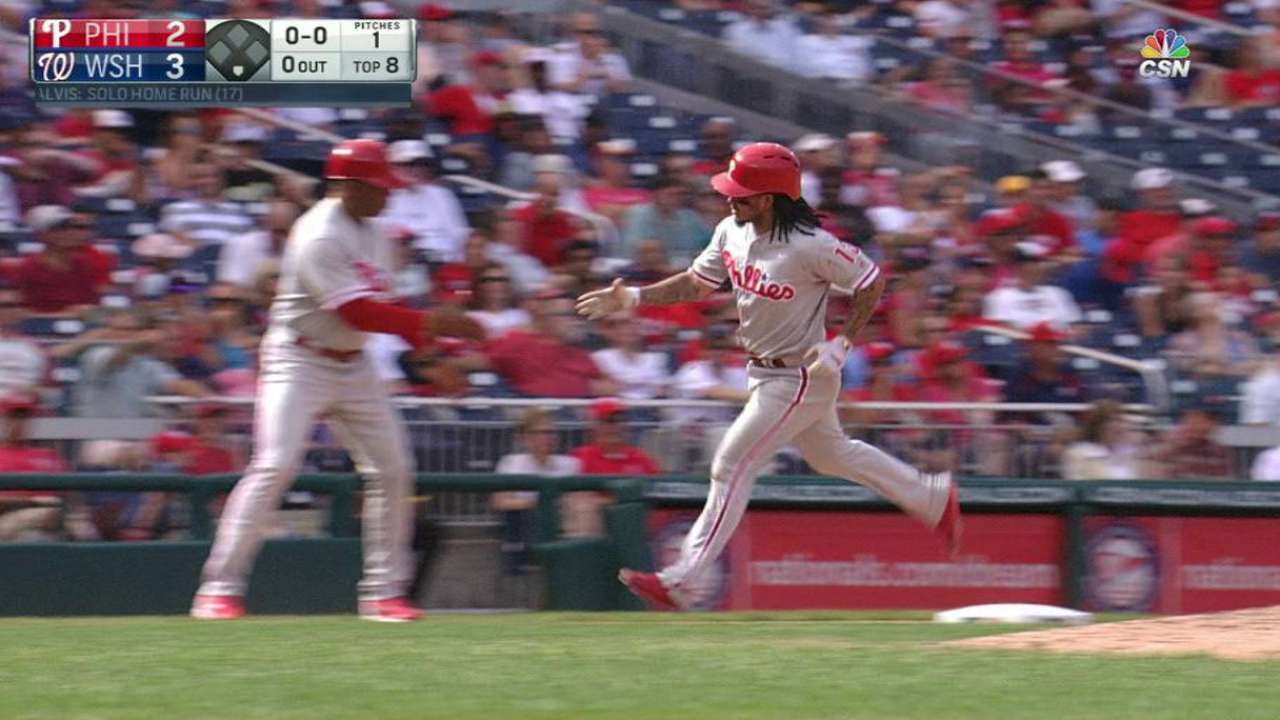 WASHINGTON -- The final few weeks of the Phillies' season will not change the fact they need to improve their offense next season.
The Nationals beat Philadelphia on Sunday at Nationals Park, 3-2. It was the 51st time in 143 games the Phillies have scored two or fewer runs. Only the Padres (53), Braves (52) and Mets (52) have had more games like that. The Phillies remain last in baseball averaging 3.63 runs per game and with a .295 on-base percentage.
"These are the same games we were winning at the beginning of the season," Freddy Galvis said. "The pitching is doing a really good job. We have to step up and make something happen, try to get some runs for these guys."
The Phillies' only two runs on Sunday came through solo home runs from Tommy Joseph and Galvis. Joseph's homer to center in the seventh tied the game at 1 in the seventh inning, his 18th of the season, Galvis' 17th home run to right-center in the eighth cut the Nats' lead to 3-2.
How many people predicted Joseph and Galvis would hit a combined 35 home runs this year?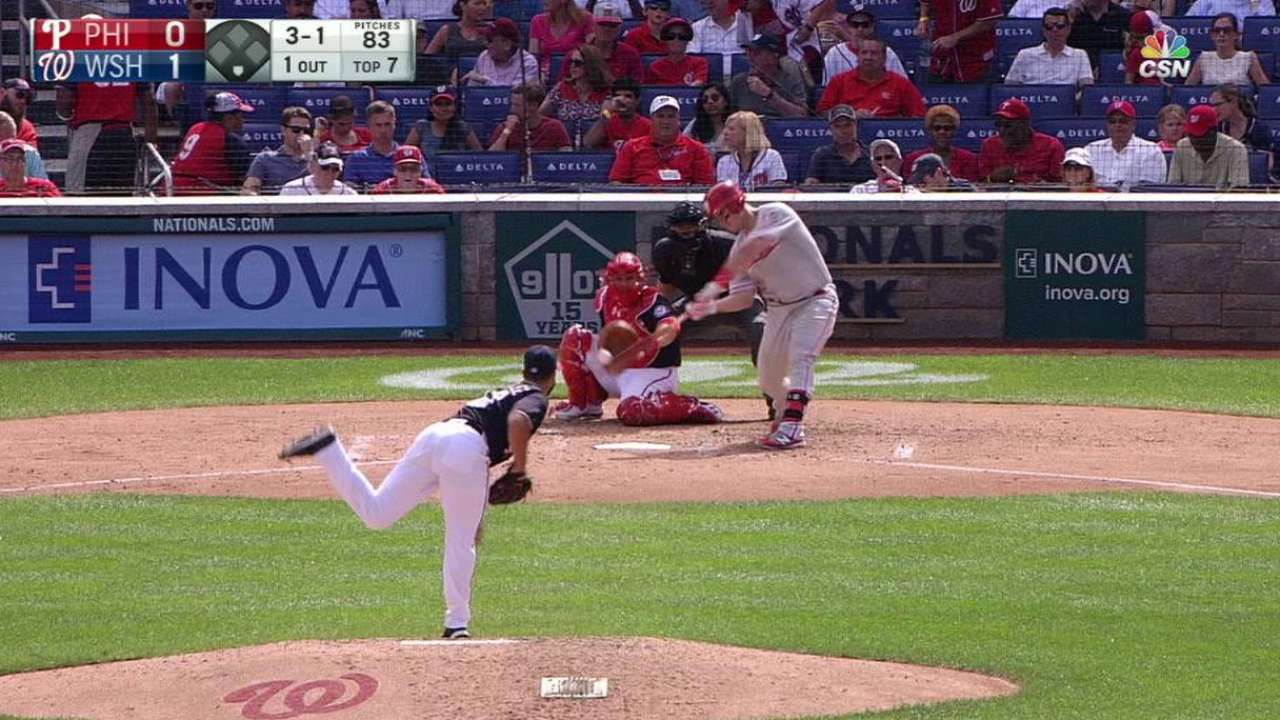 Joseph's 18 homers are tied for eighth among rookies in a single season in Phillies' history. The group includes Mike Schmidt (1973), Greg Luzinski (1972), Pat Burrell (2000) and Buzz Arlett (1931). Joseph is tied for the third-most homers among Phillies rookies in the past 43 years (1974-2016). Only Ryan Howard (22 in 2005) and Scott Rolen (21 in 1997) have hit more.
Galvis' 17 homers in a season are the fifth-most in Phillies history by a shortstop. Jimmy Rollins holds the top four spots.
The Phillies have hit 142 home runs this year, which ranks 25th in baseball. But they are on pace to hit 163 homers, which would be the most they have hit since 2010 (166).
Of course, those homers have not been nearly as helpful with the team's low on-base percentage. They are on pace to have their lowest on-base percentage since 1968 (.294).
"When you're an aggressive hitter, you're going to hit mistakes," Phillies manager Pete Mackanin said. "And these guys have hit a lot of mistakes out over the plate. What we're looking for is consistent, quality at-bats. ... You're going to run into balls and hit home runs here and there, but there's also another part of your hitting approach where you have to be more disciplined at the plate, and that's extremely hard to teach."
Said Galvis: "I feel good about my defense right now. I've been play good defense for my pitchers and that's a big part of a winning team. I'm happy with that. I feel good with the RBIs and homers, too. But I want to be on base and score more runs, too. I think I have to keep working and try to get more base hits, get on base more, try to steal a couple bases and help the team win more games."
Todd Zolecki has covered the Phillies since 2003, and for MLB.com since 2009. Read his Phillies blog The Zo Zone, follow him on Twitter and listen to his podcast. This story was not subject to the approval of Major League Baseball or its clubs.