Tillman impresses in return, still aims higher
Despite feeling 'rusty,' righty holds Tigers to 1 run in 6 innings during big game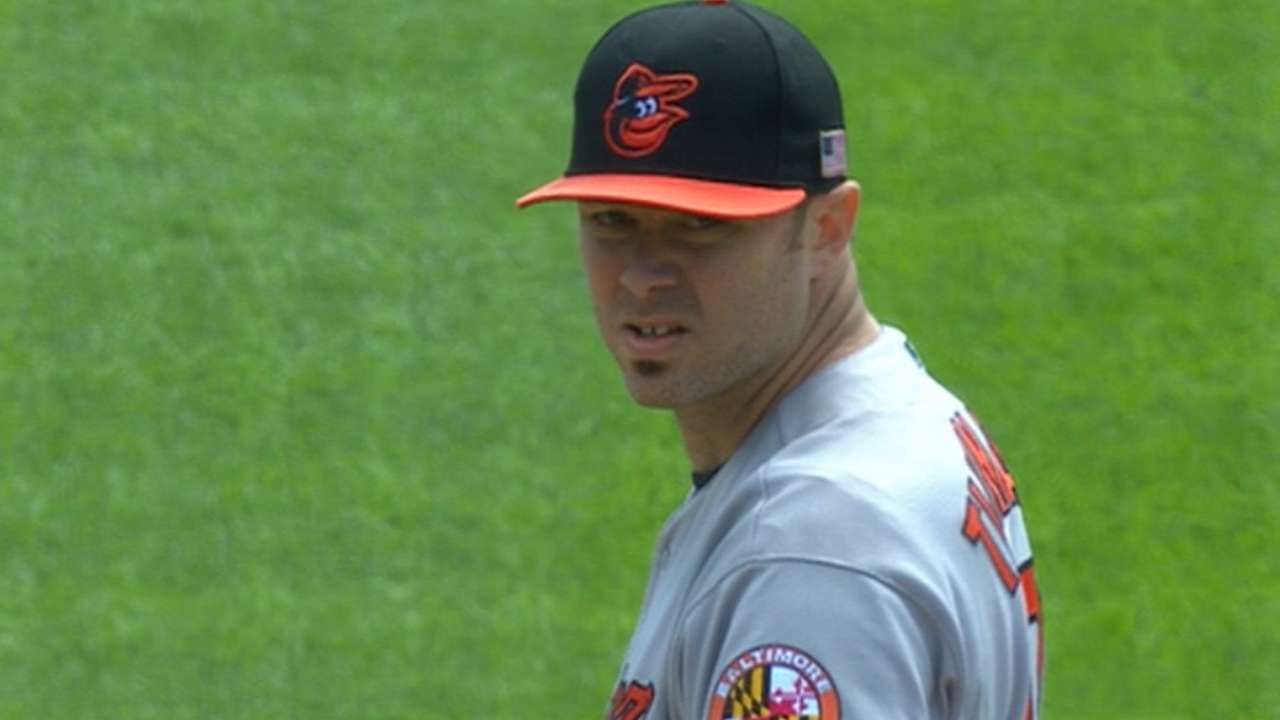 DETROIT -- Chris Tillman said ahead of Sunday's start at Comerica Park that he expected a little rust after missing nearly three weeks on the disabled list with a right shoulder injury.
He allowed one run in six innings as the Orioles beat the Tigers, 3-1, in the series finale to give themselves a two-game lead in the American League Wild Card standings. Manager Buck Showalter seemed to think there was not much rust for Tillman, but Tillman saw it otherwise.
Orioles play-by-play announcer Gary Thorne agreed with Showalter and asked Tillman how he felt on the mound.
"Rusty," Tillman said. "It was kind of hit or miss. I feel like it got better as the game went, but early on, there was definitely some rust there for sure."
Although he struggled with placing his fastball in the early parts of the game, Tillman held the Tigers to two baserunners in the first four innings, coming on doubles from Cameron Maybin and Erick Aybar.
Tillman allowed a walk and two hits to surrender his only run of the game in the fifth inning, but he retired the Tigers in order in three frames as the Orioles used a pair of home runs to improve to 21-6 this season with Tillman as the starter.
Tillman delivered his 16th quality start of the season, and it came in a big game in a big series. He said it felt good not only to be back on the mound, but also to show up in a big spot.
"It was awesome," Tillman said. "There's nothing like it. You get kind of bored and frustrated sitting on the bench that long and not being able to help the team, but it was a big series, big win, and it's good to get out of here with a big win."
Showalter said they are not out of the woods yet and are hoping everything checks out with Tillman's shoulder in the coming days following his first game back.
"We'll just see how I feel," Tillman said. "When this kind of first popped up, I pitched in Oakland and felt fine, and the next day, I wasn't all that hot. So I think we'll see how I feel. Signs are pointing good, but we'll see how it goes."
Showalter felt no pressure monitoring Tillman throughout the game and is just happy things worked out well.
"We watch every pitch, every facial expression," Showalter said. "You're not walking to him after every pitch, 'How's this feel, how's that feel?' Pitchers don't want that. He'll tell us, he's mature. He told us last time."
Kyle Beery is a reporter for MLB.com based in Detroit. This story was not subject to the approval of Major League Baseball or its clubs.