Correa returns to Astros' lineup vs. Cubs
Shortstop missed 4 games with left shoulder inflammation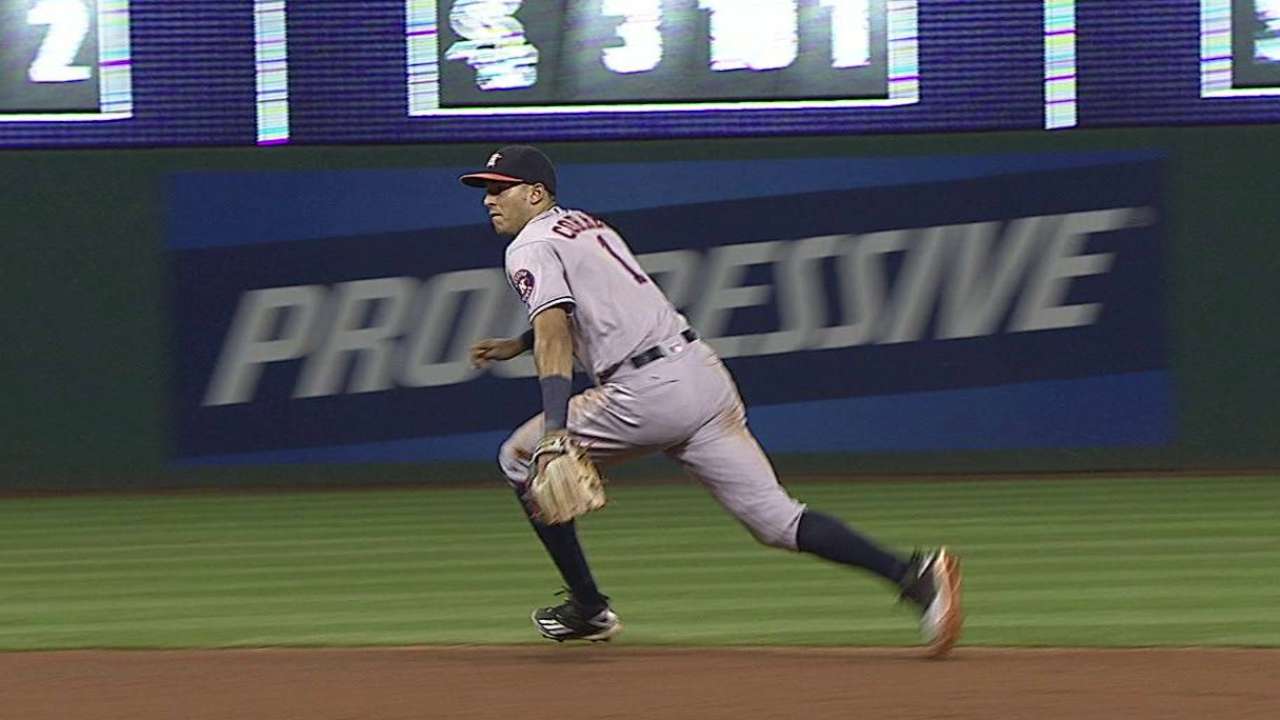 HOUSTON -- Astros shortstop Carlos Correa returned to the lineup for Sunday night's 9-5 loss to the Cubs at Minute Maid Park after missing four games with left shoulder inflammation, an injury he suffered making a diving stop Monday in Cleveland.
Correa, who singled to extend his hitting streak to 13 games, was removed after the Cubs jumped out to a 9-0 lead as Astros manager A.J. Hinch didn't want the 21-year-old to aggravate his shoulder.
Correa entered the game tied for 13th in RBIs in the AL and his 87 RBIs as a shortstop is a single-season club record.
"I'm in the lineup, so I must feel good," Correa said. "It was getting better every single day and I came in today and felt great and took a couple of swings and I'm back in there."
Hinch said Correa was a "tough kid" who's trying to play through an uncomfortable situation, but Sunday was the day they thought he could test it.
"Once you get to competing, I don't know you can play guarded," Hinch said. "A ball in the hole, he's going to dive after [it], a line drive over his head and he's going to jump for it. … I do expect him to play and kind of let his reactions be what they're going to be. I hope he can be pain-free and, more importantly, I hope his range of motion stays the same and he's able to contribute."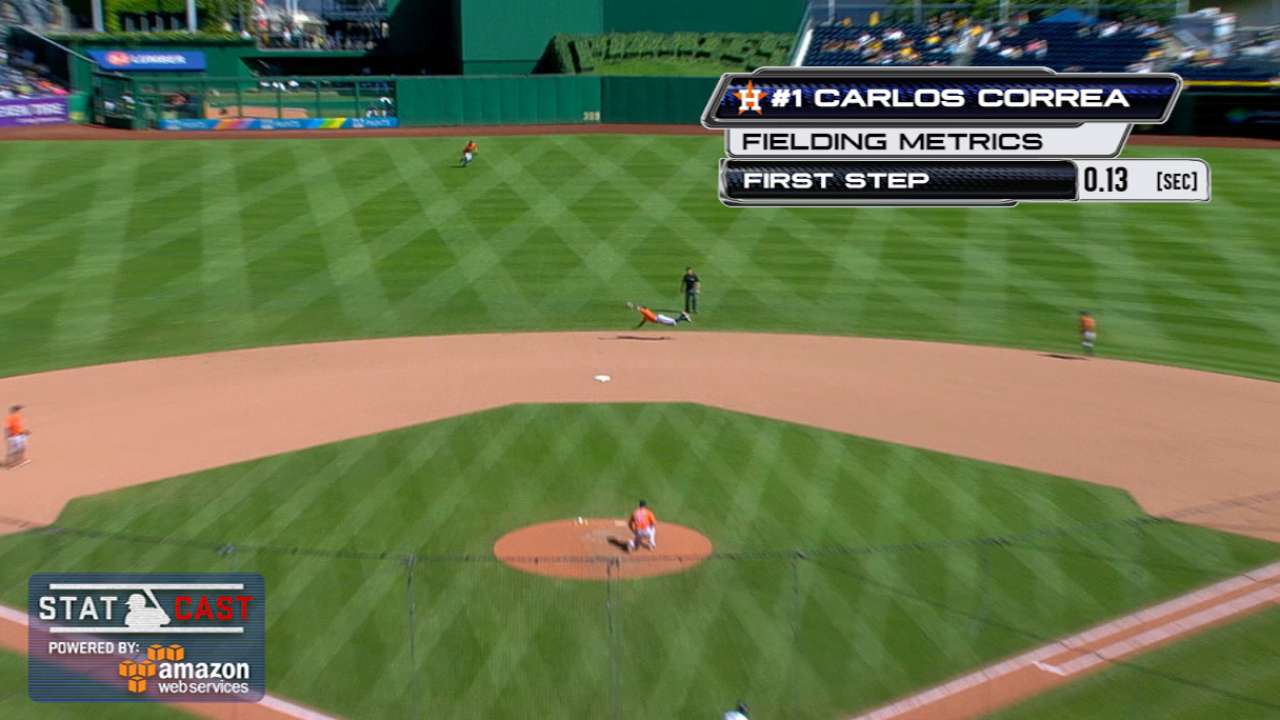 Meanwhile, second baseman Jose Altuve was also in the lineup Sunday after being removed in the eighth inning of Saturday's game with an illness. He entered Sunday leading the Majors in hits (189) and the AL in batting average (.339) after snapping an 0-for-12 slump with a bunt single as designated hitter on Saturday.
Worth noting
• Astros right-handed pitcher Lance McCullers is still on a throwing program, but has yet to get on the mound since he was placed on the disabled list in early August with a mild elbow sprain. McCullers said Sunday he feels good and is continuing to try to make strides.
"Physically I feel good, mentally I feel good," he said. "I've been keeping up my conditioning and weight-room stuff, so my body will be ready if my arm is. We'll have to wait and see on that."
McCullers isn't sure what's next or when he will get back on the mound, but he knows there's only three weeks remaining in the season. He's still holding hope he can return in 2016, even if it's in a relief role in the playoffs.
"I'm waiting for them to see what they need to see over a period of time before we try to determine whether or not getting back on the mound is a possibility," he said. "A lot of that is going to come from the medical staff and [pitching coach Brent Strom and bullpen coach Craig Bjornson] and ultimately talking with A.J. That group of people is going to make those decisions."
• Hinch said he reached out to Dodgers manager Dave Roberts late Saturday after Roberts pulled pitcher Rich Hill from a game following seven perfect innings. Roberts was concerned about Hill's blister history and denied him a shot at finishing the game, which weighed heavily on him.
Hinch let Edwin Jackson throw 149 pitches for a no-hitter while managing the D-backs in 2010, and last year allowed Mike Fiers to throw 134 pitches when completing a no-hitter. Hill threw 89 pitches in six innings.
Hinch and Roberts are friends who played against each other in college and the big leagues and worked together for the Padres. Hinch said he congratulated Roberts for standing up for what he believes is right.
"As a band of brothers, I have a pain my heart for Dave Roberts having to go through that type of situation," Hinch said. "The decisions that are made in our sport and bestowed upon this job are never aligned perfectly for everybody involved -- for players, for fans, for coaches, for the front office. At some point, there are decisions that have to be made that aren't perfect for everyone.
"It's critical to know your team, it's critical to know your own players and make the best decision you can in the best interest of your team. My heart sank a little bit for him having to do it every way."
Brian McTaggart has covered the Astros since 2004, and for MLB.com since 2009. Follow @brianmctaggart on Twitter and listen to his podcast. This story was not subject to the approval of Major League Baseball or its clubs.