Weiss reflects on 9/11, honoring military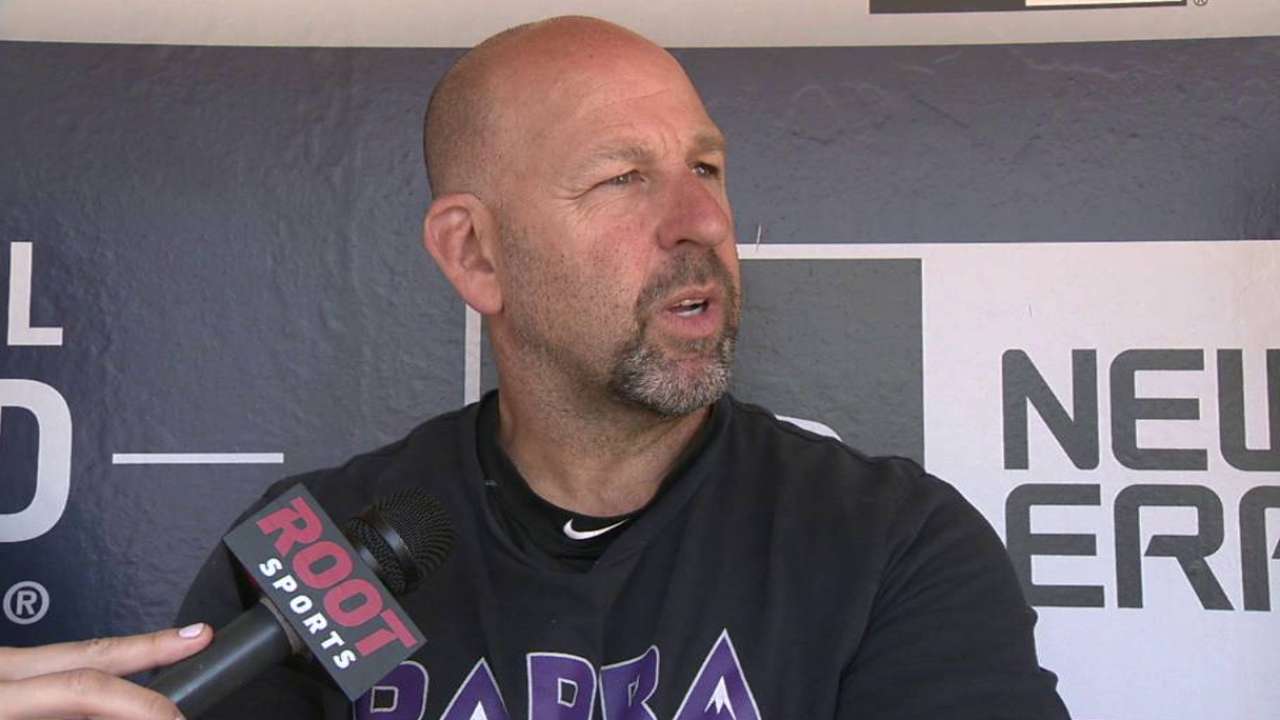 SAN DIEGO -- Rockies manager Walt Weiss was one of the many people across the nation who was personally affected by the tragedy of September 11, 15 years ago.
Growing up in a suburb outside of New York City, Weiss grew up with friends who gave their lives trying to help those who were trapped in the collapsing World Trade Center towers.
"There are a couple guys I went to high school with who were firefighters that were in the building that day," Weiss said. "I think everybody's affected by it, some more than others, but I think Major League Baseball does a great job with things like this.
"Honoring the military, we do it all year in virtually every stadium, and today will be a special time before the game."
In San Diego, a town that identifies heavily with the military, Petco Park will have a Salute to Veterans before the game, featuring military veterans and local first responders being honored on the baselines during a pregame ceremony, retired Navy Chief Warrant Officer Ed Berger ringing the ceremonial bell to start the ceremony and a flyover by a San Diego Fire Rescue Helicopter.
Agent Alicia Chudy, of the Chula Vista Police Department will perform the national anthem, while Commander Abe Thompson of the U.S. Navy (retired) will perform "God Bless America" in the seventh inning.
"I don't think there's a city that honors the military the way San Diego does," said Padres manager Andy Green. "I don't think there's a baseball team that honors it the way we do here. And it's a day that we have a lot of national pride and a lot of respect for what happened on September 11.
"It will be a very special day. I think they've got some special things lined up and I'm looking forward to it."
Padres and Rockies players, as well as all other players, coaches and umpires across the league, wore an American flag patch on their caps with, with Major League Baseball donating royalties received from sales of the caps to the 9/11 Memorial & Museum and the Flight 93 Memorial.
"I think it's an escape for people," Weiss said of baseball's impact after 9/11. "That's what sports are generally for the fans. ... I do think, looking back on that time, I do think baseball played a role.
"You see documentaries now, I remember the game in New York with the Mets, and [Mike] Piazza hitting a home run -- that was a very emotional time. So yeah, I do think baseball played a small role in the healing."
Carlos Collazo is a reporter for MLB.com based in San Diego. Follow him on Twitter @CarlosACollazo. This story was not subject to the approval of Major League Baseball or its clubs.