Improved curveball gets Urena near CG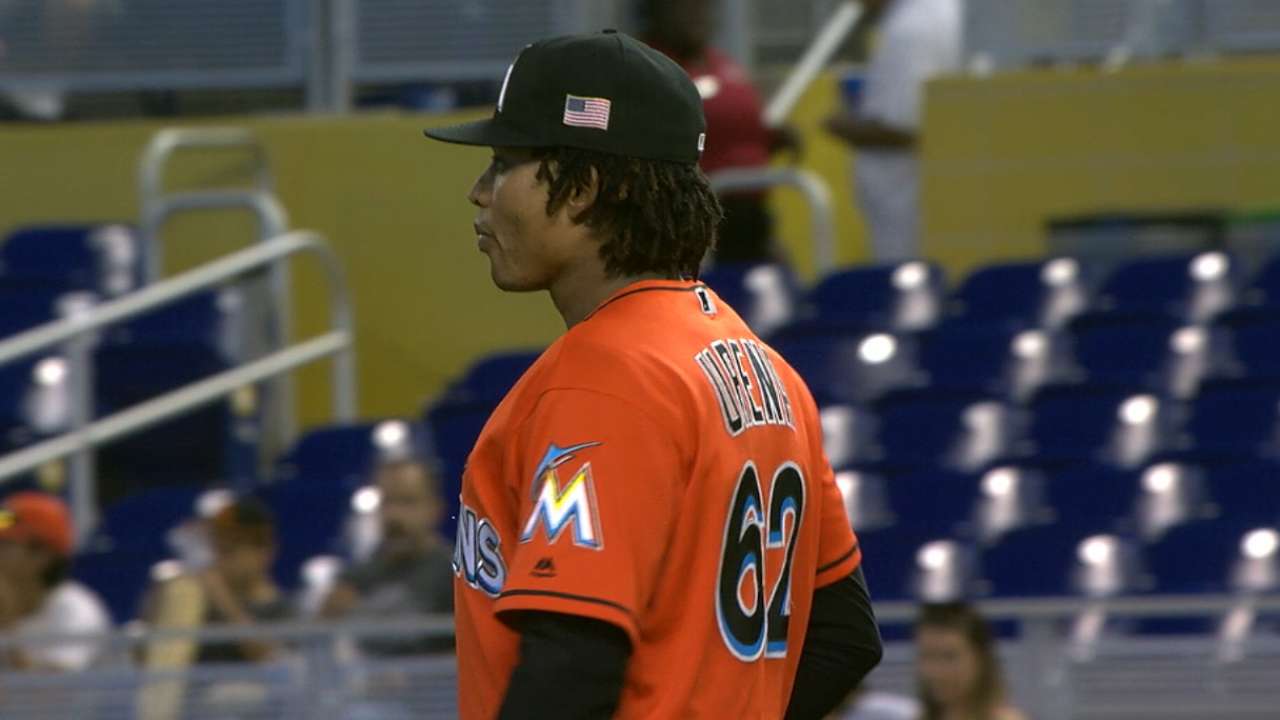 MIAMI -- Jose Urena was so close, tantalizingly close, to ending the longest complete-game drought in Major League history.
The 24-year-old right-hander had gotten two quick outs in the ninth inning before Josh Reddick slapped an opposite-field single. So with one out to go, Urena gave the ball over to A.J. Ramos, who promptly got Corey Seager to bounce to second, sealing the Marlins' 3-0 win over the Dodgers on Sunday at Marlins Park.
The crowd of 20,188 was rooting for Urena to finish what he started, but the righty was aware of the situation.
"We knew if one guy got on, and he knew if one guy got on," manager Don Mattingly said. "I really wanted to take him out, start the inning out with A.J., give him a fresh inning. But Jose said he felt good. I told him, I'd give him a chance. I said, 'If one guy gets on, I'm going to come get you then.' He knew."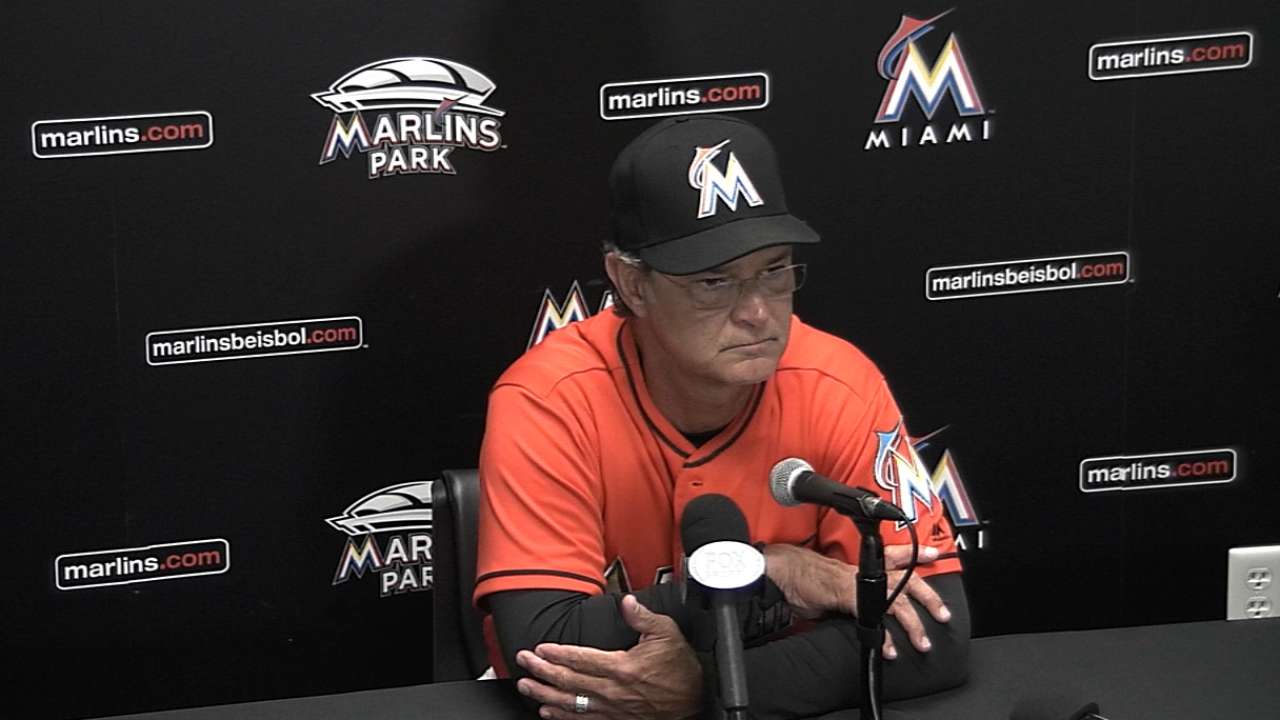 To a loud applause, Urena exited after a career-high 8 2/3 innings, scattering four hits with four strikeouts and no walks on 108 pitches.
Before Sunday, just two Marlins had gone as many as eight innings this season: Adam Conley on June 22 against Atlanta and Tom Koehler on July 21 while facing the Phillies.
"We were working to try to get the complete game," Urena said. "I knew if somebody got on base, I'd be out of the game. We were working on it."
Urena was primed to become the first Miami starter to throw a complete game since Henderson Alvarez against the Rays on June 3, 2014. It's a span of 409 games, a Major League record, eclipsing one held by the Brewers (407 games) untl 2011.
With Urena, Mattingly started seeing warning signs in the later innings. In the seventh, the Dodgers produced one-out singles from Seager and Adrian Gonzalez. But Urena got Yasmani Grandal to bounce into a 4-6-3 double play. Pitches started to miss their spots in the eighth, even though Urena got three straight outs.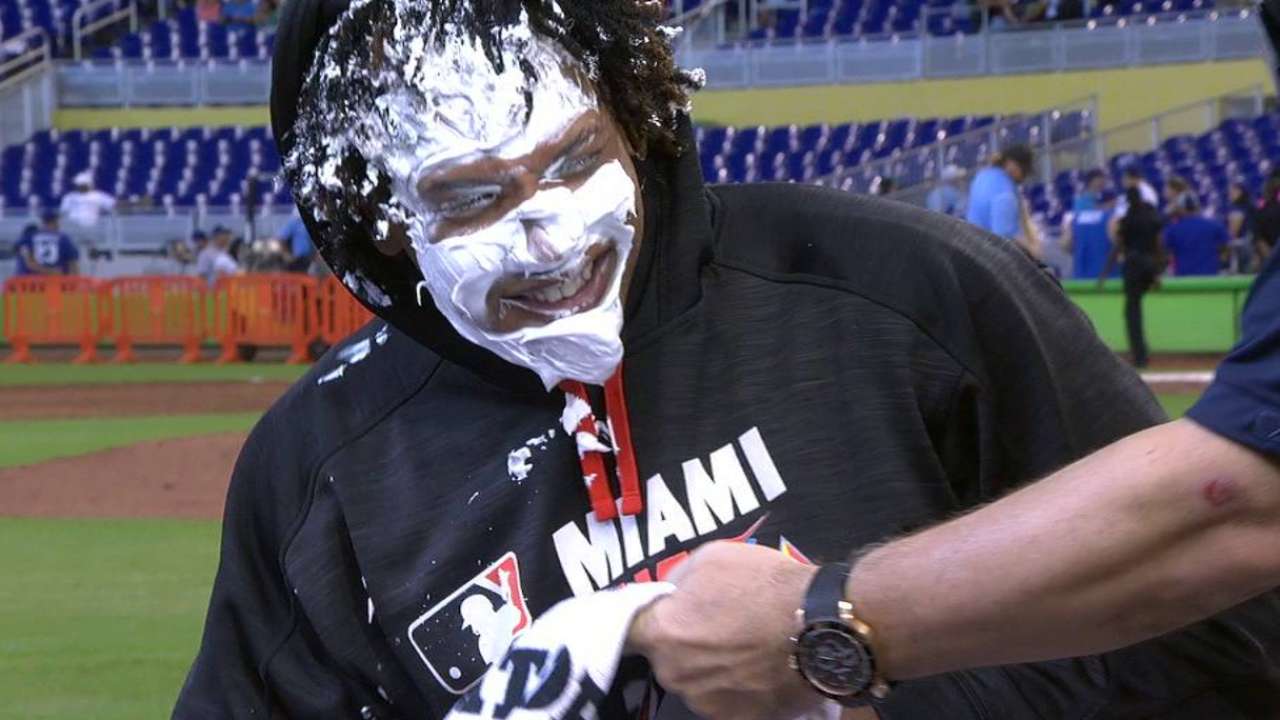 "In the eighth inning, we started to see the ball flat, counts starting to get in the wrong favor, and then to get out of it," Mattingly said. "That's really what we talked about and watching him closely after that."
Mattingly wasn't exactly in the same spot as Dodgers manager Dave Roberts, who on Saturday night made the tough call of lifting Rich Hill, even though he threw seven perfect innings on 89 pitches.
"We weren't 100 percent certain on sending him out [for the ninth]," Mattingly said.
One reason Urena was so effective was his improved curveball, which gave the Dodgers something else to focus on as well as his 95-plus-mph fastball, changeup and slider.
"We hadn't used it that much with lefties," Urena said. "A lot of lefties are looking for a changeup. We were combining them, changeup on the corner and the curveball, too."
Joe Frisaro has covered the Marlins for MLB.com since 2002. He writes a blog, called The Fish Pond. Follow him on Twitter @JoeFrisaro and listen to his podcast. This story was not subject to the approval of Major League Baseball or its clubs.