Papi passes Foxx, sinks Jays with 535th HR
Red Sox slugger haunts Benoit with go-ahead blast, moves within one of Mantle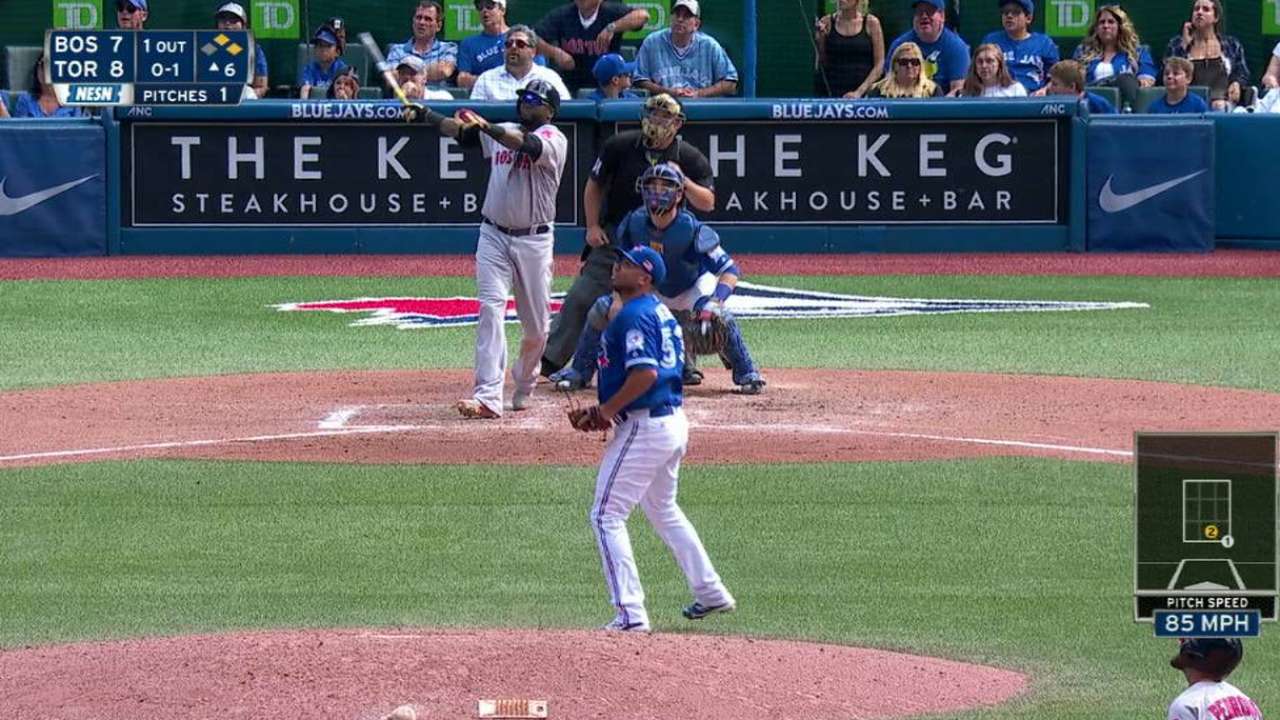 TORONTO -- The stage was set for David Ortiz in perhaps his favorite road ballpark, and against the pitcher whom he had already tagged for one of his most memorable home runs.
And yet again, the slugger rose to the occasion, delivering a go-ahead, three-run homer against Blue Jays reliever Joquin Benoit in the sixth inning that fueled the Red Sox to a thrilling 11-8 victory over the Blue Jays on Sunday afternoon at Rogers Centre.
The only other time Ortiz homered against Benoit was his epic, game-tying grand slam in Game 2 of the American League Championship Series against the Tigers, which served as an iconic moment. In an attempt to rob Ortiz, Torii Hunter ended up in the bullpen.
"It's what he's done his whole career, but it's cool to see in person," said Red Sox reliever Brad Ziegler. "You just felt the air get sucked out of the place at that point."
"I don't really care about the noise or quieting them down," said Ortiz. "I care about winning. That's all that matters at the end of the day."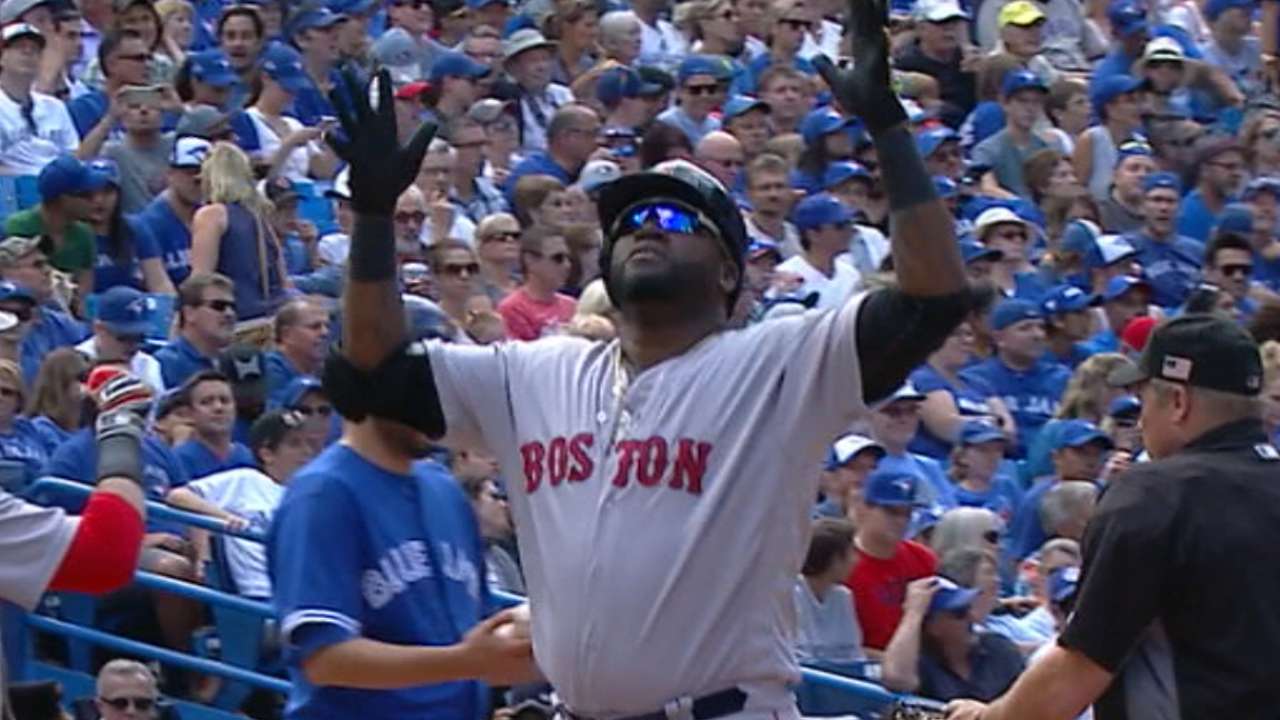 The home run was No. 535 in Ortiz's career, putting him ahead of Jimmie Foxx for 18th on the all-time list, and one behind Mickey Mantle. But for Ortiz, it's not about the milestones right now, it's about the victories.
In case you haven't noticed, Big Papi is ready for his final pennant race.
"We are going, man. We are moving," said Ortiz. "We're in a good position right now. We're looking pretty well right now. Our pitching has been outstanding, with the exception of today was a little crazy, but the bullpen stepped up. And our starting has been solid. We're in good shape."
Ortiz's hit was a separator on a day the two teams were going back and forth early, until Boston finally took control to take a two-game lead in the American League East.
"We try our best to get him up there with guys on," said Red Sox second baseman Dustin Pedroia. "We know he's going to come through or have a good at-bat. He's pretty special. We're just enjoying it.
Surprisingly, Benoit went back to the same pitch that cost him the night of Oct. 13, 2013 -- a changeup.
"I was trying to go down and away so we could keep the ball on the ground. I threw a pitch and he missed and when I threw the next pitch it stayed up middle over the plate. He hit it out," said Benoit.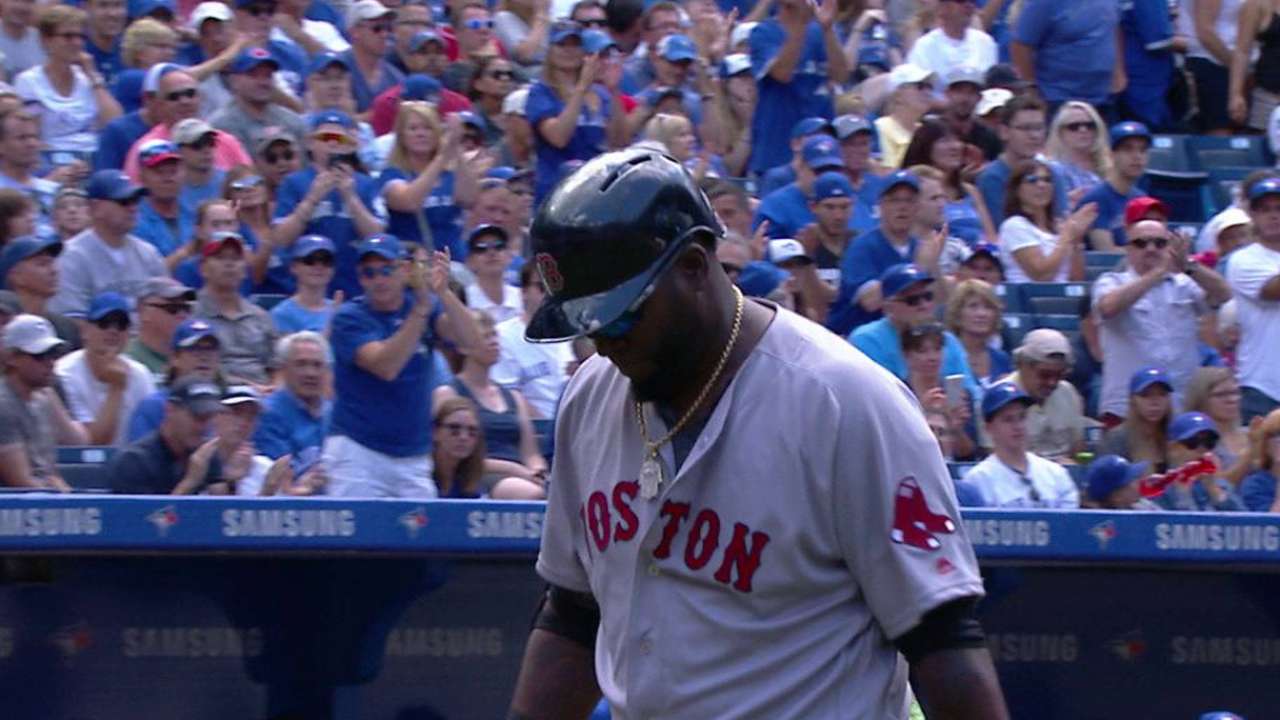 Even Ortiz seemed somewhat surprised Benoit didn't try something else.
"I thought I was getting a different menu, but he threw me a hittable pitch. I mean, it wasn't that bad," said Ortiz. "It was in the bottom of the strike zone, right where the pitcher wanted to make that pitch. I guess I put a good swing on it."
Dave Dombrowski watched that ALCS homer in anguish as president of the Tigers. He enjoyed the view this time from the press box in his current role as president of baseball operations with the Red Sox.
It was Ortiz's 32nd home run, and it gave the Red Sox a 10-8 lead.
The home run was the 41st for Ortiz at Rogers Centre, his most at any road venue, and the most any visiting player has hit there.
Unless the Red Sox and Blue Jays meet in the postseason, it was Ortiz's final game in Toronto.
"Fans here in Canada are like the fans we have at home," said Ortiz. "They are cheering for their ballclub, supporting it. As a player that's what you want to see. When you see that, you take the game to the next level."
Ian Browne has covered the Red Sox for MLB.com since 2002. Follow him on Twitter @IanMBrowne and Facebook. This story was not subject to the approval of Major League Baseball or its clubs.