Pirates hoping to buck slump, get on WC track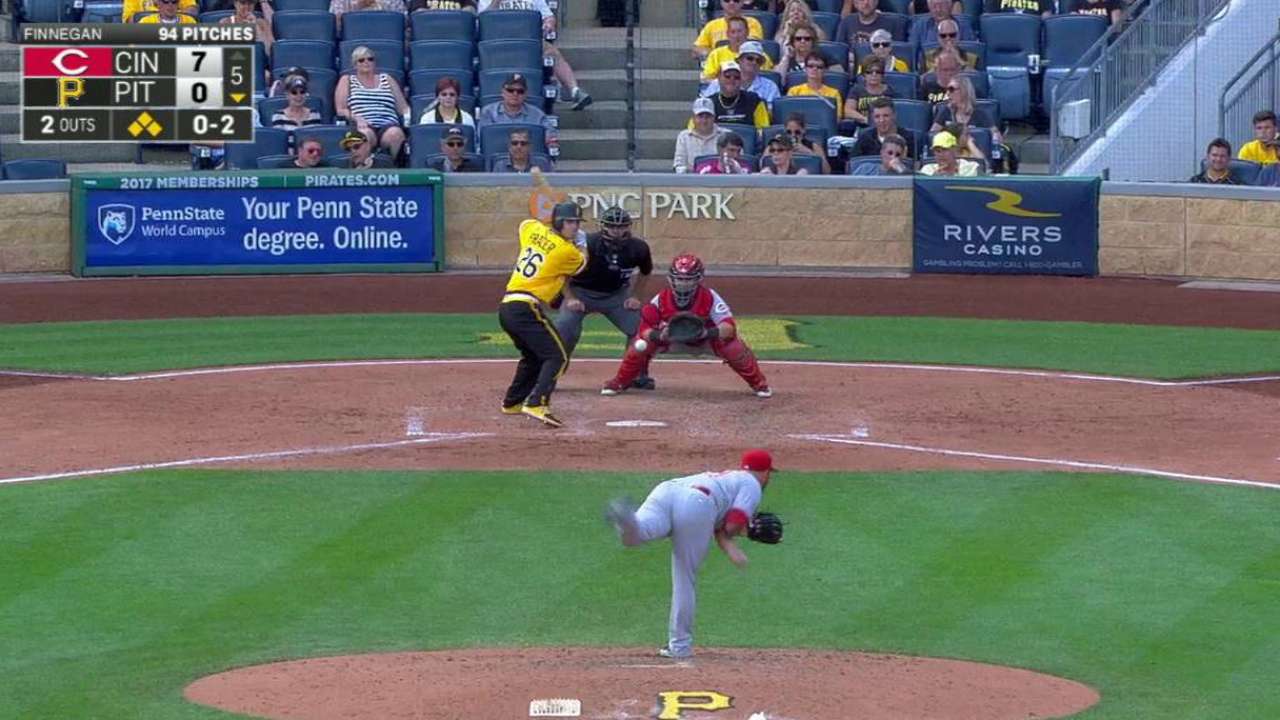 PITTSBURGH -- Early Sunday afternoon, general manager Neal Huntington called the Pirates "the streakiest team in baseball." Every good stretch this season has been followed by an equally bad one. Every bad stretch seemingly gives way to a streak of wins. When their lineup has been hot, their pitching has been cold. When they've pitched well, they haven't hit enough to prop up their staff.
But the Pirates have run into one of their worst stretches at the wrong time, and it may be too late to pull themselves out of it. Pittsburgh wrapped up a 2-8 homestand and lost for the 11th time in 13 games on Sunday, getting shut out by Cincinnati, 8-0, at PNC Park.
"We've talked for weeks that the team that goes 8-2 is going to separate itself," Huntington said before the game. "Unfortunately, we've been the team that's gone 2-8."
The Pirates' skid has dropped them three games below .500, at 69-72, and six games behind the Mets for the second National League Wild Card spot with 21 left to play. They are not yet ready to admit defeat this season, not while their fourth straight postseason berth is still logistically possible.
Asked if this downturn will lead the Pirates to write out their lineups and pitching plans with an eye toward 2017, manager Clint Hurdle responded, "Not yet. Not for me."
But their odds are slimmer than ever, their margin of error reduced to zero.
"My vision is to get us playing better. I'm not going to walk out of here [with] anything other than knowing I've got a job to do," Hurdle said. "We needed to play better. We didn't. How do we play better? That's where my focus is."
Veteran right-hander Ryan Vogelsong, who struggled through a five-run second inning Sunday, simplified the issue even further. What can the Pirates do to get back on track?
"Win," Vogelsong said. "We need to win."
So the Pirates will go to Philadelphia for four games against the rebuilding Phillies, on to Cincinnati for four games in three days with the Reds, who just took three of four at PNC Park, and back to Milwaukee for three against the Brewers.
"We are where our feet are. That's what Hurdle always says," Andrew McCutchen said. "Where are we? We're here. Where are we going? Philly. Get ready for Philly. That's all you can do."
An 8-3 or 9-2 trip would swing them back to the right side of .500. It might even get them within striking distance of a Wild Card spot. It wouldn't be out of character for the streakiest team in baseball, but it could still be too late.
"If we could flip a switch and fix it, we would," Huntington said. "But every time we seem like we're falling in the wrong direction, we seem to right ourselves. Every time we right ourselves, we seem to take a misstep."
Adam Berry has covered the Pirates for MLB.com since 2015. Follow him on Twitter at @adamdberry. This story was not subject to the approval of Major League Baseball or its clubs.