Going through struggles helped Broxton excel in Majors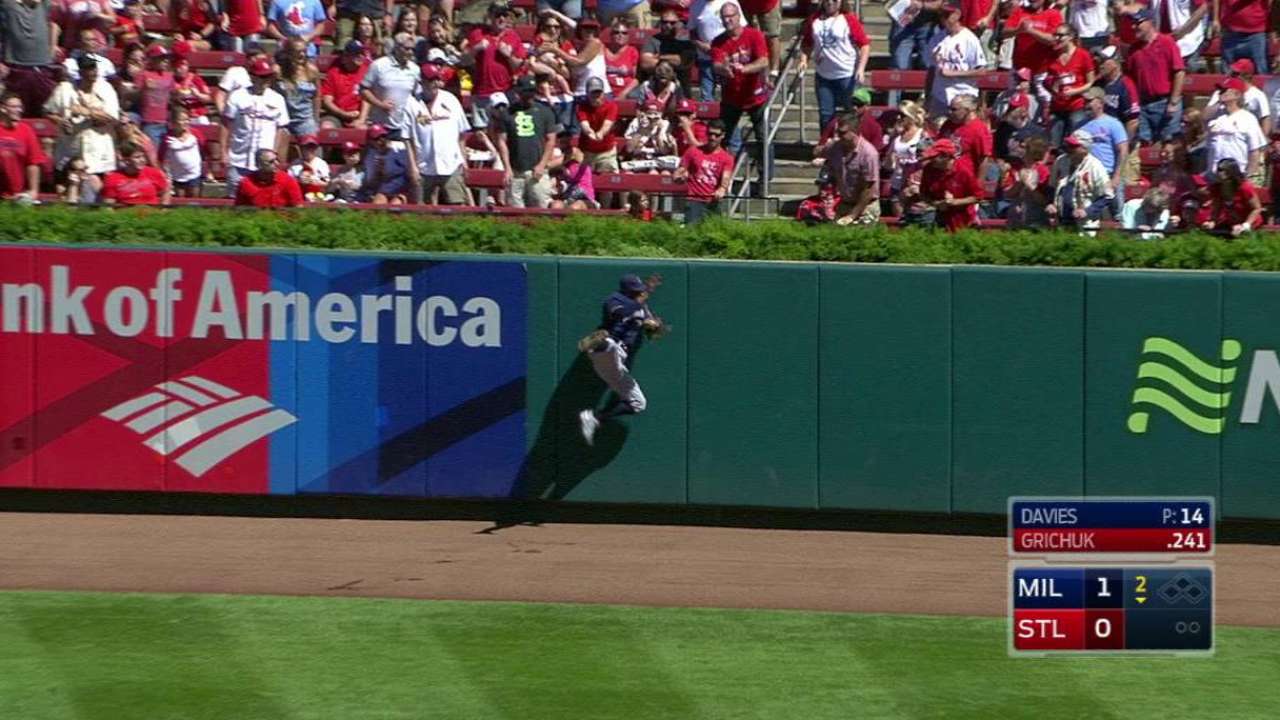 ST. LOUIS -- In terms of skills, one comp for Brewers rookie Keon Broxton is Mike Cameron, who came up as a lanky and fleet-footed Chicago White Sox outfielder before filling out over a fine career that included a stop in Milwaukee.
In terms of results, however, a better comp might be J.J. Hardy, the shortstop who appeared so overmatched while hitting .187 with a .560 OPS during the first half of his rookie season in 2005 that then-manager Ned Yost was pressured to make a change. Yost stuck with Hardy, who rewarded his manager by hitting .308 with an .865 OPS after the break, and was an All-Star two years later.
Has any Brewers rookie since Hardy produced a more dramatic in-season turnaround than Broxton?
"Really, it's a great lesson to all of us," Counsell said. "Players change."
Broxton is making the most of his fourth stint with the Brewers this season. Including an 0-for-16, 11 strikeout April that prompted the first of his three demotions to the Minor Leagues, Broxton posted a .125/.253/.188 slash line in 75 plate appearances over 29 games through July 1.
It was after that date, at Triple-A Colorado Springs, that Broxton changed his hitting mechanics, lowering his hands in an effort to simplify his swing. He posted a 1.013 OPS that month in the Minors and earned another opportunity in Milwaukee.
The work paid off, as Broxton slashed .311/.425/.549 in 147 plate appearances over 40 games from July 26 through Saturday, when he hit his seventh home run. Six of his homers have come during this latest stint. In the Brewers' 2-1 win on Sunday, he went 0-for-3 but contributed with a leaping catch at the wall in the second inning.
Broxton still strikes out a lot (29.9 percent of the time from July 26 through Saturday, though that's down from 44 percent in his first three stints). But his hard-hit rate more than doubled, from 22.6 percent before the All-Star break to 50.6 percent after.
"I feel comfortable. I feel at ease," Broxton said. "I feel like I can just play my game right now. It took a while to get here."
The Brewers are stocked with outfield prospects, but Broxton, acquired last winter in a trade with the Pirates, is getting the first opportunity to grab the center-field position. Four of the top eight players on MLBPipeline.com's list of the Top 30 Brewers prospects are outfielders capable of manning center, including No. 2 prospect Lewis Brinson, who had a great finish to the season at Triple-A and will be added to Milwaukee's 40-man roster in November.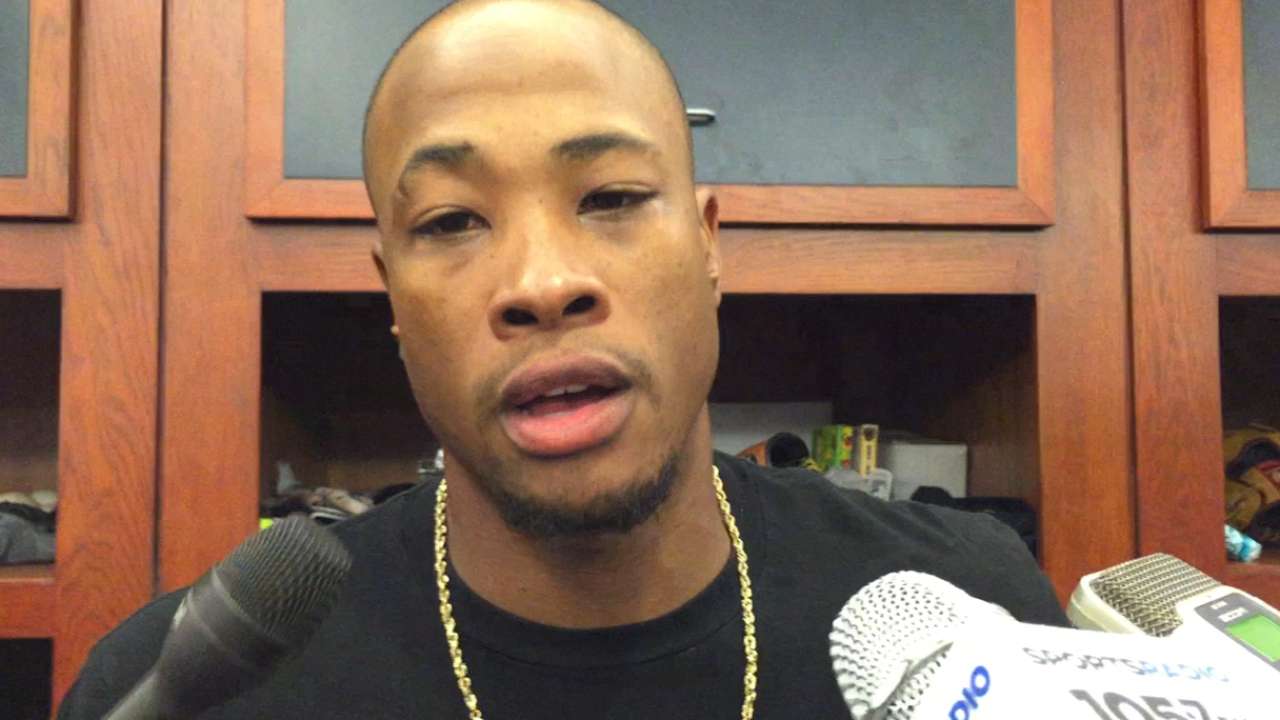 One significant difference between Broxton and Hardy at the start of their careers is life experience. Broxton was 25 on Opening Day, and has since turned 26. Hardy was 22 for most of his rookie year.
"If you're 26 and at this point, he's struggled in his career at times," Counsell said. "Because he's been in that place, I think it gives you some perspective about all this -- what's happening and why it's happening. I think that's been good thing about him through all this.
"The struggles are probably the best teacher there is in this game. Players have to take advantage of that. It's hard to when you're in it, but when you get outside it a little bit, that's where the good ones are able to."
Adam McCalvy has covered the Brewers for MLB.com since 2001. Follow him on Twitter @AdamMcCalvy, like him on Facebook and listen to his podcast. This story was not subject to the approval of Major League Baseball or its clubs.