MLB.com Columnist
Barry M. Bloom
Pence getting hot at just right time for Giants
Right fielder reaches base in 12 of 15 plate appearances in weekend sweep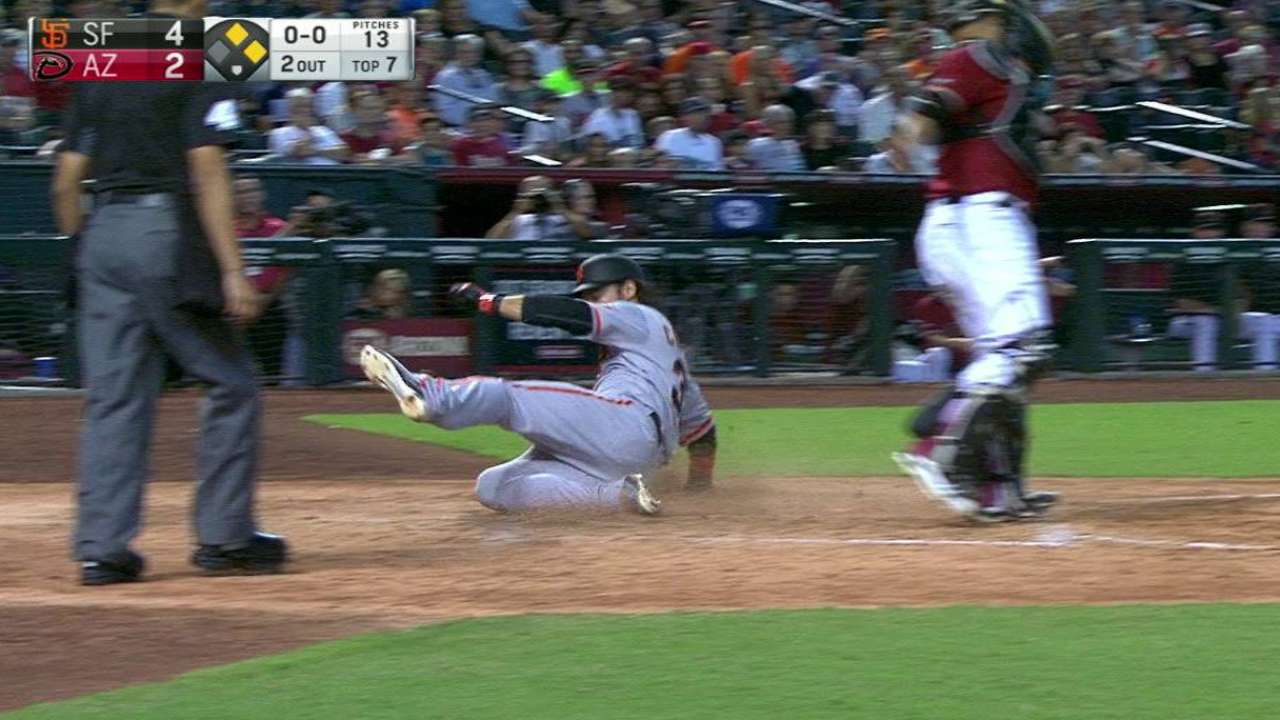 PHOENIX -- For those who might have had any doubt in the matter, the Giants are a much better team with a fully ambulatory Hunter Pence in the lineup.
"He's fun to watch," Giants manager Bruce Bochy said on Sunday after his club defeated the D-backs, 5-3, to sweep the crucial three-game series at Chase Field. "He's playing inspirational baseball."
Here's how inspirational: This weekend, Pence was on base 12 times in 15 plate appearances and scored eight runs, four in each of the first two games.
On Sunday, Pence drove in two runs with a double and walked in four plate appearances. His two-bagger with two out in the seventh inning gave San Francisco a 5-2 lead and the previously beleaguered back end of the bullpen a necessary cushion.
Here is the full damage: Pence walked four times in the series and had eight hits, including two doubles, a homer and three RBIs.
The fact is, no Giant has scored four runs each in back-to-back games since 1912. And after missing 48 games earlier this season because of a right hamstring strain, Pence was just the man to do it.
How did Pence get in this kind of zone?
"A lot of ground-attack infield hits," he said. "Then the ball finds a hole. That's baseball. The ebbs and flows you have sometimes. You hit 'em at 'em and then sometimes you don't. Just trying to have good at-bats and try to feel good and try to go out there and compete to win."
The bearded Pence was all over the place. Out in right field on Friday night, he made a diving, skidding catch in the ninth inning of a Mitch Haniger fly ball in the corner up against the fence, saving what undoubtedly would have been a triple and the winning run for the D-backs. The Giants prevailed, 7-6, in the 12th inning.
Pence was all world, all baseball and should be a lock for National League Player of the Week, having gone 11-for-18 in his past four games.
"It was an impressive series, wasn't it?" Bochy said. "We've seen him get on these runs, and it's really something. He's an exciting player the way he runs the bases, swings the bat, defense. He really helps charge up the guys; I mean, this was a huge series here for us."
It's all happening at just the right time for San Francisco, which remains in the thick of the race for the NL West title or one of the league's two Wild Card berths with 20 games to go.
The Giants haven't won three in a row since sweeping the D-backs at San Francisco July 8-10 just before the All-Star break. Now Pence is carrying them.
"I think what we're seeing is a guy who's missed a lot of time," Bochy said. "Hitting a baseball is such a difficult thing to do. It takes time to get that timing back and be comfortable at the plate. I thought he'd take a little time to get settled in."
Pence returned on July 30 and struggled for the entire month of August, hitting .247 with a homer and six RBIs. But things have now really turned. He's hit .380 (27-for-71) over the past 18 games.
Pence is an energetic and enthusiastic guy, a clubhouse presence, prodding and interacting with almost every player on the team.
"It's important to me, things beyond what you're producing in the field," Pence said. "I pay attention to a lot of those things just in a desire to be my best and to chase our goal. I just talk to guys, try to stay in everyone's ear."
But Pence on-field contributions can't be minimized. Last year, he missed 110 games with a broken left forearm, tendinitis in his left wrist and an oblique strain. When the oblique felled Pence on Aug. 17 for the remainder of the season, the Giants couldn't overcome the injury and missed the postseason.
The Giants trailed the Dodgers by only a pair of games a day after Pence's injury. Los Angeles won the division by eight games. It was a year that ended in an odd numeral, so San Francisco stayed home.
This year, the Giants trail the Dodgers by three games, but this time, Pence is just getting started. They're also in a tussle with the Mets and Cardinals for the two NL Wild Card spots. Two games separate the three teams.
San Francisco has control of its own playoff destiny. It still has six games to play against Los Angeles -- three at Dodger Stadium and the season's final three games at AT&T Park. The Giants also have a crucial four-game series against the Cards at home, beginning on Thursday night.
Pence, 33, still loves playing the game. And when your team is in contention for a playoff spot, this is the most fun time of the year.
"We've got a long way to go with a lot of cool stuff in front of us," Pence said. "We need to try to keep the mindset of what's in front of us, the opportunity we have and how close we are. The story has yet to be written, and that's the real beauty of it."
For the Giants, the real beauty of it is that Pence is fully healthy and is already a big part of that story.
Barry M. Bloom is a national reporter for MLB.com and writes an MLBlog, Boomskie on Baseball. Follow @boomskie on Twitter. This story was not subject to the approval of Major League Baseball or its clubs.