Matheny recalls emotional first game after 9/11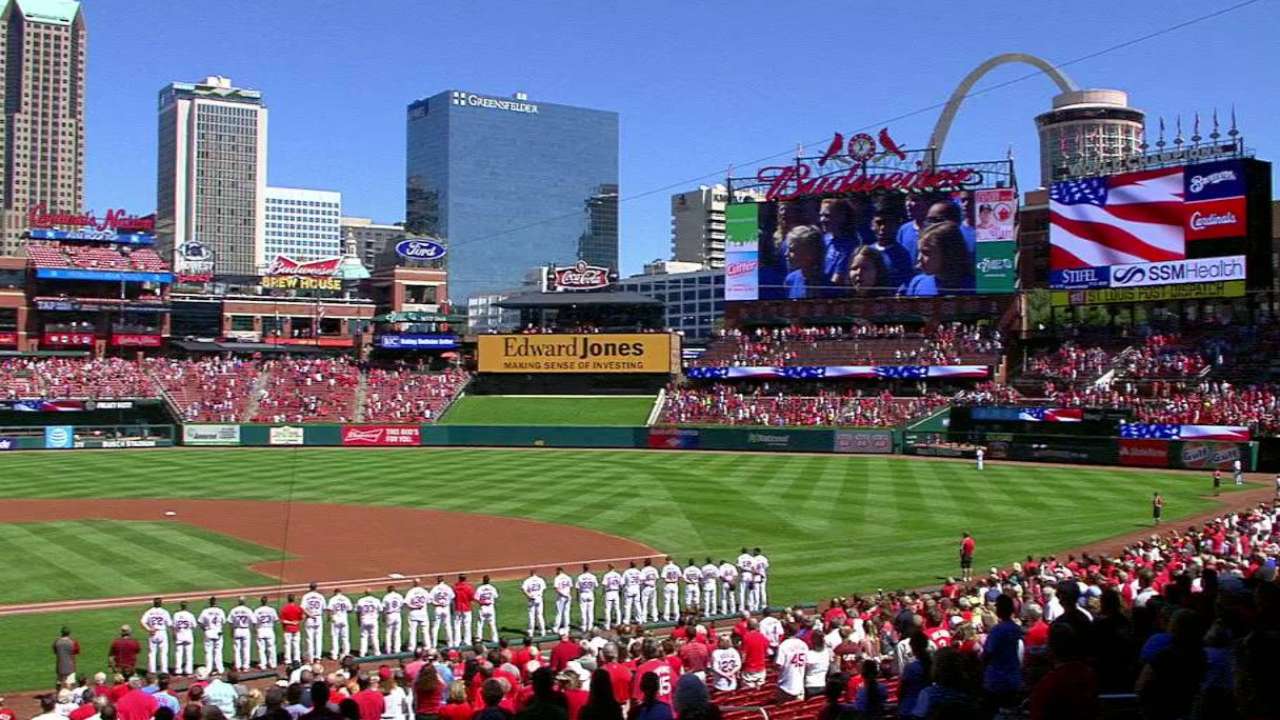 ST. LOUIS -- The Cardinals, along with other teams across MLB, held a pregame ceremony and moment of silence in remembrance of those who died on September 11, 2001, on Sunday. Teams wore hats with American flags on the side, with the sale of the caps benefiting the 9/11 Memorial and Museum, the Pentagon Memorial and the Flight 93 Memorial. Each team also used special lineup cards and base jewels as part of the remembrance.
Six days after the attacks, baseball resumed with the Cardinals opening a set against the Brewers in St. Louis. Late Cardinals radio play-by-play announcer Jack Buck read a poem he wrote titled "For America" as part of a pregame ceremony that included firefighters and policemen on the warning track with an American flag unfurled on the outfield grass. His voice cracked with emotion and his hands shook due to Parkinson's disease, which ailed Buck in his later years.
"I thought that summarized better than we could verbalize, most of us as players and people involved in the game, the privilege and responsibility of this game to move forward," Cardinals manager Mike Matheny said Sunday. "It was very well said, and the timing was perfect."
The conversation surrounding when baseball and other professional sports leagues should return to action after the attacks was delicate. That night, Buck asked the question to the crowd and answered emphatically himself: "Should we be here? Yes!"
"It was somber," Matheny said of the atmosphere in the stadium. "Anybody who was in a large group of people, there was a lot of uncertainty. It was cautious. [We were] wondering what was next and how we were going to respond as a nation following our president and military leaders and trying to support them, but also realizing the impact a game can have in helping the healing process."
The Brewers experience playing an away game was something the team hadn't experienced before, or since.
"I remember landing at Lambert [International Airport in St. Louis], getting on busses and going to the hotel we stayed at the time, which was mostly empty," Brewers traveling secretary Dan Larrea said. "Of the capacity of the hotel, they were only 30 percent filled. And of that 30 percent, we represented 90 percent. They were happy to have us."
Nick Krueger is a reporter for MLB.com based in St. Louis. This story was not subject to the approval of Major League Baseball or its clubs.