Counsell reflects on playing '01 Series in NY
Brewers manager was part of D-backs club that captured title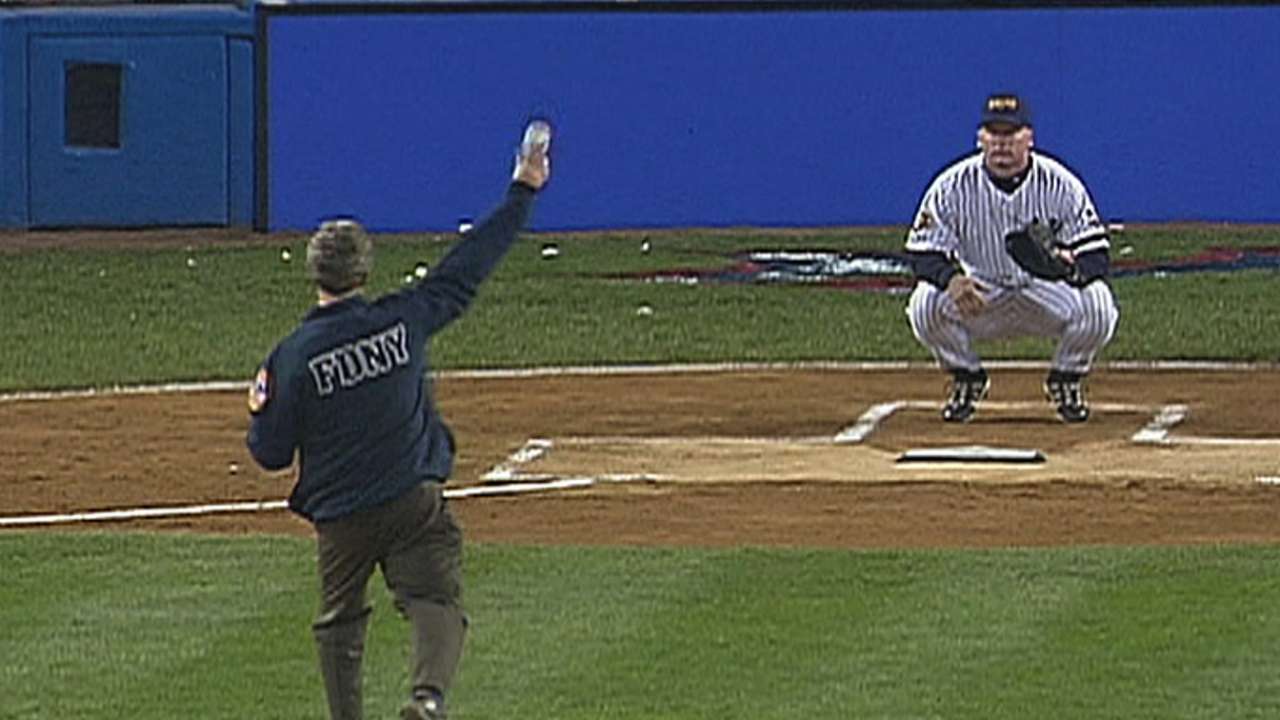 ST. LOUIS -- An invisible weight pressed down on New York City before the first World Series in the wake of the Sept. 11, 2001, terrorist attacks. That's what Craig Counsell remembers most.
That memory came rushing back Sunday for Counsell as he managed the Brewers against the Cardinals at Busch Stadium. Fifteen years ago, he played for the Arizona Diamondbacks against the Yankees in one of the most compelling World Series in history.
"I'll never forget it," Counsell said.
The D-backs were at home in Phoenix on 9/11, but the more vivid recollections for Counsell came weeks later, when the team traveled to New York for Games 3-5 of a Series that would go to the bottom of the ninth inning in a decisive Game 7.
"We spent a week in New York and spent time at Ground Zero," Counsell said. "We played three incredibly emotional baseball games that New York won -- and it felt like they were supposed to win."
The D-backs stayed at the Grand Hyatt, the luxury hotel attached to Grand Central Station in Midtown. The World Series schedule afforded less downtime than usual, but Counsell did manage to get out of the hotel from time to time throughout the week to get a feel for the city.
Game 3 on Oct. 30 began with President George W. Bush becoming the first sitting president to throw a ceremonial first pitch at a World Series game in 55 years. The Yankees won that game and the next two by one run, with Games 4 and 5 going into extra innings after Arizona closer Byung-Hyun Kim surrendered tying homers in the ninth.
The D-backs won Games 6 and 7 at home to capture that franchise's first championship. But those three nights of baseball in the Bronx, Counsell said, offered a distraction from the horrible reality in lower Manhattan.
"That was being talked about, and I think it was true," he said. "It was a distraction at that point, because what was real was really scary and sad. So, it was a time to think about something else and for the city to bond together on something enjoyable. That's how we saw it as players. ...
"I don't know if I can put it in words, really, what it was like to be in the city for a week at that time. It wasn't the same as when we go there now, I know that. It was just different. It was like there was a big weight on the city that was holding the city down. It was strange.
"Hopefully, I'll never experience something like it again, but I'm glad I was there at that time and part of that. It was really surreal the whole week. It's a week that sticks with you forever."
Adam McCalvy has covered the Brewers for MLB.com since 2001. Follow him on Twitter @AdamMcCalvy, like him on Facebook and listen to his podcast. This story was not subject to the approval of Major League Baseball or its clubs.