MLB pauses to remember 9/11 victims
Stadiums across the country reflect on tragedy, heroism 15 years later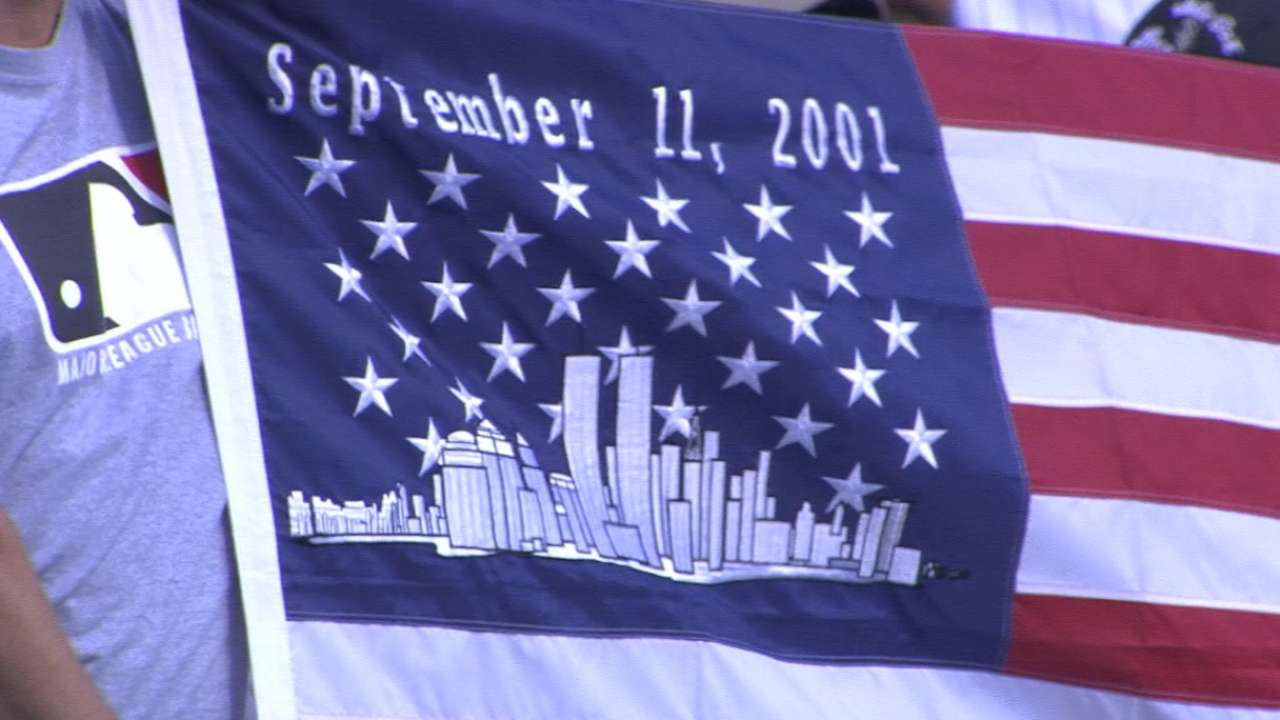 Clubs and players throughout Major League Baseball took time on Sunday to remember the first responders and others who lost their lives in the attacks 15 years ago on Sept. 11, 2001.
In the Bronx, the Yankees recognized servicemen and women from Walter Reed and the Ft. Belvoir Wounded Warriors before their game against the Rays. After that ceremony, the New York Police Department Emerald Society Pipes and Drums performed "America the Beautiful." Later, FDNY firefighters unfurled a giant American flag across the outfield, as firefighter Frank Pizzaro's rendition of the national anthem followed a moment of silence.
The flag at Yankee Stadium on Sunday was the same one famously unfurled at the original Yankee Stadium in 2001, when President George W. Bush threw out the ceremonial first pitch prior to Game 3 of the World Series.
Yankees manager Joe Girardi and closer Dellin Betances, a native New Yorker, placed a wreath at Monument Park's 9/11 monument before the game.
Rays temporary coach Jared Sandberg started at third base for the Devil Rays on Sept. 25, 2001, against the Yankees, in the first game at Yankee Stadium following the attacks.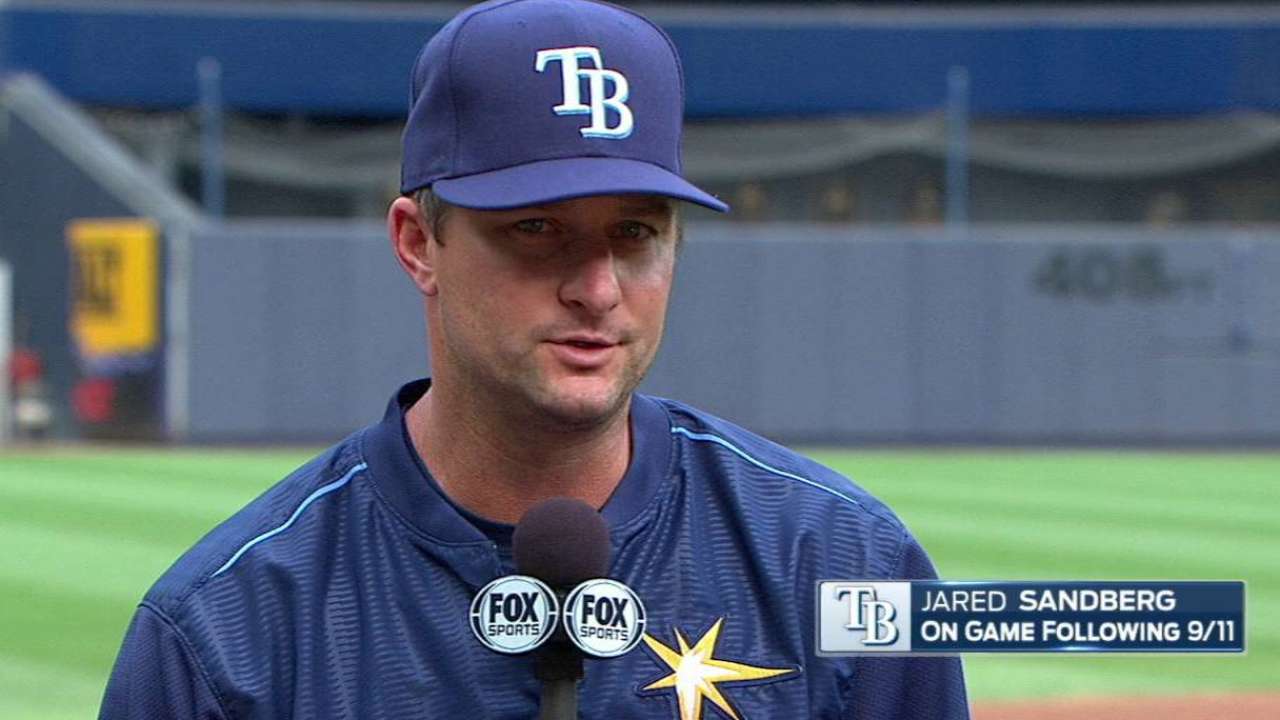 "It was very emotional. To come together as a city and provide a sporting event where we could kind of come together after a huge tragedy, it was definitely special to be a part of it," Sandberg said. "Baseball was second to what was going on here in the city and around the country at that time."
The Mets were in Atlanta, where footage was shown of the first game played in New York at Shea Stadium between the Mets and Braves after the attacks occurred. That was, of course, the game in which Mike Piazza hit a game-winning homer in the eighth inning.
Before Sunday's game, Mets players wore hats to recognize each of the agencies that were first responders at Ground Zero.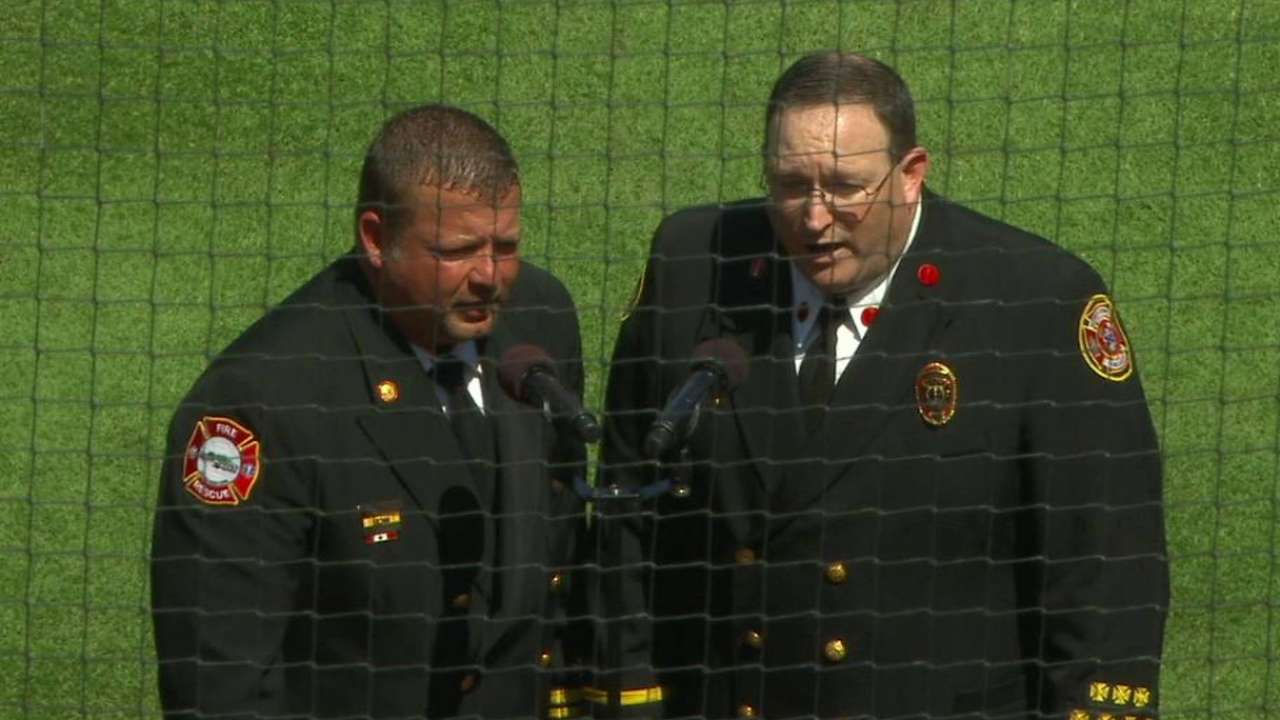 "I always think it's a tremendous honor, something to honor those people who go through what they had to go through on a daily basis," Mets manager Terry Collins said. "Especially reading the papers all the time about what's happened around the country, these guys need to be rewarded. Because I'll tell you one thing, when I go home at night, I feel safe. It's certainly our way of trying to say, 'Thank you.'"
In our nation's capital, events included a performance by the Army Drill Team, a recognition of Washington D.C. first responders and a flyover. More than 1,000 midshipmen from the U.S. Naval Academy marched into the outfield, and a group of them performed the national anthem.
The Nationals also wore jerseys with red, white and blue team logos on Sunday, and the first- and third-base lines featured emblems reading "September 11, 2001; We Will Not Forget."
Nationals pitcher Max Scherzer, who caught the ceremonial first pitch from Secretary of the Navy Ray Mabus, said he was glad MLB was recognizing Sept. 11.
"We represent something bigger than just the game of baseball," Scherzer said. "We respect that 9/11 signifies much more than just a terrorist attack. It signifies us as a nation mourning a loss, coming together, and let's do something about it."
Many local first responders were honored in other stadiums across the country.
In Chicago, the pregame ceremony included members of the military, Chicago police and fire departments and a parade of American-flag carrying Harley Davidson motorcycles ridden by The Warrior Watch Riders.
White Sox manager Robin Ventura was with the Mets in 2001. Even 15 years later, the scene the team saw upon its return to Shea Stadium makes him choke up.
"Shea was used as a staging area for all the supplies going into Manhattan," said Ventura. "It was right there in front of us. It was amazing, just the cooperation and the teamwork of everybody and all the firefighters coming from all over to help out. Just incredible. It still just gets to you. It really does."
The Tigers donated 1,000 tickets to local firefighters and police officers and their families, while also inviting first responders from more than 150 fire and police departments in Michigan and Ontario. A select group took part in a parade onto the field before the game, lining up across the infield with players from both teams as fans gave a standing ovation.
The large video scoreboard at Marlins Park displayed the special MLB logo, which featured a red, white and blue ribbon between the date and the slogan: "We Shall Not Forget."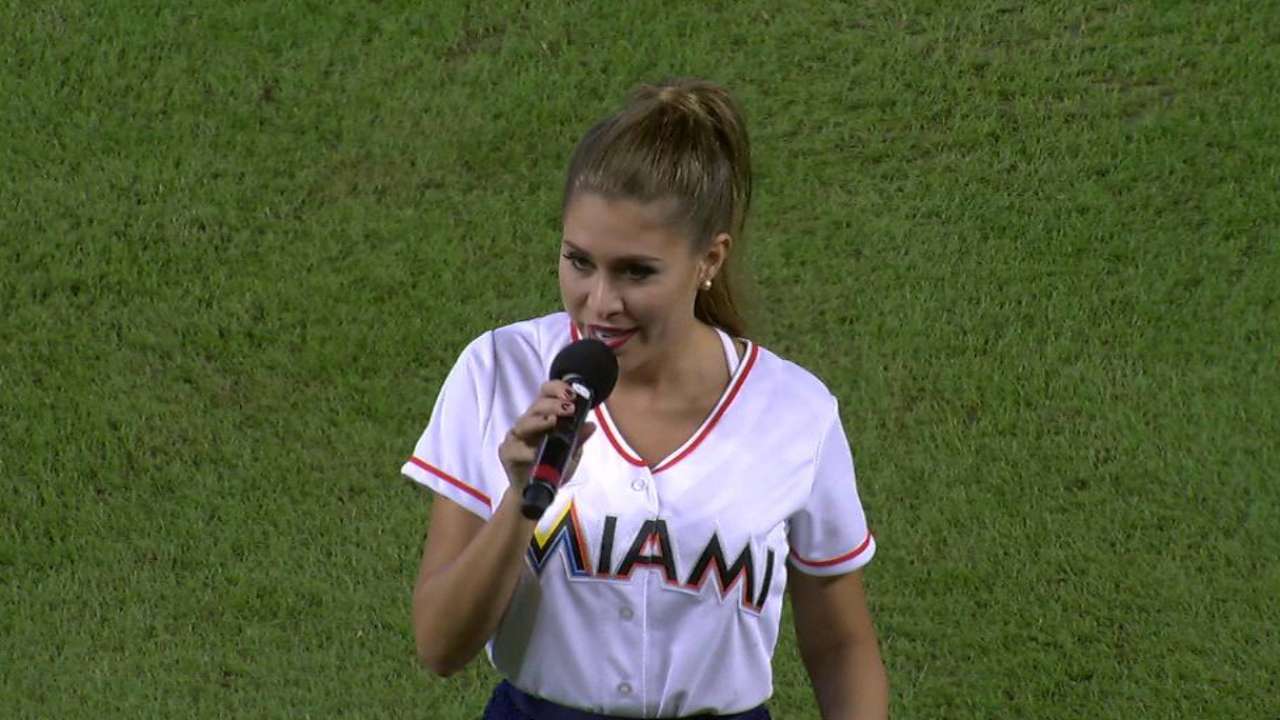 In Minnesota, the Twins and Indians wore special caps with American flag patches, with proceeds from sales of those caps donated to the 9/11 Memorial and Museum, the Pentagon Memorial and the Flight 93 Memorial. Special lineup cards and base jewels were also used in the game.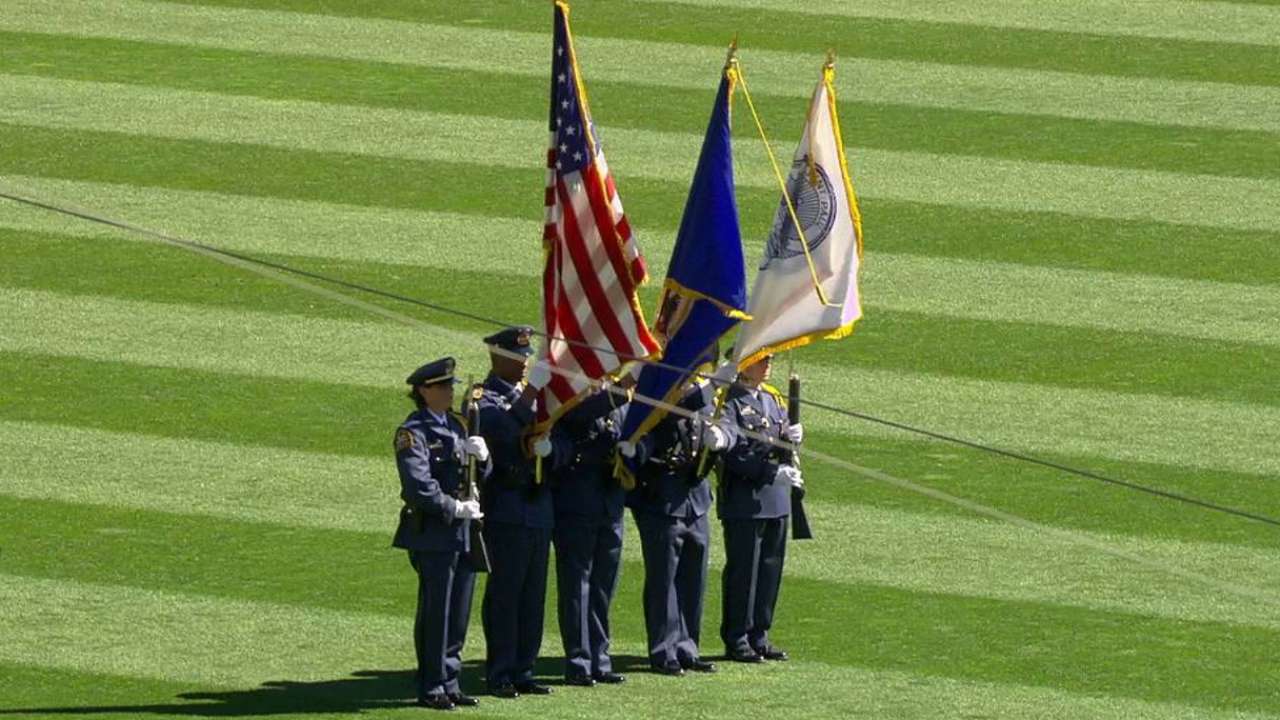 The Reds and Pirates did the same in Pittsburgh, remembering how baseball played a part, however small, in America's recovery from that devastating day.
"Baseball is America's pastime. Throughout the years, it's always been something Americans can go to through tough times," Pirates reliever Jared Hughes said. "I think one time they did that was Sept. 11, and today we honor those [who] fell."
In San Diego, a town that identifies heavily with the military, Petco Park had a "Salute to Veterans" before the game. It featured military veterans and local first responders being honored on the baselines during a pregame ceremony, with retired Navy chief warrant officer Ed Berger ringing a bell to start the ceremony and a flyover by a San Diego Fire Rescue helicopter.
"I don't think there's a city that honors the military the way San Diego does," Padres manager Andy Green said. "I don't think there's a baseball team that honors it the way we do here. And it's a day that we have a lot of national pride and a lot of respect for what happened on Sept. 11.
"It will be a very special day. I think they've got some special things lined up, and I'm looking forward to it."
The horrific terrorist attacks of that day remain present in the minds all Americans. Many players and coaches throughout the game have New York or New Jersey ties.
"There are a couple [of] guys I went to high school with who were firefighters that were in the building that day," said Rockies manager Walt Weiss, who grew up a New York City suburb. "I think everybody's affected by it, some more than others. But I think Major League Baseball does a great job with things like this."
Dodgers third baseman Rob Segedin was raised in Old Tappan, N.J., about 30 minutes from Ground Zero. Then a seventh grader, the attacks impacted the lives of some of his friends.
"There were kids in my area whose parents survived, some parents didn't survive," Segedin said. "It was one of those things that was so sad, and yet it makes you appreciate everything you have in this country after experiencing something so devastating like that."
Marlins right-hander Tom Koehler was then a sophomore in high school in New Rochelle, N.Y. His father, Rolf, a retired New York City police officer, was a first responder at the World Trade Center that day and, in the months afterward, he was part of the cleanup efforts.
"I was fortunate I didn't lose anybody, but I know a lot of people who did," Koehler said. "I think about [my father] on this day, and I can't speak to the amount of respect I have for him for sacrificing, going down there."
White Sox third baseman Todd Frazier was a freshman at Toms River South High School in New Jersey, about 75 minutes away from the World Trade Center.
"Nobody knew what to do. [It was] just the beginning of the year of school. It was crazy. There are endless stories," Frazier said. "I remember one of my good friends, Lauren, came up to me and said that her uncle was in that building and they don't know what's going on.
"I had another friend come up to me, and he was saying his dad for the first time in 20 years that he worked at the building, missed the train. He forgot something at the house, his cell phone or wallet, and missed the train."
Orioles reliever Tyler Wilson said he was in sixth grade on Sept. 11, 2001. He remembers watching the first games after the season was put on hold.
"It's hard to imagine what that was like 15 years ago when it happened," Wilson said. "I can remember watching the Mets and Yankees play shortly after the season was put on hold -- and that was a pretty powerful demonstration of this country's unity. I think it's important to emphasize that our country should be coming together in times like this in remembrance of what happened."
Cash Kruth is a reporter for MLB.com. Follow him on Twitter at @cashkruth. This story was not subject to the approval of Major League Baseball or its clubs.