Pirates, Reds remember 9/11 at PNC Park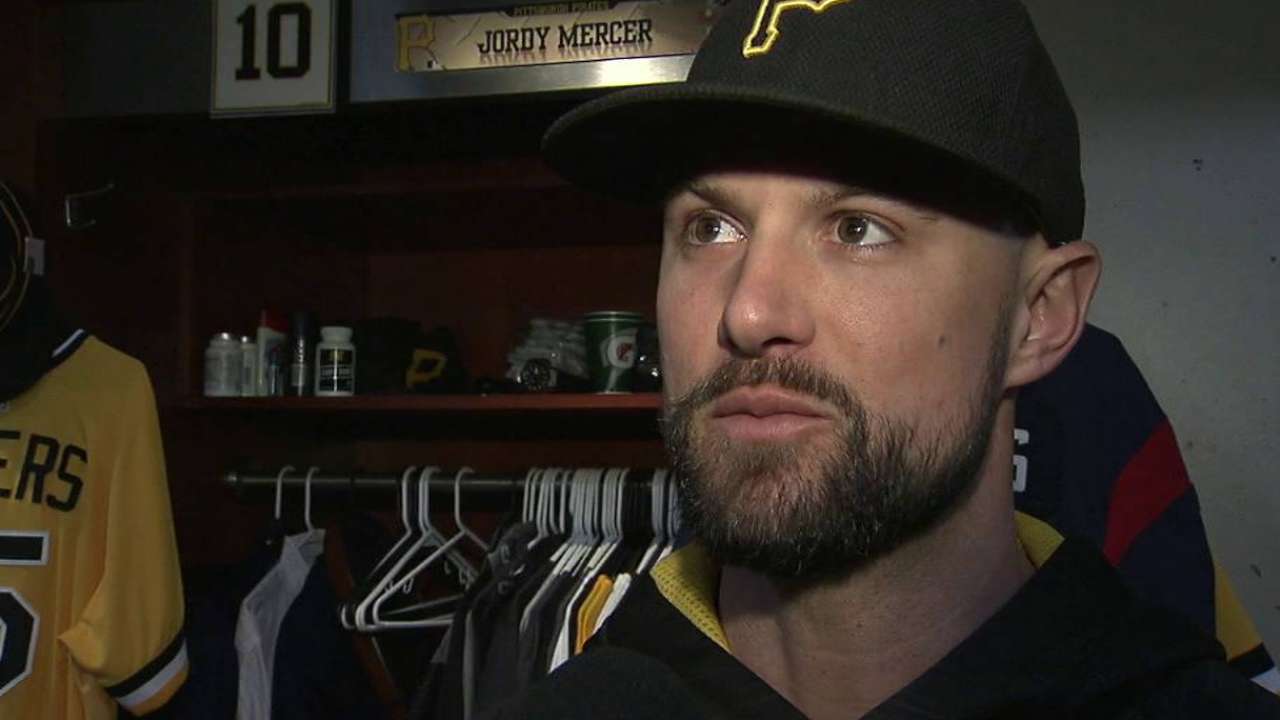 PITTSBURGH -- Before taking the field Sunday afternoon, the Pirates and Reds paused to remember.
Fifteen years after the events of Sept. 11, 2001, there was a moment of silence at PNC Park to pay tribute to those who lost their lives in New York City, Washington, D.C., and nearby Shanksville, Pa., where United Airlines Flight 93 crashed.
All on-field personnel throughout Major League Baseball wore caps Sunday with an American flag patch. Each team also used special lineup cards and base jewels as part of MLB's remembrance of the tragedy on American soil. Baseball played a part, however small, in America's recovery from that devastating day.
"Baseball is America's pastime. Throughout the years, it's always been something Americans can go to through tough times," Pirates reliever Jared Hughes said. "I think one time they did that was Sept. 11, and today we honor those that fell."
"It's an experience I'll never forget. It's going to be my first time playing on this day," added Pirates rookie Josh Bell. "Just thinking back to when I was in middle school, when it all went down, how different sports came together -- George Bush throwing out the first pitch [at Yankee Stadium]. It's an opportunity for us to reflect on all that happened."
Reds manager Bryan Price was in Anaheim with the Mariners that day. He was making plans to have breakfast in the team hotel with a childhood friend he hadn't seen since high school. He woke up, turned on the TV, saw what happened and canceled his plans.
"What I remembered was all the things other people experienced -- the overwhelming sense of grief and loss and anger. How we were affected from a baseball perspective, shortly thereafter the season was put on temporary hiatus," Price said. "We were going over to Angel Stadium and working out because we had no way to get back to Seattle. No one could fly. We thought we would have to bus it and do a two-day bus trip up to Seattle."
After a few days in Anaheim, Price remembered, the club's traveling secretary booked the Mariners a commercial flight home.
"The unusual part was the suspicion that went having people on our flight that were not affiliated with the Mariners," Price said. "It was freakish. It was eerie. It was suspicious. Everybody, there was suspicion everywhere.
"The first time you're in the stadium and look overhead and see a plane fly over, you kind of braced yourself wondering if it's going to veer off-course and take a nosedive into the stadium. It was something. We ended up playing the Yankees in the playoffs and going down to a couple of the firehouses.
"When it comes on TV now, I can't watch that stuff. I'm sure it's like that for people who experienced Pearl Harbor. I can watch footage of Pearl Harbor and wince and think about what it must have been like. But to actually have experienced pretty much in real time what happened in New York and Pennsylvania, I can't bring myself to watch it."
Adam Berry has covered the Pirates for MLB.com since 2015. Follow him on Twitter at @adamdberry. This story was not subject to the approval of Major League Baseball or its clubs.