Harrison's injury 'not going to be day to day'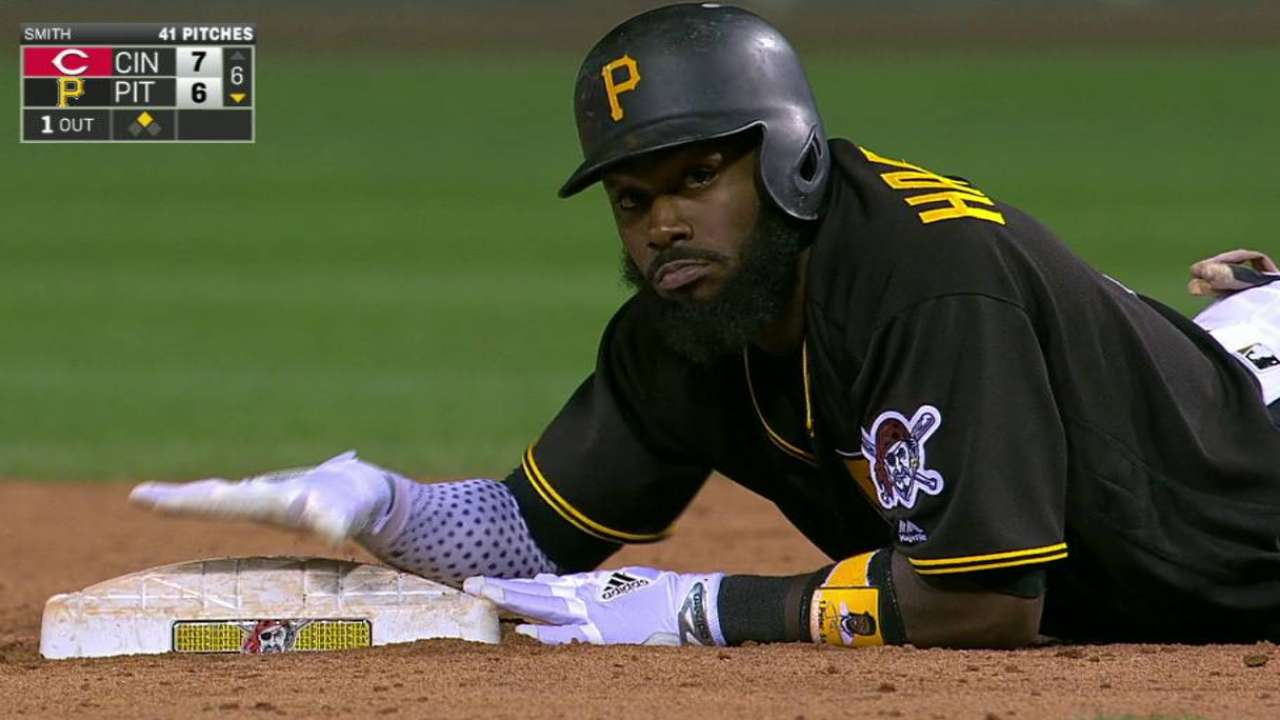 PITTSBURGH -- The Pirates' postseason odds are dwindling down and their injuries are adding up.
Starling Marte remained sidelined for the sixth straight game Sunday due to back spasms. Josh Harrison was out of the starting lineup after leaving Saturday night's loss due to right groin discomfort. Harrison's injury could keep him off the field for a while, general manager Neal Huntington said.
"This is not going to be day to day," Huntington said. "We're going to see how he responds in 24 to 48 hours and determine what other diagnostics need to be explored if he's not feeling better."
After the Pirates' 8-0 loss to the Reds on Sunday, Harrison said he hopes to undergo further tests early this week.
"No real timetable. It's a little sore," he said. "I think they still want to assess and put me through tests, get me on my feet, see what I can and can't do."
The injury comes at an inconvenient time for the Bucs and Harrison, who was hitting .405 with a .951 OPS in nine games this month. Sean Rodriguez started at second base Sunday and likely will split time with rookie Adam Frazier while Harrison is out.
With Marte out, the Pirates again moved Gregory Polanco from right to left field and started rookie Josh Bell in right. Manager Clint Hurdle said he has been encouraged by Bell's recent work in right field -- particularly his route efficiency -- after spending the last two seasons transitioning from the outfield to first base.
"I've seen clean routes," Hurdle said. "The ability to get the ball out and hit the cutoff man is what we're looking for, and he's been able to do that."
According to Statcast™'s tracking technology, Bell's route efficiency on his first 15 plays in right field was 87.52 percent. By comparison, Andrew McCutchen's average route efficiency this season is 92.68 percent, Starling Marte's is 90.79 percent and Gregory Polanco's is 91 percent.
Relievers Neftali Feliz and A.J. Schugel, each dealing with an arm injury, are getting closer to returning. Both pitchers are playing catch, but neither has progressed to throwing off a mound yet. Huntington said he expects both to return this season.
Ready for some football
Sunday brought the first full slate of NFL games, and David Freese made sure the Pirates were prepared. After their fantasy football draft nearly two weeks ago, Freese went online and bought each participant the jersey of his first-round pick. On Sunday, Freese surprised his teammates by having those jerseys hung in their lockers.
Good Guy David Freese bought his teammates their first-round fantasy football picks' jerseys and had them hanging in their lockers today.

- Adam Berry (@adamdberry) September 11, 2016
That included Freese, who made a popular hometown pick with the first overall selection, Steelers wide receiver Antonio Brown. Elsewhere in the clubhouse, Jared Hughes took Ezekiel Elliott, Jameson Taillon claimed Julio Jones, Jordy Mercer picked DeAndre Hopkins and Adam Frazier nabbed Todd Gurley.
To give you an idea of how awesome of a teammate Freese is...this was waiting in my locker at the park this morning. pic.twitter.com/zWbQWzIgpd

- Jared Hughes (@locatejared) September 11, 2016
There she is?
Pirates rookie Chad Kuhl made his Major League debut June 26 under arguably the most nerve-wracking circumstances imaginable: a nationally televised Sunday night game against Dodgers ace Clayton Kershaw. But he might be more nervous Sunday night.
Amanda Debus, Miss Delaware and Kuhl's longtime girlfriend, will participate in the 96th Miss America pageant in Atlantic City, N.J. They have known each other since middle school, attended the same high school and both enrolled at the University of Delaware.
Kuhl joked Sunday morning that he might be more nervous than before his first big league start, if only because he had more control over what happened against Kershaw than he'll have over the outcome in Atlantic City on Sunday night. Perhaps it's a good omen, however, that Kuhl won in his debut.
Adam Berry has covered the Pirates for MLB.com since 2015. Follow him on Twitter at @adamdberry. This story was not subject to the approval of Major League Baseball or its clubs.