Moore fans career-high 11 in road trip finale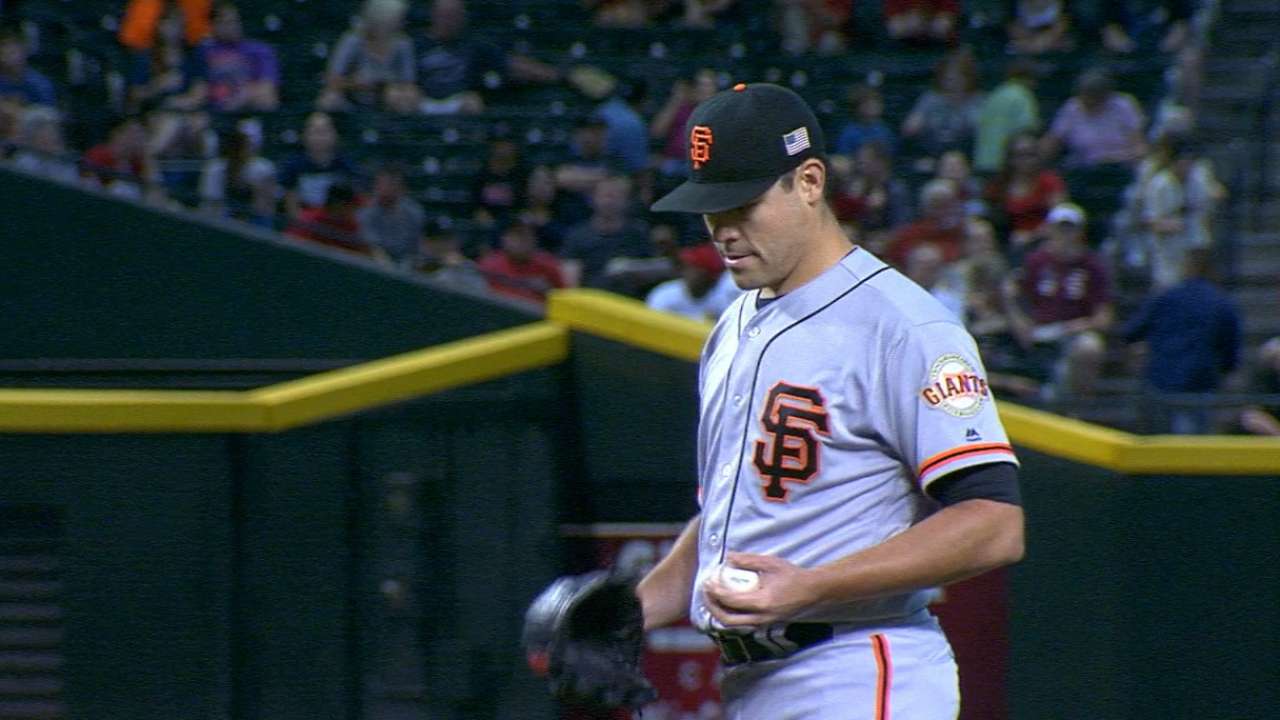 PHOENIX -- Matt Moore probably has heard every possible less-is-more reference to his surname, but on Sunday the pun actually fit.
Coming off his worst outing as a Giant, Moore simplified his approach and delivered one of his best performances since joining the team at the non-waiver Trade Deadline on Aug. 1. He surrendered two runs in seven innings and matched a career high with 11 strikeouts to help the Giants outlast the Arizona Diamondbacks, 5-3.
Moore improved vastly upon his Labor Day appearance at Colorado, where he lasted just 2 2/3 innings and allowed all of the Rockies' runs in a 6-0 Giants defeat. It was Moore's shortest outing of the season, and it featured Carlos Gonzalez's grand slam, the only one Moore has yielded in his career.
Moore reflected that he "tried to create too much" in that game. So the left-hander distilled Sunday's effort to its barest essentials.
"My thought process," he said, "was the competition."
Moore remained competitive from his first pitch to his last. He threw 78 strikes in 109 pitches and issued one walk, compared to four free passes at Colorado. One batter away from being removed by manager Bruce Bochy, with D-backs slugger Paul Goldschmidt looming in the on-deck circle, Moore ended his final inning efficiently by coaxing Chris Owings' double-play grounder.
Moore made the evident observation -- which all pitchers understand but don't always execute -- that consistently throwing strikes one and two makes throwing strike three easier.
"Being in the zone early [in the count] is what probably set up a lot of those strikeouts," Moore said.
Moore asserted himself from the outset, striking out five D-backs in the first two innings. After the Giants forged ahead, 3-2, with a pair of sixth-inning runs, Moore did what every starter in that situation tries to accomplish. He denied Arizona even the faintest chance to retaliate, striking out the side on 11 pitches.
"I think his fastball command was as good as I've seen so far," said Giants catcher Buster Posey of Moore, who's 3-4 with San Francisco.
Moore previously amassed 11 strikeouts on Sept. 22, 2011, against the Yankees and on June 25, 2013, against Toronto. Those games, of course, helped highlight his six years with Tampa Bay. He acknowledged that he's steadily easing into his transition from one Bay Area-based team to another.
By now, he mused, gazing at the orange coloring in his shoes and uniform and staring at Posey's relatively unfamiliar face behind the plate aren't so strange.
"It took a few games to normalize it," Moore said.
Chris Haft has covered the Giants since 2005, and for MLB.com since 2007. Follow him on Twitter at @sfgiantsbeat and listen to his podcast. This story was not subject to the approval of Major League Baseball or its clubs.