D-backs, Giants pause to remember 9/11 victims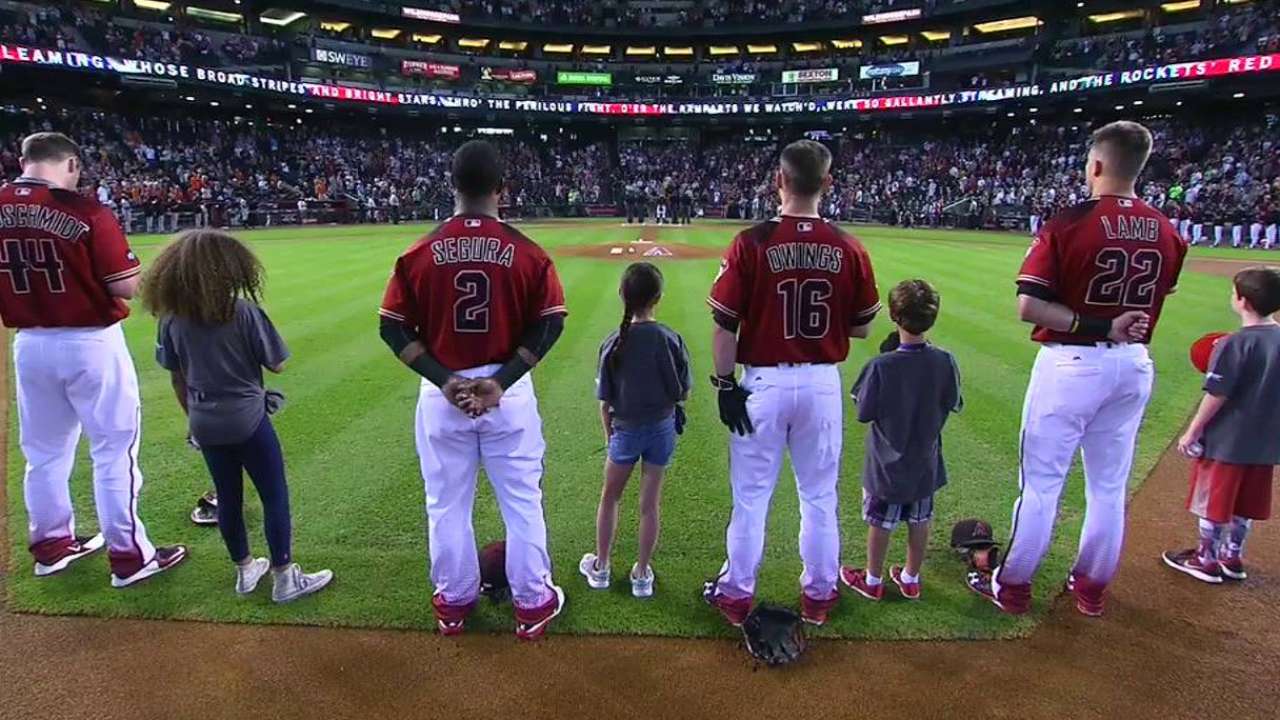 PHOENIX -- On his way to Chase Field on Sunday morning, D-backs manager Chip Hale reflected on the tragic events that unfolded 15 years ago.
The D-backs and Giants joined clubs and players throughout Major League Baseball on Sunday in taking time to remember the first responders and others who lost their lives in the terrorist attacks on Sept. 11, 2001.
"It's a terrible day in our history; it really is sad," Hale said. "I know exactly where I was, in Tucson and just finished up a year managing in Missoula. I'll never forget it. It's almost like you get up and you turn the TV on and you're watching some kind of show, you're not watching live, and you're just shocked forever. I thought about that driving in today, how our lives have changed post 9/11."
Today, we remember. #NeverForget pic.twitter.com/R8zz4IzrYc

— Arizona Diamondbacks (@Dbacks) September 11, 2016
Players, coaches and umpires wore commemorative patches of the American flag on their caps on Sunday. The proceeds from those caps sold will be donated to 9/11 Memorial and Museum, the Pentagon Memorial and the Flight 93 Memorial.
There was a pregame moment of silence before the series finale at Chase Field. Also, special lineup cards and base jewels were used for the game in commemoration.
Hale is reminded of the military service members who defend the country.
"We're constantly at war," Hale said. "That's why I respect this flag so much, for all the people that have died for this flag."
For Giants manager Bruce Bochy, whose father served in the Army, 9/11 is always a somber day.
"I think of all the people that were lost, and their families," Bochy said.
Jake Rill is a reporter for MLB.com based in Phoenix. This story was not subject to the approval of Major League Baseball or its clubs.