Sampson shifting from 'pen to rotation
Reds to skip DeSclafani's start for rest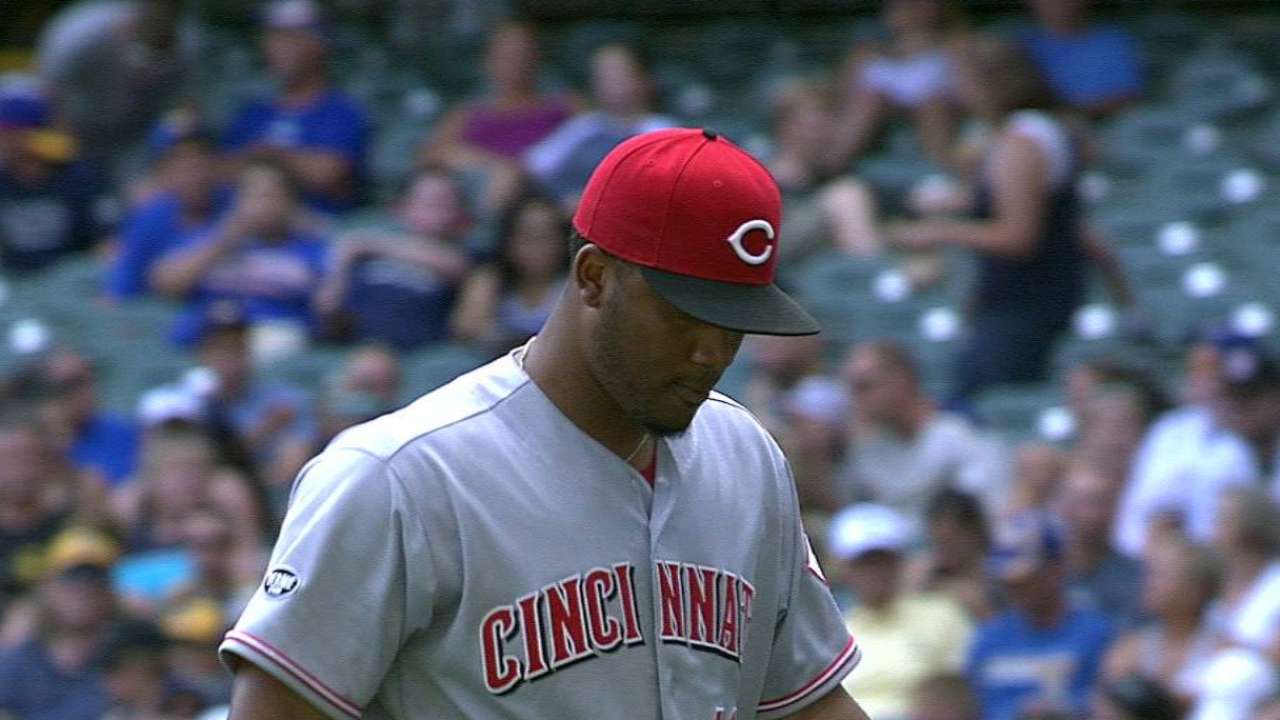 PITTSBURGH -- The Reds have decided to skip Anthony DeSclafani's next turn in the rotation on Monday to give him extra rest. Keyvius Sampson will shift from the bullpen and take the start vs. the Brewers at Great American Ball Park in DeSclafani's place.
DeSclafani is scheduled to next pitch on Sept. 18 vs. the Pirates. Reds manager Bryan Price noted that there is no injury concern for their right-hander.
"He's had a little bit of a lull in his stuff. He was fine," Price said on Sunday. "He wasn't saying anything. To be able to say, 'Listen, we kind of noticed the stuff is playing down a hair,' and have Keyvius here stretched out enough where he's capable of throwing 80-85 pitches, do it now. We've got the doubleheader coming up [Saturday vs. Pittsburgh], he's going to have to throw one of those games anyway. It gives [Sampson] a chance to get a little bit of a stretch and give a little bit of blow to Anthony, and he slots right back in for his next start. No red flag, but in the sense of being proactive, it makes more sense to do it right now and let him finish the season strong."
It's possible that Sampson could finish the season in the rotation. Cincinnati will need a starter once Brandon Finnegan is shut down. Finnegan is likely to get one more start after his outing on Sunday vs. the Pirates.
"It's a great opportunity," Sampson said. "I'm happy to get the chance to start a few games. I'll continue to do what I've been doing, going after guys, attacking the zone and using all of my pitches."
Sampson has a 3.90 ERA in 15 games, including one start, over multiple big league stints this season. He had a 1.88 ERA in 18 games, including nine starts, for Triple-A Louisville. His last start came on July 23 vs. the D-backs, and he allowed one earned run and four hits over 4 1/3 innings.
Against the Brewers on Aug. 14, Sampson provided a solid five innings of relief with one run allowed during a loss. He last worked one inning vs. the Pirates on Thursday and gave up one run and two hits with a walk and a strikeout.
Short notice before getting a start didn't seem to affect Sampson negatively.
"It doesn't bother me at all," he said. "When I got sent down, the next day I was starting. It doesn't change my preparation at all too much. Of course, I'm not lengthened out as much as I was earlier in the year, but I will go out there and give what I have and do what I can do to help the team."
Mark Sheldon has covered the Reds for MLB.com since 2006, and previously covered the Twins from 2001-05. Follow him on Twitter @m_sheldon and Facebook and listen to his podcast. This story was not subject to the approval of Major League Baseball or its clubs.