Greinke struggles with command vs. Giants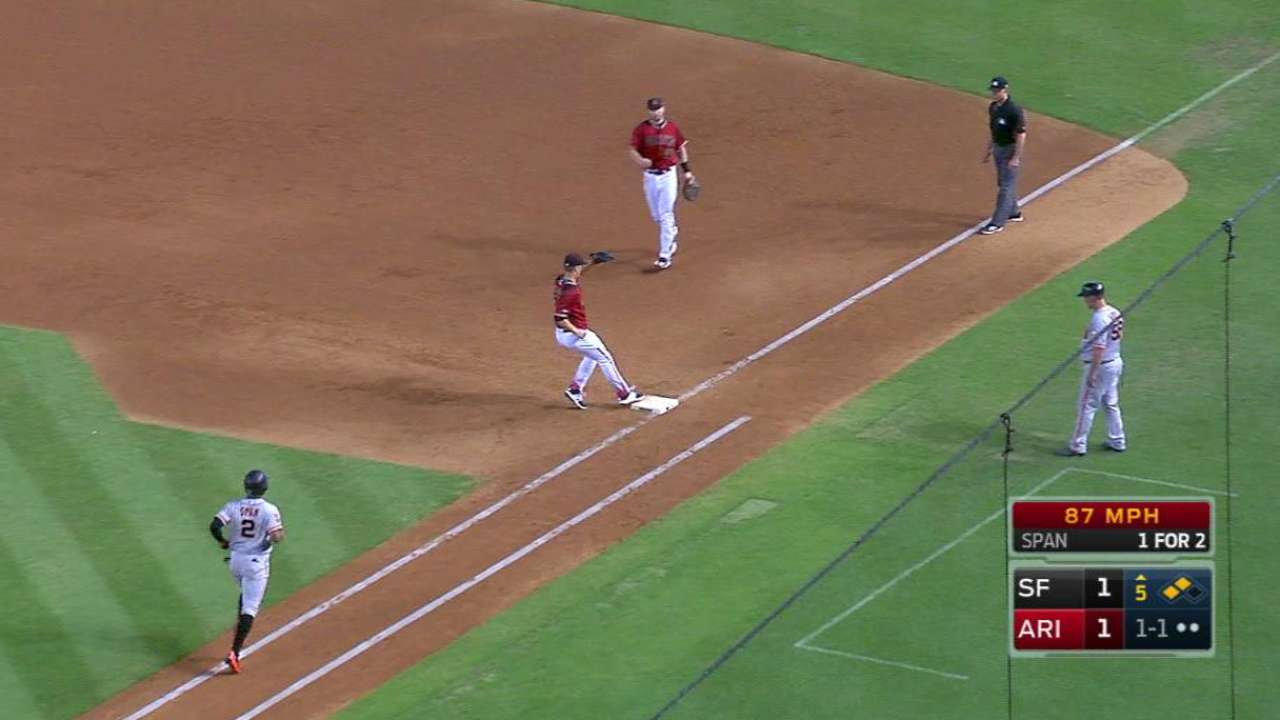 PHOENIX -- Zack Greinke hadn't issued more than three walks in a start this season. In Sunday's 5-3 loss to the Giants, the D-backs' ace did that in one inning.
Greinke's outing wasn't nearly as bad as his previous one, when he allowed eight runs and five homers in a loss to the Dodgers, but the results still weren't what the right-hander wanted. He posted a quality start, allowing three runs in six innings, but took the loss.
"I was just missing my pitches there by a little bit, over and over again, pretty much," Greinke said. "It's frustrating."
Greinke allowed six hits and a season-high four walks. But through five innings, the right-hander was in command after allowing a leadoff homer to Denard Span on the second pitch of the game.
In the sixth, Angel Pagan drew a 10-pitch leadoff walk. Then Greinke walked Brandon Crawford and Buster Posey to load the bases with one out, which allowed the Giants to do their damage.
Brandon Belt tied it at 2 with an RBI single, and the go-ahead run scored on a groundout by Joe Panik. Greinke suffered his second straight loss and has just one win in his last five outings.
"He did a nice job, and then he got into the sixth and just became too fine, trying to hit the corners and just was missing," Arizona manager Chip Hale said. "Before that, he was masterful, did a nice job."
Greinke's first season with the D-backs hasn't been nearly as strong as his previous three seasons with the Dodgers. In this particular outing, it was because he was just missing his spots outside.
"Most of the year, I've been making my pitches pretty good," Greinke said. "I've made some mistakes each game but nothing more so than any other year. I haven't had the results the same, but today I was missing a little bit too much for balls, not quite making as good of pitches as I need to."
Jake Rill is a reporter for MLB.com based in Phoenix. This story was not subject to the approval of Major League Baseball or its clubs.