Fulmer, Verlander tabbed for Cleveland starts
Zimmermann set for sim game on Wednesday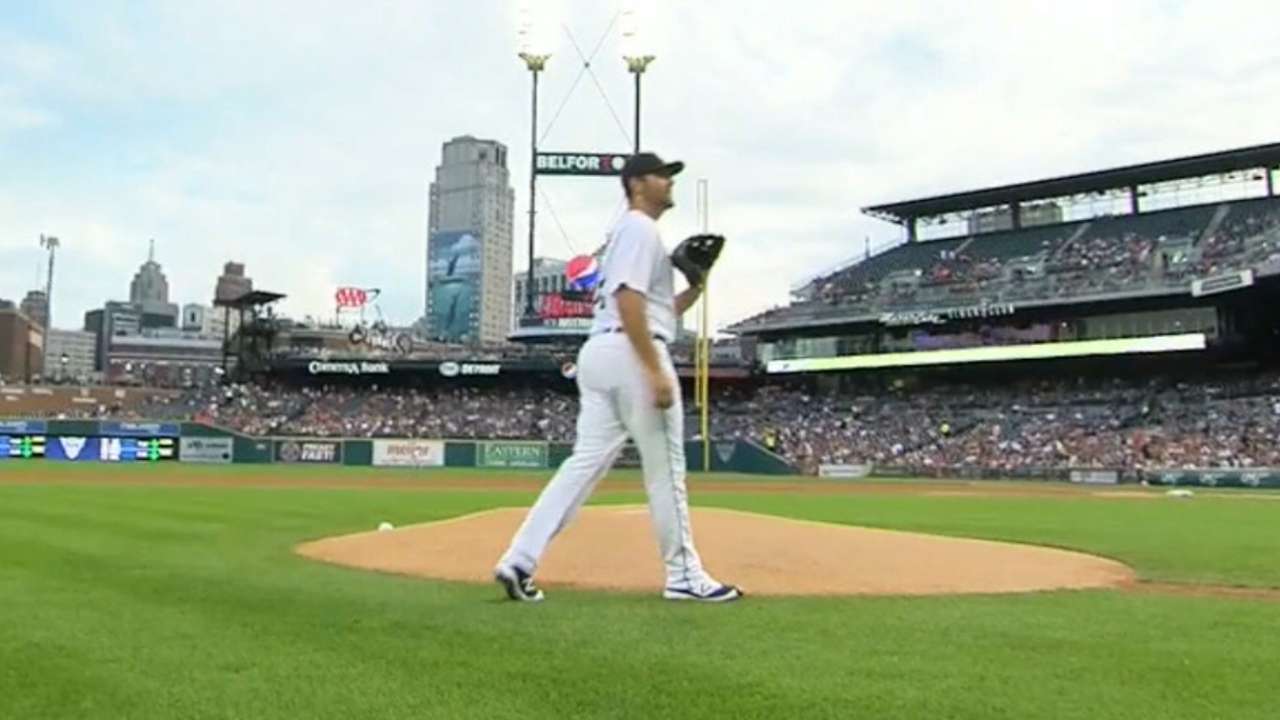 DETROIT -- The Tigers will throw their top two starters against the Indians next weekend in an effort to claw back into the American League Central race. They'll throw Jordan Zimmermann against their own hitters on Wednesday in an effort to get him right and get injured Nick Castellanos some at-bats.
Both Michael Fulmer and Justin Verlander will start next weekend in Cleveland, manager Brad Ausmus confirmed Sunday morning. Verlander, who started Sunday's 3-1 loss to the Orioles at Comerica Park, was no surprise, since he was already on turn. The Tigers had the option to push Fulmer out of the series in an effort to watch his innings count, but they opted to give him a bit of extra rest rather than skip him for an entire turn as Ausmus had hinted.
Who pitches in the other matchup of the three-game set, as well as Thursday's series finale against the Twins, has yet to be announced. It will not be Zimmermann, who will instead throw an 80-pitch simulated game on Wednesday afternoon to work out the mechanical issues that plagued him Saturday in his return from the disabled list.
"He didn't feel like he had the arm speed," Ausmus said. "He didn't feel like it was there, so we're going to throw a sim game to see if we can get that back. We'll go from there after we see what he looks like and how he feels."
Zimmermann gave up six runs, including three home runs, while facing 10 Orioles batters Saturday night. He said he felt healthy, but couldn't command his pitches, an issue he suspects could be mechanical.
"I've got to be able to put the ball where I want it," Zimmermann said. "As you saw, I was trying to go into lefties last night up and in, and everything ran back to the middle.
" ... If it was earlier in the year, they'd probably send me out [on a rehab assignment] and try to work things out. We're in win mode right now. We don't have time to waste."
They also don't have time to let him work out his issues in Detroit's rotation.
Aside from Class A West Michigan, which advanced in the Midwest League playoffs over the weekend, the Tigers' Minor League season is over until instructional league begins later this month. That's the issue also facing Castellanos, who's working his way back from a fractured left hand but has no place to see live pitching.
Thus, Zimmermann's simulated game serves two purposes. As long as Castellanos feels fine taking full batting practice on Monday and Tuesday, he'll be one of the hitters facing Zimmermann on Wednesday.
Ausmus did not specify which games of the Cleveland series Fulmer and Verlander would pitch. The Tigers have generally kept Verlander on regular turn, which would put him in line for Friday's series opener and allow Fulmer to start over the weekend on seven or eight days of rest.
That leaves Mike Pelfrey or Buck Farmer as the likely candidates for Thursday. Both have worked as relievers since their returns, so they'd have a limited pitch count as spot starters. The Tigers could pair them up in a piggyback start or string together a series of relievers.
Farmer pitched three innings of relief Saturday, allowing four runs on five hits while walking two and striking out three. Pelfrey did not pitch, Ausmus said, because he wanted to have a long reliever available if something happened with Verlander on Sunday.
Jason Beck has covered the Tigers for MLB.com since 2002. Read Beck's Blog, follow him on Twitter @beckjason and listen to his podcast. This story was not subject to the approval of Major League Baseball or its clubs.