Pierzynski placed on DL; MLB future unclear
Veteran catcher could retire after hit Saturday in 10th-inning at-bat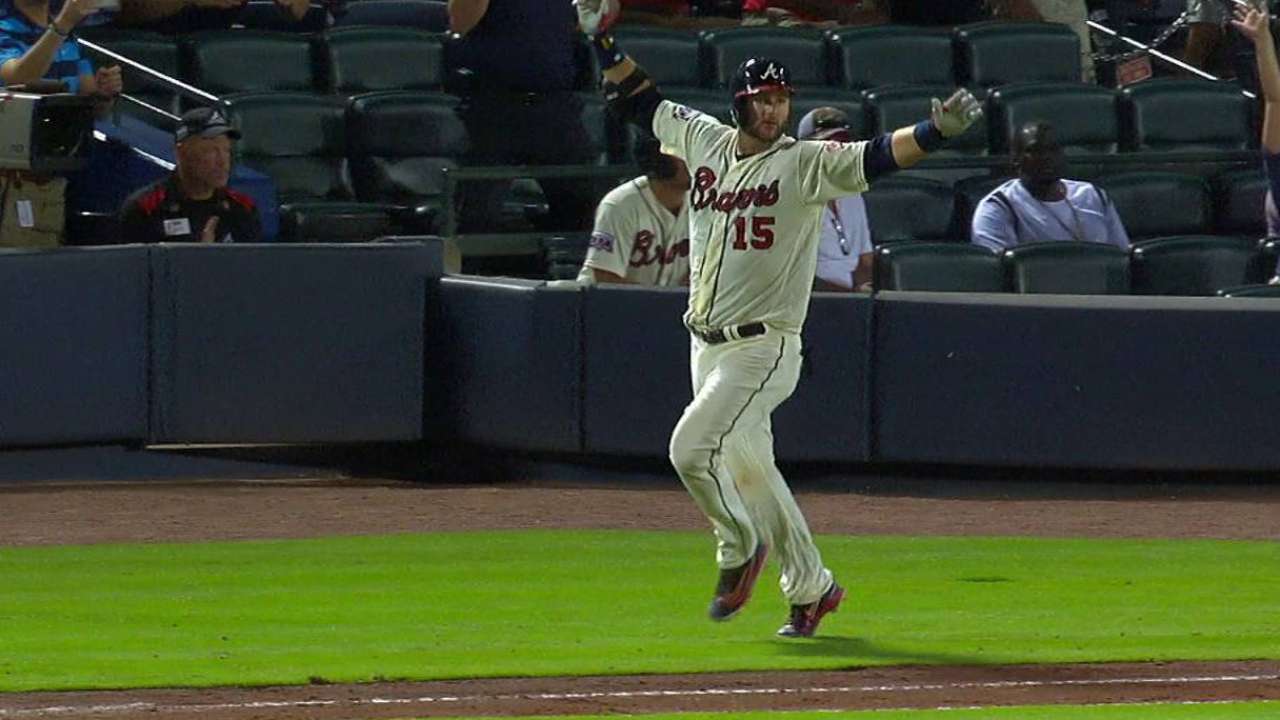 ATLANTA -- There was initially reason to question why the Braves opted to sign an aging catcher whose brash approach had rubbed many the wrong way over the previous two decades. But over the course of the past two seasons, A.J. Pierzynski has proven to be a likable individual who provided value both on and off the field during his time with Atlanta.
Pierzynski's tenure with the Braves and possibly his career ended on Sunday when they made the peculiar decision to place him on the 15-day disabled list with a strained left hamstring. It's rare for a player to be placed on the disabled list after rosters are expanded in September, but at the same time, this transaction was somewhat anticipated given what transpired near the end of Saturday's win over the Mets at Turner Field.
Given a chance to make his first start since being activated from the disabled list on Sept. 1, Pierzynski brought his family up from Orlando, Fla., to be present for Saturday's game. The 39-year-old catcher delivered a key single during the decisive 10th inning and then created reason for speculation as he hugged teammates while the ball he hit was being authenticated in the dugout.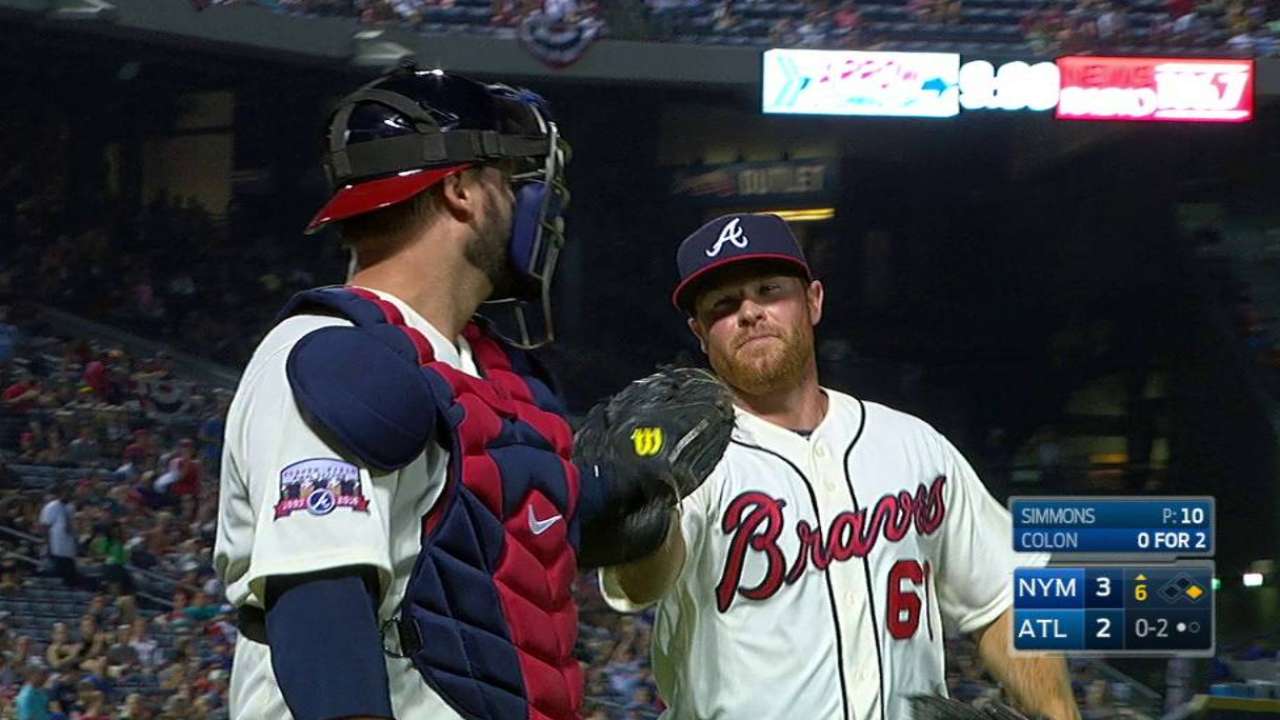 Immediately there was reason to believe Pierzynski had opted to retire, and this remains a possibility if he doesn't find a job during the offseason. But when asked directly whether his career was complete, the always witty veteran -- who would have made a great villain in the professional wrestling world -- gave a coy response.
"It's been discussed, obviously, but I don't know," Pierzynski said. "I just hadn't played in a while ... guys were happy and I'm glad we won, but as far as me, I don't know what's going to happen. I don't know what tomorrow is going to bring, but that's it."
Pierzynski was not seen in the clubhouse before Sunday afternoon's game against the Mets, and he opted not to discuss his career when asked earlier this weekend. Though he never shied away from attention, the 19-year veteran also never sought to be praised for his accomplishments.
When starting catcher Tyler Flowers returned from the disabled list during the middle of August, the Braves put Pierzynski on the disabled list with a hamstring injury, giving the veteran a chance to spend a couple weeks working out at the club's Spring Training facility approximately 20 minutes from his family's home in Orlando.
Once Pierzynski was activated on Sept. 1, he became Atlanta's third catcher with Anthony Recker serving as Flowers' primary backup. The lack of playing time seemed to weigh on Pierzynski, who broke into the Majors in 1998 with the Twins and then became Minnesota's starting catcher in 2001.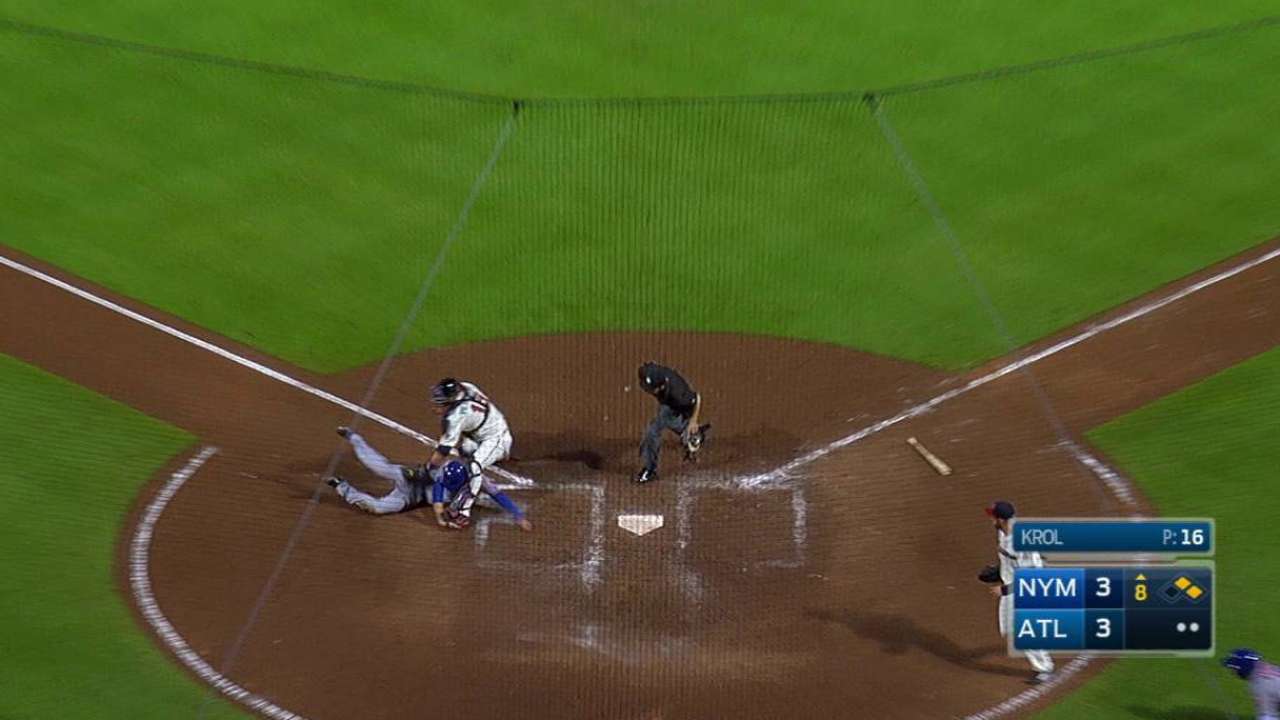 While playing for the Twins, Giants, White Sox, Rangers, Red Sox, Cardinals and Braves, Pierzynski produced credentials that will at least draw some attention once he is placed on the Hall of Fame ballot. He has caught the eighth-most games in Major League history and needs to catch just 16 more to move into fifth place.
Pierzynski also ranks among the top 10 all-time in at-bats, hits, doubles and RBIs recorded while serving as a catcher. He rejuvenated his career when he hit .300 while catching 107 games (104 games started) at 38 years old last year. But the resulting wear and tear seemed detrimental, as he hit .219 this year and lost his starting job in May.
Mark Bowman is the Braves beat reporter for MLB.com. He has been covering the club since 2001. This story was not subject to the approval of Major League Baseball or its clubs.