Gomez making most of fresh start with Texas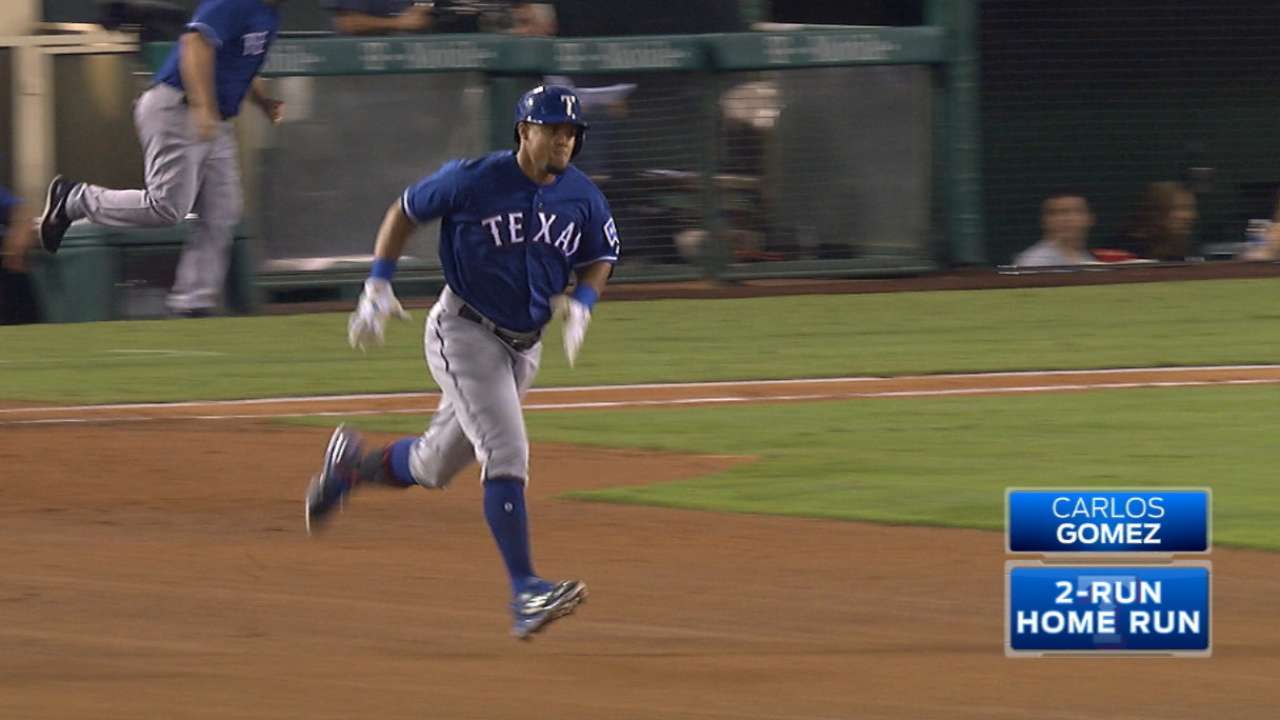 ANAHEIM -- Carlos Gomez went from being one of the toughest outs in baseball to momentarily out of baseball. But given a second chance by the Rangers, the outfielder is making the most of it.
The former Milwaukee Brewers star is starting to shine once again for the Rangers. Released by the Astros last month and signed by Texas the following day, Gomez began a quiet progression that turned loud on Saturday when he belted a pair of home runs to help the Rangers defeat the Angels, 8-5, at Angel Stadium.
"He can be a premier player in this league and he has been in the past," Rangers manager Jeff Banister said. "I felt like today was the day, we had the best set of hitters in the lineup and he showed up big for us tonight."
Gomez drove the first pitch of the ballgame over the left-field fence. In the fourth inning, with the Rangers up, 2-1, Gomez extended the lead with a two-run home run over the center-field fence and a leaping Mike Trout. He nearly got ahold of another pitch in the ninth inning, sending it foul.
It was the first time he's batted leadoff for the Rangers. While Banister hasn't ruled out leaving him at the top of the order, Gomez is just glad to be in the order.
"It's not about me, it's about us," Gomez said. "Where I'm happiest is just in the lineup. It's not my decision where they put me in the lineup. Whatever my manager thinks is the best lineup that day, we come after it."
The release was difficult for Gomez and he hasn't been shy about it. He decided to put his time in Houston behind him and start fresh with Texas. Immediately, he knew it was a good fit.
"My season started as soon as I signed with this team," Gomez said. "Those 12 days [in the Minor Leagues], I refreshed my mind. I let everything go, and I started my season again."
Working with hitting coaches, he's been able to better utilize his strength in his swing. He's hit .344 with two doubles, three home runs and nine RBIs over the last 11 games.
But he's regained more than just his swing with the Rangers, he's also regained his confidence.
"If I'm here for a full season, I think I can do the things that I believe I can do," Gomez said. "I feel that I can be better. I've started to figure out something that I've never had in the past."
Abbey Mastracco is a contributor to MLB.com who covered the Rangers on Saturday. This story was not subject to the approval of Major League Baseball or its clubs.