Shoemaker passes tests after hospital stay
Doctors find no swelling in brain for Angels starter, who was discharged Sunday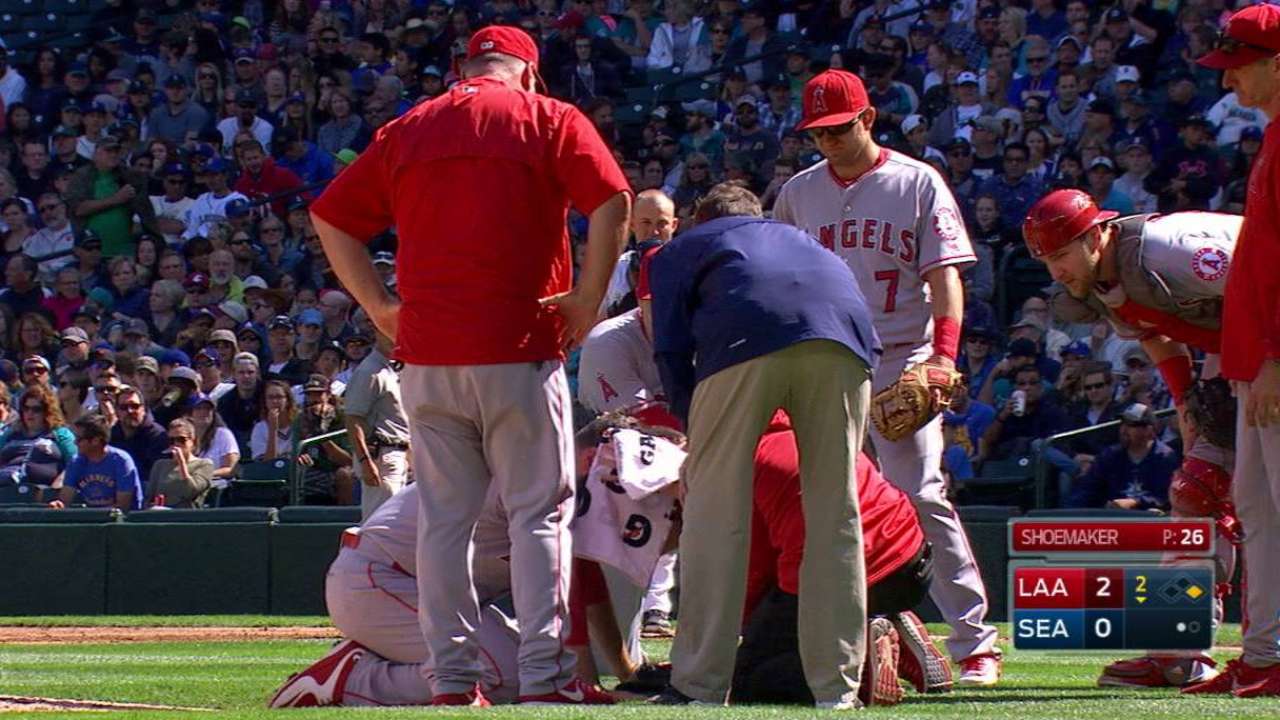 ANAHEIM -- Matt Shoemaker was released from a local hospital on Sunday after being admitted on Saturday night for further tests to check for swelling in his brain, the Angels said. The tests were negative, but Shoemaker stayed in the hospital overnight for observation.
"The doctors have talked to us, and a little scare, but I think he's OK," Angels manager Mike Scioscia said before Sunday's series finale against the Rangers. "Actually, I think it was just doctors want to be very protective of any events that could possibly happen, and once everything was checked out, it was fine."
Shoemaker had a followup MRI on Saturday as a precaution, according to Angels general manager Billy Eppler. The MRI was inconclusive for swelling, and the club contacted Shoemaker's neurosurgeon, Dr. Gregory Withers. Shoemaker was admitted to a hospital and underwent a CT scan, which came back negative.
Shoemaker underwent surgery on Sept. 4 to halt bleeding on his brain after he was struck on the right side of his head by a line drive in his start against the Mariners in Seattle. He was released from a Seattle hospital earlier this week and returned home on Wednesday, where he was said to have been resting comfortably.
The Angels initially hoped that Shoemaker would be able to visit the team during its 10-game homestand, which began Friday.
Austin Laymance is a reporter for MLB.com based in Los Angeles. This story was not subject to the approval of Major League Baseball or its clubs.