'Wright direction: Cards climb behind ace
Offense rallies for Wainwright after gritty eighth inning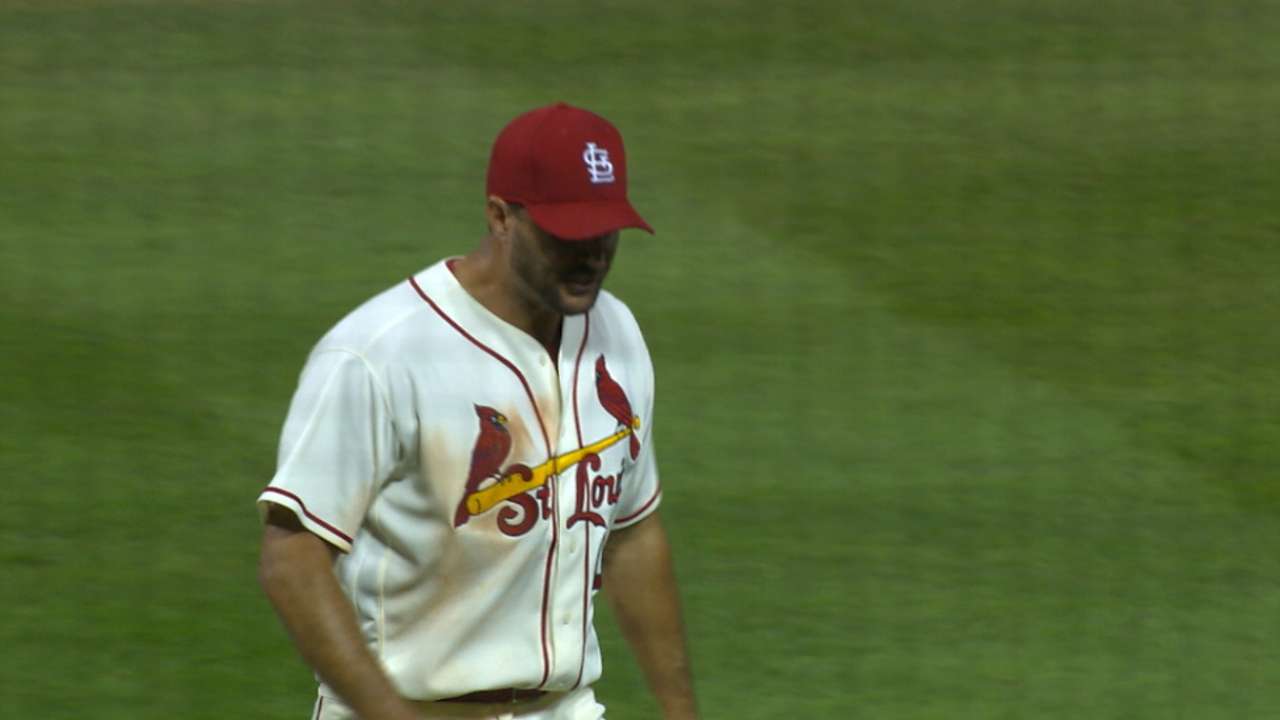 ST. LOUIS -- Cardinals starter Adam Wainwright had thrown 84 pitches through seven innings on an efficient night of work, with enough left to go back out for the eighth.
He labored through that final inning, and needed some trust from Cardinals manager Mike Matheny to finish it, but was rewarded with five runs from his offense in the bottom half for the win in a 5-1 Cardinals victory over the Brewers on Saturday night.
"I just needed to keep going and give our great offense a chance to win that game for me," he said.
The victory also helped the Cardinals climb into the second National League Wild Card spot, moving a half-game ahead of the Mets and staying one game behind the Giants in the standings.
Wainwright walked the first batter of the eighth, Andrew Susac, before Jake Elmore entered as a pinch-runner. He moved to second on a sacrifice bunt from Yadiel Rivera, and Wainwright walked Jonathan Villar. Randal Grichuk bailed him out after a Scooter Gennett single up the middle, throwing out Elmore at the plate.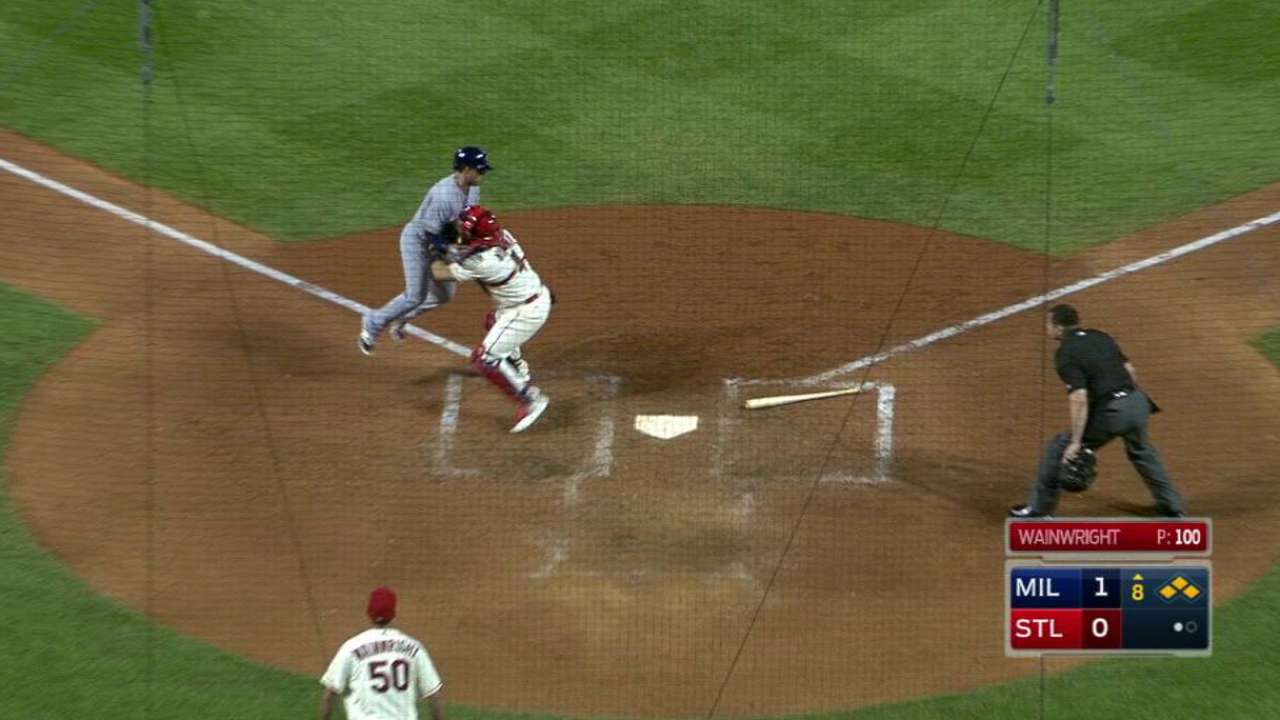 Wainwright said he knew that if he could just get one more out, there was a "feel in the air" his offense would come through. It was an out he would have to work for, with Ryan Braun coming to the plate. Wainwright was ready to attack him before Matheny visited the mound and decided they had a better chance against Hernan Perez.
"When you get your back into a corner and your ace on the mound and he's still making good pitches, it's his," Matheny said. "It's his game, and I want him to go out there and get it done."
With the bases loaded after an intentional walk to Braun, Wainwright came through. According to Statcast™, he threw a 94-mph sinker on a 2-2 pitch to Perez to strike him out looking and end the inning unscathed.
"It's a game we want to end up like that, for him to figure out a way to get it done, and then figure out a way to get us some runs and reward him for what he did for us," Matheny said.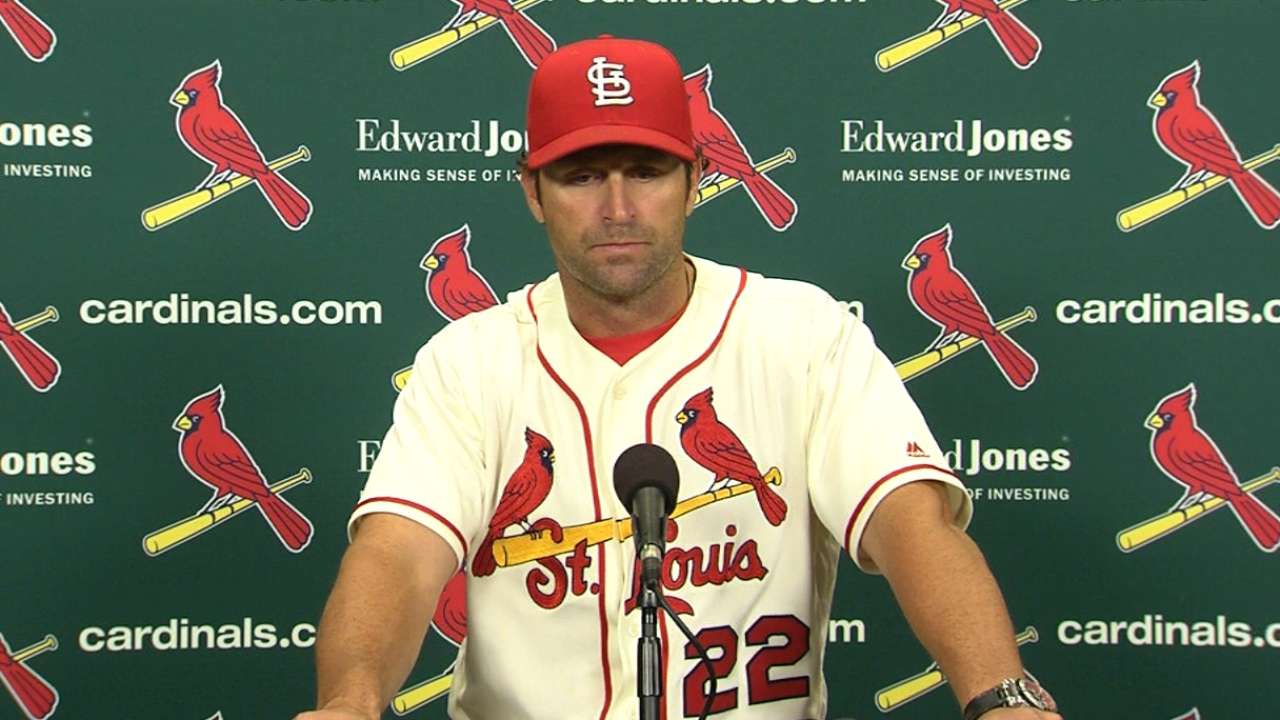 It was the second time this season Wainwright pitched at least eight innings with no more than one run allowed. He also had a little extra motivation, too; it was his daughter's birthday.
"That was for her," he said.
Nick Krueger is a reporter for MLB.com based in St. Louis. This story was not subject to the approval of Major League Baseball or its clubs.