Perez ejected for arguing strike 3 in big spot
Brewers leave bases loaded in pivotal eighth inning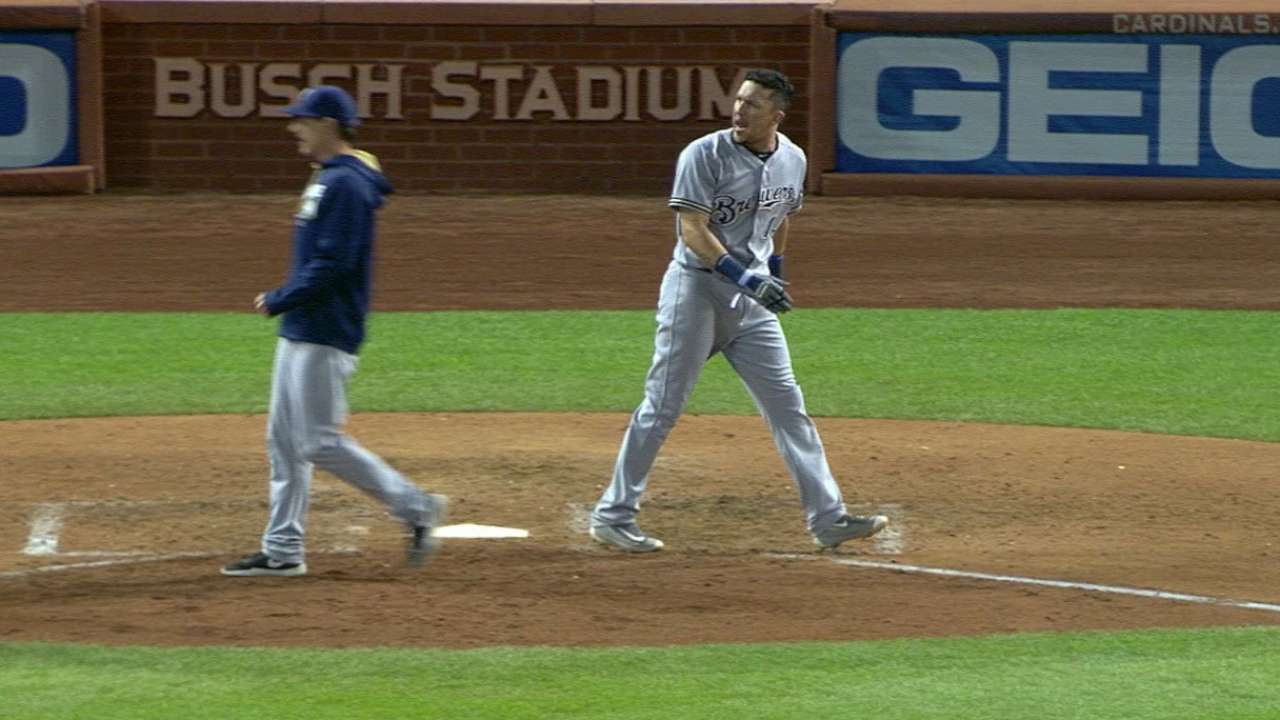 ST. LOUIS -- Manager Craig Counsell said he didn't need to see a replay of the pitch that most burned the Brewers on Saturday. His player's reaction told Counsell what he needed to know.
That heated reaction to a called third strike with two outs and the bases loaded earned Hernan Perez his first ejection, and the ensuing Cardinals rally sent the Brewers to a 5-1 loss at Busch Stadium. It was the first ejection for a Brewers player all season.
"Hernan doesn't argue very often," Counsell said. "I'm guessing it was outside."
The inning had already begun to turn against the Brewers before Perez stepped to the plate. With Cardinals starter Adam Wainwright crossing the 100-pitch threshold, the Brewers threatened to add to the 1-0 lead they'd held since Keon Broxton's solo homer in the fifth. But with two on and one out, pinch-runner Jake Elmore got a late break off second base on a bloop hit over his head, and was easily out at home.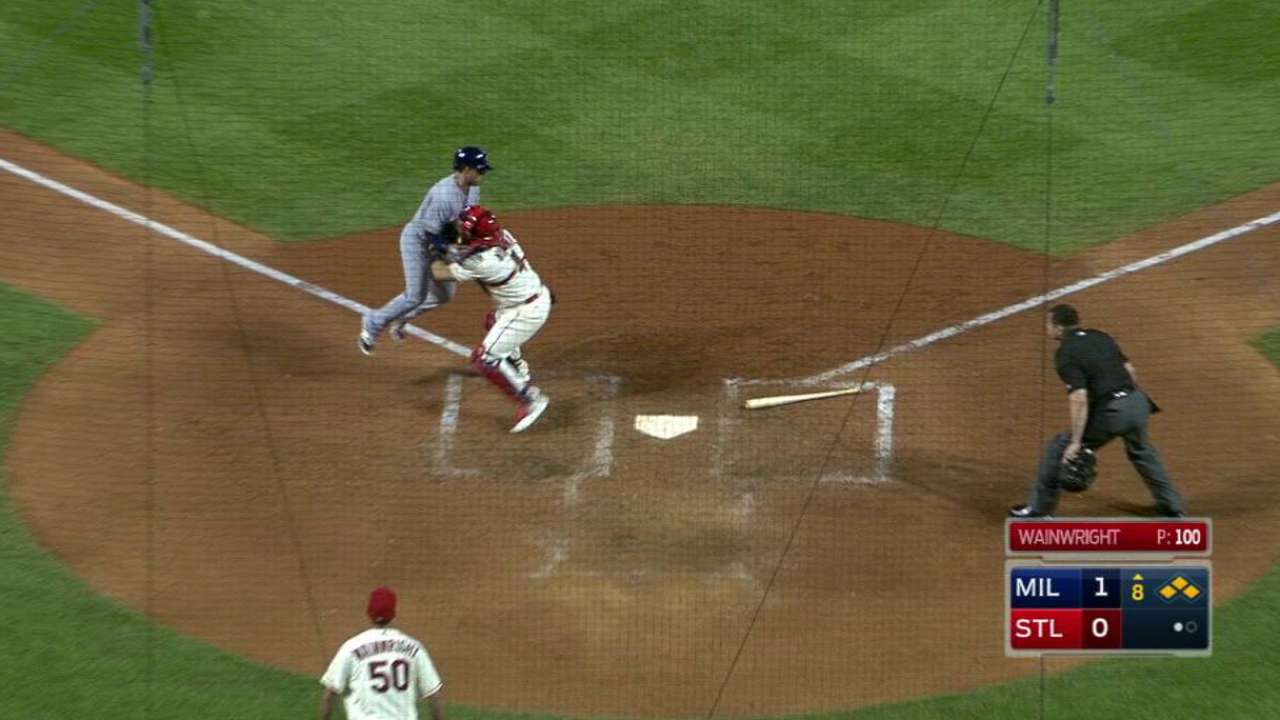 Counsell later said third-base coach Ed Sedar would have been wise to hold Elmore at third, bringing Ryan Braun to the plate with one out and the bases loaded. With Wainwright at 104 pitches, Cardinals manager Mike Matheny might have been compelled to call for the reliever he had warming in the bullpen, Matt Bowman.
Instead, with first base open and two outs, Wainwright remained in the game and intentionally walked Braun to face Perez. A 25-year-old who has played his way from non-roster invitee into a middle-of-the-order threat for Milwaukee, Perez looked at two outside pitches, then fouled off consecutive offerings in the strike zone to even the count.
Wainwright's 2-2 pitch was a sinker away, on the same vertical plane as the pitches plate umpire Carlos Torres had called balls to begin the at-bat. This time, the call was strike three, ending the inning and prompting an angry reaction from Perez.
"You're in a game like that, bases loaded, two outs -- you want to be the guy," Perez said. "That was a bad pitch. That was outside. That's why I got mad about it."
He added, "I respect the umpire. I know they're human. They can miss pitches. But in that situation, I was looking in my strike zone, and that was a really bad pitch. The thing was, [the umpire] threw me out after I turned around."
Perez said he was his first career ejection. That includes the Minor Leagues, the Venezuelan Winter League and any other league you can think of.
"First time ever," he said.
He had barely reached the clubhouse when the Cardinals mounted their winning rally. They sent nine batters to the plate in the bottom of the eighth and scored five runs.
"It could have been a better inning for us," Perez said. "Things turned around quick."
Adam McCalvy has covered the Brewers for MLB.com since 2001. Follow him on Twitter @AdamMcCalvy, like him on Facebook and listen to his podcast. This story was not subject to the approval of Major League Baseball or its clubs.